WO brushes with greatness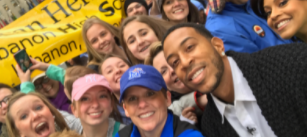 On my 8th-grade spring break, my family went to New York City for the week. After a miserable first few days of my sister being sick and cooped up in a NYC hotel room, my mom and I decided to go explore. While walking around, we followed a large crowd and found ourselves at The Today Show surrounded by screaming people with signs. Pushing our way up to the front, there were celebrities everywhere I looked. When I peered inside I saw Dwyane the Rock Johnson, Matt Lauer, and Hoda Kotb. The next thing I know, I am snapping a picture with Ludacris and random middle-aged women. 
People often forget celebrities are real, so seeing them in real life is a story that is told for years to come. WOHS students and staff reminisce on their brushes with greatness. 
Instructor, Beth Spreitzer: I met Goose Gossage when we lived in Colorado in 1987.  We saw him in a restaurant and my husband dared me to ask him for an autograph.  I went over to where he was sitting and introduced myself.  I asked for his autograph and he asked me if I was a fan of the Padres.  I said no, but I saw him pitch the walk-off home run to Kirk Gibson in the 1984 World Series.  He looked kind of mad but still gave me his autograph.  We saw him three years later and my husband asked if he remembered us.  He pointed at me and said, "No, but I remember her!"
Sr. Aubrey Patchin: I met Bob Guiney at Butch's Dry Dock, where I work. He was the star of The Bachelor in Season 4 and a contestant on Season 1 of The Bachelorette.
He even gave me a rose.
Sr. Sophie Walsh: Mike Tyson when I was seven at Boatwerks; he tickled me. It was terrifying.
Sr. Emily Johnson: I met Megan Rapinoe. I went to a USWNT soccer game with my club soccer team at Soldier Field in Chicago. At the end of the game, the players went around the edge of the field and talked to fans! We were kind of at the top of the stadium so my teammates and I sprinted down and pushed our way through the crowd. I shook her hand and she signed my iPhone 5 phone case (I still have the case to this day). 
Instructor, Shanna Meyer: I was seven-7 years- old at the Grand Rapids Boat Show with my dad. John Stamos (Uncle Jesse from Full House and Fuller House) was there signing autographs. I got a photograph of him and waited in a 2-0 minute line. When it was my turn, he sat down, gave me a giant hug, kissed the top of my head, and said I reminded him of the girls on the show (Full House). My parents told me I talked about "Uncle Jesse" for WEEKS after that! I have no clue where that photograph is anymore.
Sr. Zachary VanDam: Tanya Chisholm. She plays Kelly from "Big Time Rush." I met her at a Disney audition. I went in to audition for a famous actor/actress to hopefully be accepted into the Disney/Nickelodeon industry. She was the famous person who I had to audition in front of. 
Jr. Ben Riley: I met the two time women's world champion wakesurfer (Cassidy Gale) at Grafton Ervine's cottage last summer. We got to ride and surf behind her boat. 
Jr. Grafton Ervine: Last year at the end of quarantine, my mom and I went to Chicago on a short weekend trip. We weren't planning on doing anything special and we went right to our hotel when we got there. Immediately when we went to our hotel we got our bags and got into the elevator. When we got out of the elevator and turned the corner Magic Johnson was standing right there. Some of our bags had Michigan State stuff on them so we talked to him for a little bit and took some pictures. It was the most random encounter but it was really cool. 
Sr. Jake Nieztel: I have met Rick Huisman, a professional baseball player and pitcher. He took over his wife's family business Eastern Floral and rebranded it to Huisman Flowers. 
Sr. Sam Gibson: I met Hulk Hogan in Florida. I also met a rapper named Oliver Francis at one of his concerts. On top of that, I got to meet Ogheezy and Fenix Flexin, rappers from the Shoreline Mafia.
Sr. Brecken Panse: I got to meet Nastia Liukin at a gymnastics meet in middle school. She signed my LifeProof phone case, which I still have. 
Instructor Mike Jaeger: Roman Oben of the San Diego Chargers donated the costs of shipping a West Ottawa CTEE sea freight container of around 650 computers to Cameroon one year.  In support of his charities, we were asked to attend an "event" to publicize and raise money for the Roman Oben Foundation of the Champions Fund. So, two CTEE members and I were flown to California to make a presentation to a group of political, community, and NFL leaders, players, personalities, etc.  We were able to meet and talk with some actors and singers as well as a US Senator and two Representatives.  Of course, there were quite a few NFL Players and Coaches as well as friends and family at the event.  Brett Favre, John Elway, Wayne Gretzky, and Derek Jeter were among the professional athletes that made donations of athletic memorabilia (helmets, jerseys, etc.) to the cause.  None of the NFL guys would engage in conversation about their collegiate careers when I shared that I had tutored Jerome Bettis and Derrick Mayes at the University, but a few turned out to have some really good stories to share.
Sr. Genna Lebster: I met the Olympic gymnastics all-around gold medalist Simone Biles. I was at a gymnastics meet and she was there watching so my teammates and I went up and talked to her for a little bit.
Sr. Alyssa Karner: I met Julie Johnston (now Ertz) who plays on the US Women's National Soccer Team. I met her at a Chicago Red Star game which is basically the club team that she plays on. Afte
r the game, the players were all standing by this fence and a bunch of people were crowding them asking for signatures and pictures. They were surprisingly so nice about it so my friend and I squeezed in between the crowd and somehow managed to get a picture with her. I do remember her smelling kinda bad though after the game.
Instructor Kelly Dewitt: I meet a celebrity every day when I look in the mirror.