A battle on the waves: WOHS sailing team
A large gust of wind blew across the water as Jr. Joshua Elwood braced himself. Laying back over the water, Elwood gripped the rope tighter. The gust of wind filled the sail. Quickly, Elwood pulled on the sail and guided the sailboat to the buoy ahead. The boat's harsh turn cut into the lake, splashing water onto his face. 
   For almost 35 years, the Macatawa Bay Junior Association provides high school students with the ability to learn and compete in sailing. With a few borrowed sailboats and motivated sailors, the MBJA was born. Now, the MBJA teaches approximately 300 students every year, many of which go on to compete at a national level. Out of these students, a select few WOHS and surrounding high school students make up the MBJA's sailing team.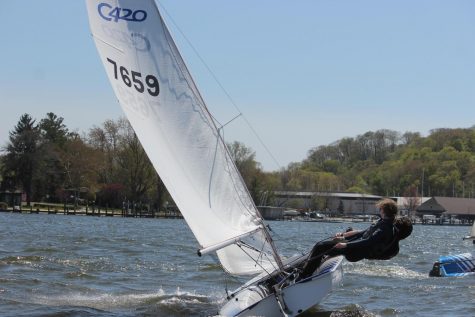 Joining students from all over the Holland area, the MBJA practices and competes whenever the lake isn't frozen over. Elwood said, "A sailing race course usually involves three buoys, two forming a start and finish line, and another placed upwind. We practice by sailing back and forth (upwind and downwind) between the marks. Our team practices with other Holland-area schools at Macatawa Bay Yacht Club on Lake Macatawa."
   Usually, the MBJA practices and competes with Club 420 sailboats. One of the most popular and versatile sailboats in North America, the C420 provides advanced sailors with the opportunity to sail. A C420 sailboat features a spinnaker, a sail that helps direct the wind, and a trapeze, which helps sailors guide the boat using their body weight.
   The MBJA sailing team enters high school sailing competitions, or regattas, where experienced sailors get to compete. Elwood said, "Yacht clubs around the state host community regattas for us to attend and compete at. Each team sends two sailors at a time to race against the other schools. There's an "A" Division and a "B" Division, and after every two races, schools switch which crew is competing."
   Each team then competes in their own races. Lining up at the start sequence, the boats sail two laps of upwind and downwind legs. After, the teams fight against the waves to make it back to the finish line. These races often take place over the entire day.
   Despite most sailors being from WOHS, the team travels all around Michigan and to other states. Jr. Caitlin Derby said, "We compete in a lot of different places. Last week we just had a race here on Lake Macatawa, and next week we go to Chicago. We also go to other places like Grosse Pointe, Pontiac, and Traverse City."
   Sailing provides high school students with their own sense of purpose. For Elwood, sailing runs in the family. "I started lessons in third grade because it was my dad's favorite hobby. Sailing is unique because it's very easy to pick up, but it takes time and dedication to master. We have new people join the team every year. Since we sail double-handed boats (boats that require two sailors), I get to spend a lot of time helping people get better at it and getting to know them along the way."
   Sailing, unlike other sports, depends heavily on nature. The weather can pose problems for the sailors, turning a normal sailing practice into a fierce battle against the wind. Derby said, "I've been sailing ever since I was little. When I started high school, I just really wanted to start a competitive team. Sailing is unique because we have such a dependence on nature. You have to learn how to work with what you have on that day, and that day is most likely going to be completely different from the next."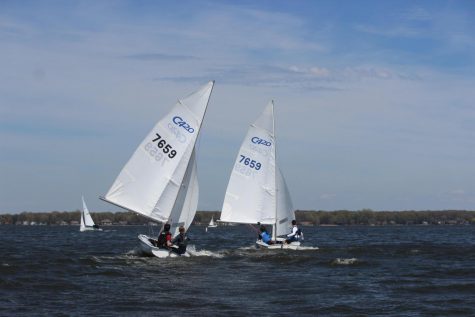 Competing in such an unpredictable environment can have both its pros and cons. For Derby and Elwood, sailing has provided both success and struggle. Elwood said, "My best moment was a regatta in the fall of 2019, where Carson Dobb and I finished first in four of our races and won the B Division of the competition. Among my worst moments is the time my boat capsized during a Junior Olympics competition, and we finished last by a country mile. The only good thing about that was that points are awarded by placement, not necessarily time to finish." 
   While sailing appears relaxing, the sport requires dedication and skill. Derby's experiences have helped her realize how difficult the sport is, and she thinks others don't quite understand the effort and dedication it requires. Especially on severe weather days, sailing can be extremely demanding. Despite this, Derby and Elwood have no regrets about sailing. 
  With warmer weather approaching, the sailing team is optimistic about what the future holds. Derby said, "Now, we've built up a good team and we are looking forward to a good season. I'm looking forward to future seasons and going to some qualifier and regional races."
   Scott Derby, a coach for the MBJA's sailing team, has had the chance to watch the team grow. Four years ago, Scott put together the sailing team, and, just this year, he has started actively coaching. 
   His experience in coaching has shown the mental toughness and skill sailing requires. "While the fall season often starts with warm days and nice breezes, our season is often wrapping up in  November with regattas where it's snowing and cold. The spring season often starts the same, with the sailors practicing with the water temperatures barely above freezing. They wear dry suits to help keep them warm."
   Today, the team has a group of four talented high school sailors. With their expertise and dedication, the team is looking forward to bigger challenges. "I think this team has a ton of potential and they have a bright future. They are hoping to continue to be one of the top high school sailing teams in West Michigan."
   The team even hopes to start sailing in neighboring states, hoping to bring their sailing skills up to a regional level. 
   As summer approaches, the team has multiple regattas they're looking forward to. Come out on May 15th to the Macatawa Bay Yacht Club to watch the WOHS sailing team in action.
Picture credits: Jr. Caitlin Derby