WO art classes launched Jacob Wildfong toward a great career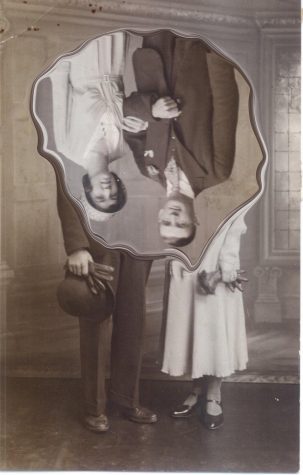 Walking into the mall, you see in large letters the words "Abercrombie & Fitch." From images of shirtless men with bright red Abercrombie & Fitch hoodies and sweatpants to models flashing their brand new, ripped jeans and perfectly ironed t-shirts with that small but subtle "A&F" logo, we know that Abercrombie & Fitch reflects modern style. A lot of "behind-the-scenes" work goes into creating this style.
   Jacob Wildfong has worked to help create the style for Abercrombie & Fitch and many more national companies. His journey started right here at West Ottawa.
   Wildfong went through the same classes students at West Ottawa are required to take, and sat in the seats other students occupy today.
   "I would say it (art) really began to play a prominent part of my life when I started skateboarding around 13 years old," Wildfong said. While many other people went there only to skateboard, he decided he would take pictures too. "[Art for me] started with taking photos of my friends and I at the skatepark and quickly grew into experimenting with photography."
   While his interest in photography grew, so did the interest of the people around him. "[My photography] started to gain the attraction of my peers and mentors who urged me to try [working with] other mediums and submit my work into competitions," Wildfong said.
    "I didn't expect to even place in these competitions," he said, "so I was surprised to see myself not only placing but winning." Wildfong continued to do more with art including taking more art classes.
   "I've always considered my first 'art class' to be woodshop in 8th grade," he said. "I think technically, my first real art class was ceramics in 9th grade with Brad Vredevoogd." Wildfong just got into high school and was dipping his foot into the water, and apparently, it was really nice.
   "After that was essentially a blur," he said. He began to immerse himself in the pool that was art. "I was taking two art classes at a time, extra classes after school, and leading our high school's National Art Honors Society."
   For him, it was less of a hobby and more of a lifestyle. "I was obsessed," Wildfong said.
   Although art took up a lot of his time, he still had time for friends. "I'd like to think I didn't neglect other areas of my life…," he said. "Most of my friends were also heavily involved in art, so I was able to spend plenty of time with them."
   Through skateboarding and photography, he was even able to fit exercise in despite his art heavy schedule. "I'm a strong believer that art can be meshed with pretty much any aspect of life."
   Instructors Brad Vredevoogd, Jan Propst, Brian Kelly, and Nathan Kukla all taught Wildfong over the course of his four years at West Ottawa High School. Although they all taught art classes, each teacher had unique lessons to teach him.
   "Kukla set me free and battled alongside me when I wanted to bend the rules [of art], Propst taught me technique and helped me perfect many of my newly discovered skills, Vredevoogd taught me how to be self-disciplined and [how to] use art as a form of therapy, and Kelly taught me to believe in my craft and more importantly, myself."
   Vredevoogd said, "When I had Jacob as a student, I remember him being…very serious and pretty quiet when he was a young high school student. Slowly as he got older he kinda…branched out and became more outgoing."
   With the help of these four teachers, the pool he dove into became a vast ocean full of endless opportunities. "I cannot thank these four teachers enough for helping pave the road I'm still exploring ten years later," Wildfong said.
   Although Wildfong is employed as Senior Graphic Designer and Art Director at Ralph Lauren, it took him nearly 10 years to get there from high school.
   Fresh out of high school, Wildfong was off to Georgia to attend the Savannah College of Art and Design (SCAD). "I went into the university with the idea that I wanted to become a Fashion Photographer," he said. "That was my dream."
   He made it through his freshman year of college, and during his sophomore year, he was presented with the opportunity to meet one of his lifelong heroes, Raphael Mazzucco. "…[Mazzucco] had achieved everything I was dreaming of."
   Although he went only to meet his "idol," that meeting was going to take an unexpected turn for the better. "[It was] definitely a surprise." Mazzucco, Wildfong's idol, not only met with Wildfong. "Mazzucco took a liking to me and my work," he said. Mazzucco saw potential in Wildfong that he couldn't even see himself.
   "…[He] asked if I would be interested in working for him," he said. While he thought he was only meeting a celebrity, it became a unique, life-changing experience that altered the course of his future for good.
   "It really worked in my favor," he said, " because at SCAD we're required to have internship experience."
   It wasn't all smooth sailing from there though. He already fought hard and worked harder, which led to his internship, but he still had to fight the battle of the mind.
   "When Raphael asked me to work for him, I wasn't sure if I was adequate enough," he said. "I felt nervous and a great deal of pressure to impress someone who could 'make or break' my career."
   His internship was nerve-racking at first, but he quickly began to ease into his role. "I've grown to be more confident, but this was certainly a testing point for me," Wildfong said.
   For Wildfong, a typical day is nothing shy of busy, but it doesn't have to be that way for him. "For some reason, I love to pile my plate high…, but I love what I do, so it's okay," he said.
   He enjoys taking extra freelance jobs even though they cut into sleep for him. He always likes to be doing something.
   "I take extra freelance [jobs] because it allows me to be ahead of my peers in terms of how much professional experience I have. The extra money is definitely a plus though."
   In terms of awards, Wildfong has earned his fair share. Two of the awards that he cherishes the most are earning National Finalist in the 2nd District Congressional Competition and winning the Oxbow Artist Residency Fellowship from the School of the Art Institute of Chicago.
   This first award mentioned was essentially his ticket into SCAD. That award turned the eyes of SCAD toward Wildfong. "It prompted [SCAD] to reach out and preemptively offer me a scholarship, before even applying."
   "I think at the time, the award didn't seem like a big deal, but it caused a chain reaction that I strongly believe led to where I am now," Wildfong said
   Although that was the bigger accomplishment of the two, the Artist Residency was more personal to him. "The Artist Residency was an incredible experience where I was given endless hours, supplies, and mentors to create anything and everything that I wanted."
   He found the Artist Residency much more memorable than the Congressional Competition because he was able to deviate from the routine of life and just create. "[It] was such a rewarding experience."
   Wildfong wanted to address that, as he put it, "starving artist" stereotype too. "I do not understand where this idea came from that you cannot make a living in the arts," he said. "Everything around us, everything we see, touch, [or] use has a team of artists and designers behind it."
   "The couch I'm sitting on, the phone I'm using, the message app I'm using. Everything is done by artists and designers. People really do not understand the importance of the creative industry and how crucial they are to every single thing that surrounds us."