WOHS student shows animals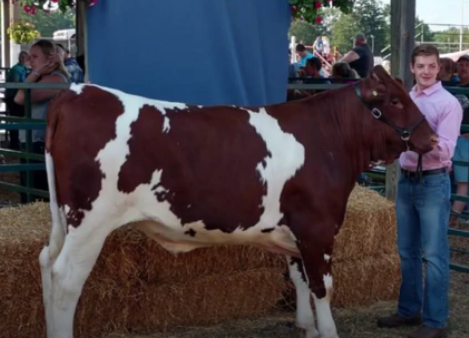 On a warm summer morning in 2019, Sr Alex Boersma walks through the Ottawa County fair in hard-toed boots and blue jeans. He strides past the stand of freshly fried elephant ears, their scent filling up the surrounding air. He soon finds himself at a large barn. The pungent smell of manure hits Boersma in the face. As he walks down the aisle of pens, dust and dirt kicks up. Through the cloud of dirt and dust, Boersma sees his pride and joy. He takes a deep breath and takes his cow out of its pen. Today isn't just a normal day, today is competition day.
   For almost six years, Boersma has been competing in animal shows. This hobby has formed into an integral part of life. "I first started when I was twelve years old. My father and friends did it before, so I was motivated to compete."
   To prepare for these important animal shows, Boersma takes on a large responsibility. Providing for large animals and perfecting their appearance is not an easy feat, but a challenge Boersma has taken strides in conquering. "We don't have animals at our house. My friends have a barn just into Allegan county where the animals are."
   Despite not being an everyday task, Boersma frequently drives through the corn-laden roads of Allegan to take care of the animals. "To prepare for the shows, I usually go out to the farm now and then to make sure they are tame. I also make sure that they look good and have food and water. Overall, I just make sure they are prepared for the shows."
   Over the years, Boersma has worked with various types of animals. Despite this, he has grown fond of showing one animal. "I like showing cows, I just enjoy doing that. I think specifically because it's a bigger animal and provides a little different experience." From taming the animal to showing the animal, Boersma enjoys the whole process. 
   Walking into the barn on a sunny day, Boersma grabs the food and water for the animals and puts them in the trough. A creaky, worn-down wooden door opens as Boersma grabs hold of his cow and brings him outside. He prepares himself for the long day of training and preparation ahead. 
   Taking care of the animals provides a sense of accomplishment and responsibility. "We have our needs, they have their needs, so making sure they have a clean shelter and are taken care of is important."
   Boersma's heart starts to beat faster. He brings his cow down the aisle of pens, a task so familiar to Boersma. A muffled microphone voice clashed with the cheers of the crowd as he walked in front of the judges. 
   Every year at the end of July, Boersma gets his chance to show his animals. After arriving at the Ottawa County Fairgrounds and getting the animal ready, Boersma gets to compete. "During the competition, judges will mostly judge the animal upon how it looks. Is it in shape? Is it looking nice?"
   More specifically, Boersma said that the judges will usually ask questions about the breed and parts of the animal. Making sure that Boersma is well prepared, judges will also ask Boersma what the animal eats and how he takes care of it. 
   Judges also expect that competitors like Boersma show all sides of the animal. Based on the presentation of the animal and care it received, the judges make their decision. 
   Jacob Boersma, an older brother of Alex, has served as a critical mentor throughout the whole process. From the ages of ten to twenty, Jacob worked with livestock. From that, he was able to pass on his skills to his brother. "I tried to help him when he started a few years after me, but he caught on very quickly and didn't need my help. Instead, we worked together."
   Jacob said, "I have seen him grow a lot as a person over the years with these shows. It takes a lot of work and effort to tame an animal. It's very time-consuming and hard work." Despite this hard work, Jacob has noticed how well Alex works with animals. 
   "I noticed that he always tried his best. He was dedicated and put in a lot of extra work studying books and training with his animals. He had an incredible work ethic and always wanted to be the best." This success manifested itself many times for Alex.
   An expert in showing animals to judges, Boersma has won his fair share of awards. Four years ago, Boersma was able to win reserve champion for showing cows. Before that, Boersma also won showmanship awards for showing pigs. Despite these achievements, he has also had his fair share of hardships.
   "My worst moment is when you are training animals, you can get hurt. I one time broke my toe because I hit it on something." Working out under the sun with large animals is not for the faint of heart. Boersma, however, takes great pride in taking care of his animals. 
   Boersma has found a meaning in all of his challenging experiences working with animals. "I think I'm motivated to compete mostly because it's fun and something I enjoy doing. It's an activity that most people don't get to do. I enjoy doing something different. It also just teaches you more about the animals."
   Boersma said that he's learned a lot through his experience, and hopes that he can use some of the skills he gained in the future. "My experience taught me how to take care of the animals and taught me a lot about responsibility as well."
   Despite only having two years left of showing livestock till he ages out, Boersma hopes to make the best out of his next competitions. Come out and support Boersma during the last week in July at the Ottawa County Fair.