Satire: Intercepted Letter from NCAA Tournament Management
Dear San Antonio Basketball Facilities,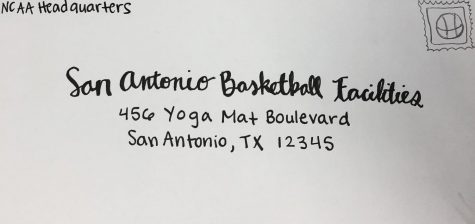 Happy 'Women's History Month'… they have a month for everything now! We are very grateful for your willingness to host six of our women's basketball teams for the March Madness tournament. 
We are most grateful for the gym space you provide. After all, it's a basketball tournament, and I don't think that we could house the girls in any random hotel. Make sure you have at least one court that the teams can use, six teams ought to be able to split up court time. Also, I included a $30 check to purchase two basketballs, one for games and one for practices.
For the weight room, don't stress too much about it. Just make sure the girls have some sort of weight room. They don't need heavy weights, just one rack of dumbbells should suffice. Maybe some yoga mats… that seems to be the new trend the girls are into nowadays. 
In terms of food, it doesn't need to be anything too special. Fast food here and there, frozen pizzas, that sorta thing. I personally enjoy the chili cheese baked potatoes and fries from Wendy's. Every once in a while throw in some fruit or vegetable just to keep it "healthy." You should receive a check soon with the budget for the women's meals. 
Along with the check, you should also receive some overstock t-shirts that need to be handed out to the teams. Most of them are XXX-L, so for the smaller players just cut the shirt in half. Heck, they buy shirts that are already cut in half so they should love these! I think the girls call those "cropped tops." 
As for transportation, we have arranged for three buses to transport teams. Just a heads up… they're school buses. We had a small budget this year due to COVID-19, so we had to pick and choose. We did a "coin toss" for which tournament will get the school buses and which will get the charter buses – the girls sadly got the short end of the straw HaHa.. 
I know many of you will hope to watch some of the men's games, and that's completely fine. I hope everyone watches those games – it is shaping up to be a great tournament – just make sure there is at least one manager available to the girls at all times. Again, we appreciate the time you are sacrificing to host the teams. 
Stay on the lookout for a television crew. I'm not sure if we have a television crew for the women's program – I'll check into that and get back to you. With limited spectators being allowed due to COVID-19 and in attempts to avoid lawsuits from angry parents, I'm assuming at least a few of the games will be televised.
We truly appreciate your helping hand in making the tournament happen. We also acknowledge your flexibility to host women's teams when originally San Antonio had applied to host men's teams. As you know, the tournament received more than enough applicants to host the men, so thank you for your compliance.
Best regards,
Anthony B. Susan
(NCAA Tournament Logistics Advisor)