WO Orchestra's First Steps Towards Normalcy
 I took a deep breath as I watched orchestra director Chris Meyer on my computer screen. After a few seconds, he lifted his hands and I picked up my instrument. He waved his hands in a zombie-like motion, signaling my section to begin. However, instead of the beautiful sounds that once filled our practices, a robotic recording filled my ears. After playing with the recording and following along with my own sheet music, I glanced over to my computer where my sullen classmates filled the screen. 
    No one was enjoying this. 
    This cycle of daily life was dry, emotionless, and painfully repetitive. I was too bored to practice. Every other day, I logged on to my orchestra meeting, played along to a recording, and left the meeting. Between meetings, I never touched my viola. There was no connection between my classmates, no motivation to learn, and no love for the music that I was playing.
    Playing music through a screen has major downsides. Sr. cellist Ebony Roach said, "For one thing, you can't hear the other moving parts of the orchestra, which is an important factor when playing. Most important to me, however, is that playing over a screen takes away the joy of making music with a group, together." 
    Sr. bassist Donovan Meeusen had a similar perspective. "Orchestra through Google Meet prevents you from receiving any valuable feedback from your instructor.  It also takes away the most important part of being a part of an orchestra in my opinion, which is playing with others."
    Everything was different when I could sit within six feet of my fellow classmates and hear the array of melodies from all directions of the room. The energy that I felt in my veins is impossible to describe. I felt like I was a part of something special. Loving music always came naturally, so I never imagined that one day I would have to force myself to feel that love. I was without my orchestra family, and it was dreadful.
    Sr. Elise Stanley said, "Mr. Meyer makes orchestra more fun because he pulls in stories and tells jokes that make the class fun to be a part of. He also uses analogies that no one else would think of." Many students agreed that Meyer was the main reason orchestra was enjoyable. But when classes were virtual, those classic snarky and sarcastic remarks were absent. 
    Jr. Kendall Varra said, "Most orchestra students have Mr. Meyer for four+ years, so we get comfortable and we are free to actually be ourselves and have a place that we belong, unlike other classes. Orchestra is more like a family because there are the same people in it year to year. We become close with everyone as the years go on. Even those that graduate tend to come back or say hello to classmates, which is special because that wouldn't happen in a normal class."
    For some students, their instrument is their life. Music can be meaningful in numerous ways because it builds strong friendships and even a family. 
    "Orchestra is important to me because it's what sparked my love for music. In junior year, my love for orchestra compounded due to my ever-growing closeness to Mr. Meyer. He has been there to support me from the start in nearly anything I face. I was much more comfortable in orchestra knowing that Mr. Meyer would be there if I needed him. Orchestra is really where I came to find my most intimate friendships and someone I could view as a father figure where I felt like I had none," Meeusen said.
    Roach said, "Orchestra is important to me because it has always been the place where I can relieve stress. Doing it for almost eight years, it's become a big part of my life. It's given me a different lens from which to look at life. I have made many friends and connections through orchestra that have brought some consistency in my life, which during this time, is especially hard to come by."
    Through all the thoughts of hopelessness, there was a light at the end of the tunnel, and a moment where things seemed almost normal. In-person practices began again after mid-winter break. 
    Meyer was incredibly grateful when his orchestra students were able to return to in-person classes, "I feel lucky that I get to make music with students every day. I'm not stuck in a cubicle in front of a screen all day, and we get to have this amazing opportunity to put together these fantastic works of music."
    But even when the orchestra groups were in person, they still had many concerts and performance opportunities that they were not able to experience. "Our lack of concerts has ruined the orchestra experience for me. I can't perform, I just play. It's quite sad and gives me very little to no drive to try and perform well. The most important part of music is sharing it with others, and we don't get to share it with anyone," Meeusen said.
    In class, all orchestra members were spread out and it was difficult to hear one another play. The feeling of playing alone at home still lingered. 
   "I enjoy orchestra because of the people we got to play with, but this year, we were all far apart, so there wasn't a lot of connection with others. It also felt weird not working up towards a concert. We would put all this work in and then we'd move to a new piece. I felt like the pieces didn't get a proper send-off," Jr. Elyse Schurman said.
    In March 2021, all three high school orchestras had their pre-recorded concert on stage. Although there was not a live audience, the orchestras were recorded on stage. The recordings were sent to friends and family. 
    The familiar feeling of the stage beneath our feet was a relief after such a hard year. We finally had our moment in the spotlight and our moment to show off our musical talents.
    "In-person performances are important because I think that it's more fun for all parties involved; for the audience, they can see and experience the music up close, and for the performers, we can show off our hard work. I also think that in-person performances are better for feeling the effect of the music. It's harder to portray the emotion of a piece when the performance is over a screen," Roach said.
    It was an immense moment for all of the orchestra members when they all got to play on stage for the first time in over a year. Roach said, "Playing on stage for the first time a few weeks ago was a surreal feeling. You never realize how much you miss something until it's gone, and that's what being in the PAC (Performing Arts Center) was like that day. I'm glad I was able to get there for my senior year, even if there was no crowd to cheer us on." 
    Some students missed out on their first concert opportunity and suffered the downside of the COVID-19 madness. "I was in quarantine during our recorded concert. I was really sad about it. I was mainly worried about my section but they did well without me," Schurman said. 
    The orchestra ensembles are looking forward to the senior concert in May. This concert is the highlight of everyone's year. "I am very excited to have an in-person concert because it will be my last high school orchestra concert. I want to be able to have it in person so my parents can come and so that we can perform as a group in front of people again. It has been such a long time since we have been on the stage with an audience filled with excited friends and family members," Stanley said. 
    Besides the performance, all of the orchestra students get to watch Meyer become overwhelmed with emotion on stage as he listens to the seniors give their cheesy yet meaningful speeches about the impact he's had on their lives. 
    "My students are like another set of kids that I have at school. It's a unique experience where we are a family, a team, and a musical ensemble all in one. Beyond just playing music, I get to see these students progress as people and musicians through the many years that I have them in class. It's difficult for me to see these students graduate every year after all of the memories and music that we have made." Meyer said.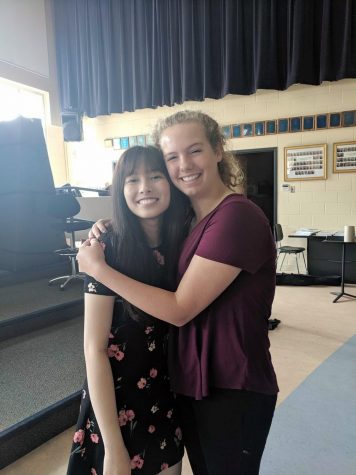 In this particular concert, all of the non-senior orchestra students sat in the audience and all watch Meyer shake hands with each of his seniors. He's had these students for a very long time, some even from seventh grade. It's never easy to say goodbye to classmates and role models for the orchestra students. There are many friendships that they have made with these seniors over the past three years of their high school careers. The orchestra family will get smaller after an upcoming May concert, which is hard to accept. 
    "I think orchestra is more than just a music class again because of those bonds. It is a class that can relieve stress for some people and it is also just a super fun environment. If we had to be in a new class every year with a new teacher and new students, it would just be like a regular class but because of the bonds we were able to form, it is more than just a music class," Stanley said.
    In a virtual gathering, orchestra is just a class. When orchestra meets in person, we are a family.