A Swifties Guide to the "Sister Albums"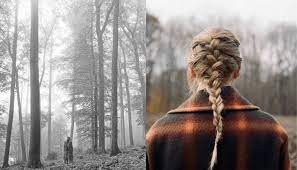 Time and time again, Taylor Swift fans, also known as "swifties" are always looked down upon by the brusque 21st century music industry. Critics write off her music as "generic, simple pop music" yet there is hidden depth to her songwriting. 
Swift has been steadily delivering music every two to three years, but during the pandemic, she turned her home into a recording studio and released not one, but two records. The first to be released was Folklore making its debut in July 2020 and following was its sister album, Evermore released in December 2020, just five months later. In these two albums, Swift captivates ears with illustrations of minimalistic, old-fashioned settings that tell tales of heartbreak. When listening, Swifties can find a unique parallelism between songs off of each album. 
The Last Great American Dynasty and Gold Rush 
Diving right in, both track number three's on Folklore and Evermore are history-packed songs that take listeners back to the mid-1850s where Swift tells the fascinating story of two lovers living through significant moments in history. 
Off of Folklore, the song "The Last Great American Dynasty" dives into the American oil boom that occurred during the late 1850s. Swift tells the story of Rebekah Harkness, St. Louis native, who married William Harkness, the heir to the fortune of Standard Oil. Sitting in an abundance of wealth, the couple purchased a house off of the coast of Rhode Island, giving it the infamous name, "Holiday House". In the song Swift alludes to the "Holiday House" and Rebekah's lavish lifestyle on multiple occasions. 
For example, in the opening lyrics, "Rebekah rode up on the afternoon train, it was sunny. Her saltbox house on the coast took her mind off St. Louis. Bill was the heir to the Standard Oil name, and money…" Swift sings. 
While living in the house, the Harknesses threw wild parties; Rebekah had "a marvelous time ruining everything" as Swift sings in the song, most likely referring to Rebekah's crazy antics.
To close the song, Swift reveals the true purpose of the song, sharing that the Holiday House is now her own and she has some big shoes to fill as the new owner. "Fifty years is a long time. The Holiday House sat quietly on that beach. Free of women with madness, their men and bad habits, and then it was bought by me," Swift sings. 
Off of the sister album, Evermore, the song "Gold Rush" creates a giant metaphor of a song, bringing fans back again to the 1850s, but this time 3,000 miles west of the Holiday House, in California. The California Gold Rush of 1849 was a significant moment in American history, when the discovery of gold nuggets led to flocks of people traveling to the San Francisco area.
 In the song, Swift takes the idea of a gold rush, where want, jealousy, and competition runs deep, and places it on her own life. In the song, Swifts sings about her boyfriend, Joe Alwyn, and the jealousy she feels being attracted to a good-looking guy who is in high demand. 
"I don't like that anyone would die to feel your touch. Everybody wants you. Everybody wonders what it would be like to love you," Swift sings. 
Swift is insinuating that if she were to pursue this man, she is afraid she will get caught up in the "gold rush" that is seeking someone that everyone else wants too, singing, "But I don't like a gold rush." 
Epiphany and Marjorie
Similarly, the 13th tracks on both albums are heart wrenching songs that reflect on the lives of Swift's late grandparents.
"Epiphany" on the Folklore album honors the life of Swift's grandfather, Dean, who fought during World War ll in the battle of Guadalcanal. Part of the song is from the perspective of a soldier at war. 
She opens with, "Keep your helmet, keep your life, son. Just a flesh wound, here's your rifle…" 
The second verse of the song appears to dip into the trauma and PTSD that soldiers face while on the battlefront. 
"Crawling up the beaches now, 'Sir, I think he's bleeding out'. And some things you just can't speak about… With you, I serve. With you, I fall down," Swift sings.
Swift then takes a different path with the song, averting to life during the pandemic for healthcare and front line workers. 
"Something med school did not cover. Someone's daughter, someone's mother. Holds your hand through plastic now, 'Doc, I think she's crashing out'. And some things you just can't speak about," Swift sings. 
These emotional lyrics reference the tragic effects of the pandemic, where family members cannot spend their last moments with loved one who suffered from the virus. 
These lyrics mirror the similarities that healthcare workers and soldiers can experience and feel in their very different "lines of defense". 
"Marjorie" on the Evermore album honors the life of Swift's grandmother, Marjorie Finley, an American opera singer. Swift claims that she owes a lot of her success and inspiration to her grandmother. 
Swift sings, "And if I didn't know better, I'd think you were singing to me now." While the song is a tribute to their relationship, Finley is credited in the vocals and her voice is heard in the outro. 
Finely passed away when Swift was only 13. However, in the song, Swift does her best to keep the memory of her grandmother alive, "And if I didn't know better, I'd think you were talking to me now. If I didn't know better, I'd think you were still around. What died didn't stay dead. You're alive, you're alive in my head," Swift sings. 
Then, in the song's bridge, Swift narrates the faint memories she has with her grandmother, sharing that she wishes she had more time with her. "I should've asked you questions, I should've asked you how to be, asked you to write it down for me. Should've kept every grocery store receipt. 'Cause every scrap of you would be taken from me.." Swift sings. 
To close the song, Swift touches on how Finley inspired her to pursue a music career, leaving her unfinished business with Swift. "Watch as you signed your name Marjorie. All your closets of backlogged dreams, And how you left them all to me." 
My Tears Ricochet and Happiness
While there is melancholy and animosity in many of the songs off the sister albums, there is also hope and healing as Swift learns to navigate this new genre on her own. In November 2018 Swift departed from Big Machine Records, her label since 2006. With Big Machine Records, Swift produced six albums and won many awards. However, she was ready to own her music. Leaving the label was bittersweet, Swift was grateful for the opportunities it gave her, but she also felt it was time to part ways with Big Machine's Scott Borchetta and Scooter Braun.
From Folklore, the famous track five, "My Tears Ricochet" tells a more personal narrative of Swift's feelings towards an ex-lover or friend, who despite the demise of their union, still tries to get her back. This "ex" is speculated to be Braun. 
"If I'm on fire, you'll be made of ashes too. Even on my worst day, did I deserve, babe, All the hell you gave me?"  
Swift left the label because she wanted to own the rights to her songs. During this time, Braun and Borchetta were not very kind to Swift, realizing that she was a valuable asset to their team. 
"And if I'm dead to you, why are you at the wake? Cursing my name, wishing I stayed, look at how my tears ricochet." 
Another prominent lyric from the song that addresses the relationship between Swift and Braun is, "You wear the same jewels that I gave you, As you bury me." Those jewels being Swift's songs that were owned by Big Machine. 
She then makes another reference to the fight for her masters as she sings, "And when you can't sleep at night (you hear my stolen lullabies)."
From 'Evermore' the ironically named, "Happiness" is one of the saddest songs off of the album, telling the tale of moving on from a decaying relationship, but also acknowledging the happiness that once existed within it. Swifties assume that this song could also be about Swift's relationship with Big Machine.
"There'll be happiness after you, but there was happiness because of you, "Swift sings. 
This song acts as a closure to her relationship with Braun and Borchetta. "My Tears Ricochet" was the beginning and "Happiness" acts as the end. 
"Tell me, when did your winning smile begin to look like a smirk? When did all our lessons start to look like weapons, pointed at my deepest hurt?" Swift sings. 
Here she is openly singing to Braun, searching for an answer to the pain she went through in the last moments she spent with Big Machine. 
To close the song, Swift sings, "In our history, across our great divide, There is a glorious sunrise… I can't make it go away by making you a villain, I guess it's the price I paid for seven years in Heaven." 
Swift spent seven years with Big Machine before things went bad; here she is reflecting on her time, explaining that while the relationship has gone sour now, it was enjoyable at one point. 
Clearly, Swift doesn't need a breakup to fuel her creativity; her lyrics tell stories of life.