WO Exchange students flood the Women's Lacrosse Team:
They were out of breath, tired, and solely focused on keeping their legs moving. This running drill was their least favorite. Despite being exhausted and solely focused on the drill, they all couldn't help but slow their pace and draw their eyes to the blur flying around the track. 
   "Who's that?" the girls murmured to each other. "she's so fast!" 
   "That's the new exchange student… Chiara Magrini." 
   It was March 11. Spring preseason conditioning was underway, and the season was approaching fast. The 2021 lacrosse season brought excitement for new coaches and new faces. Four foreign faces in particular. 
   The West Ottawa community generally encourages exchange students to try something new and become immersed in activities – join clubs, go to high school activities such as prom and homecoming, but overwhelmingly, exchange students are encouraged to try new sports. 
   This spring, exchange students – Sancha Teles, Chiara Magrini, Elena Moauro, and Selina Haedicke –
picked up a lacrosse stick for the first time. They all are trying a game that is foreign to their home country and wholly American.
Sancha Teles 
  Teles is from Lisbon, Portugal, where lacrosse is new, and there are few opportunities to play. 
  Teles is staying with the Brondyke family while in America. The Brondykes are immersed in the WO lacrosse community, and Teles's host sister, Jr. Callie Brondyke, is an avid lacrosse player. Brondyke has been teaching Teles how to play and encouraging her to try out for the team. Emotions of excitement and fear fill Teles to enter the world of sports again since she has not played a sport since seventh grade.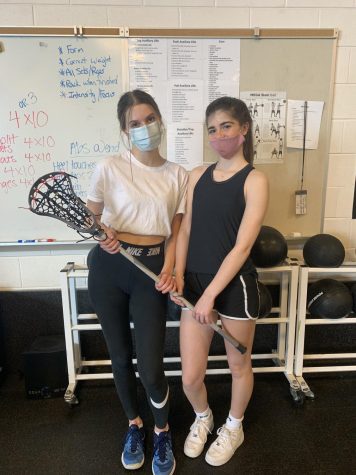 She is nervous to try lacrosse for the first time because she knows absolutely nothing about the game. 
   "I'm afraid to play because I don't know the rules or anything about lacrosse. Since we don't really have lacrosse in Portugal, the only time I have seen lacrosse before was on a Netflix show called Teen Wolf," Teles said. 
   Teles explains that her fear to try lacrosse has been lessened by how welcoming the team has been.
   "I love the lacrosse team so far. The girls, Coach Mason, and Coach Gallagher are so nice. They have not been judgemental and have been very open to me being a new player."
   Teles hopes that this season she will learn everything about lacrosse – the rules, how to pass and catch, how the game works, etc. Teles plans to take what she learns in America back to Portugal so that she can teach her friends how to play lacrosse and spread the love for the sport. 
Chiara Magrini (KiKi) 
   Magrini is from Rome, Italy – a city she claims is the best in the world. Although biased to Rome, Magrini has still fallen in love with Holland. She's enjoyed her American experience thus far and is excited to continue the experience playing lacrosse. 
   Magrini participated in competitive cheer over the winter and enjoyed the aspect of team sports. She explains that she loved the "team bonding activities and the feeling of being a part of a team."
   Originally, she planned to try tennis this spring, but instead decided on lacrosse for two reasons: lacrosse is a team sport and it does not exist in Italy. 
   Magrini emphasized that, "Lacrosse is a very American sport and is something new and exciting." 
  This spring, Magrini is most looking forward to having fun with the team and playing for the very first time. "I feel like lacrosse is so cool, and I just want to know and really get into the game," Magrini said.  
   Magrini has been attending many of the open gyms and conditioning sessions to learn more about the sport and get ready for the season. She emphasized that she has really enjoyed that team atmosphere. 
   "Other girls are super good at it but still are helpful and cheer us on who are new. I also loved when we were doing the [conditioning]run around the track everyone was just supporting each other and cheering each other on. It was really great." 
Elena Moauro
   Elena Moauro is from Padua, Italy, where lacrosse has not arrived yet. 
   Moauro has been studying languages for four years. She has studied Spanish, English, French – and of course, Italian. Moauro had always dreamed of doing an exchange year and this year she finally came to America. 
   Moauro was inspired to try lacrosse because she wanted to try something really American and something new. Her fellow exchange student peers, Teles, Magrini, and Haedicke, also encouraged her to join them.
   Moauro is most looking forward to making new friends and learning more about lacrosse this season. She is also hopeful to continue her studies on America and learn what American sports are like. 
   Moauro has already started to attend preseason conditioning and open gyms and has really enjoyed the team. She is excited to finally start practicing and playing games. "I really like the people and how welcoming everyone is and lacrosse is really fun, and I wasn't expecting that," Moauro said.  
Selina Haedicke 
 Haedicke is the fourth exchange student trying lacrosse. Haedicke is from Germany, in a city near Berlin. She came to Holland to experience something new and see what life is like in America. 
   Haedicke has a passion for trying new things – the biggest impetus for her trying lacrosse. 
   "I don't think we have lacrosse in Germany. At least I've never heard of it before I came here. I think that that's kind of sad because it's a cool sport and I'm sure a lot of people in Germany would like to play it," Haedicke said. 
   Even though she doesn't typically enjoy sports, her love for trying something new still pushed her to come out – along with much encouragement from her peers. 
  "I normally don't enjoy doing sports that much, but a lot of people recommended me to try lacrosse. When I went to the practices, I realized how much fun it is and that I really enjoy it."       
  This spring, Haedicke hopes to meet new people and to be part of the team, but mostly, she is hoping to have fun. 
 "I'm looking forward to having an amazing time with the people on the team. I just want to enjoy it and not be too focused on winning and becoming crazy good, because in a few months I'll probably never play the sport again," Haedicke said. 
  So far, Haedicke has gone to many open gym and conditioning sessions and has completed her goal of having fun and learning about lacrosse. 
   "I've enjoyed the team and everyone is super nice. Everyone on the team and the coaches are very understanding and supportive." 
   Making mistakes as a new player is inevitable, but that hasn't held her back. "No one has gotten mad a single time when I dropped the ball or did something wrong. I can keep trying until I get it right. I just really enjoy the time I spend with them." 
    Whether they are just playing to have fun, try something American, learn a new sport, or just be a part of the team, all four exchange students bring unique talents and skills to the table. 
 Come out and support WO's exchange students at their next home game on April 28 at 7 pm against Northview! Also, stay on the lookout for a follow-up article at the end of spring to find out how the season went for Teles, Magrini, Moauro, and Haedicke.