One Step Closer to Change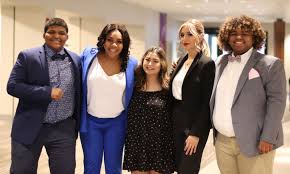 "Nayeli, the only thing left to say is, congratulations! You are the 2021 Youth of the Year," Craig Spoelhof, executive director of Holland's Boy's and Girl's Club, said. 
As Sr. Nayeli Mora stood up, a rush of emotions overcame her. Tears flow down her cheeks, but behind the tears emerges a gleaming smile. Before approaching the stage, she is embraced in a group hug from the other Youth of the Year candidates. Her eyes meet the familiar faces of her best friend, Lauren Toledo, her family, and her Boy's and Girl's Club leader, Justin Caserta. Mora is named the 2021 Youth of the Year for the Greater Holland Area by the Boy's and Girl's Club. 
The Youth of the Year award is the Club's highest local honor for West Michigan. Each year, the Club recognizes teen members of varying ages, nominating one exemplary member to be the "Youth of the Year." From there, the winner will represent the Holland area in the state competition. 
Along with Mora, four other area students were nominated: Jaylon Grimes, Donna Martinez, Alesha Vandenberge, and Gregory Woods lll. Grimes and Martinez also go to West Ottawa High School. 
The Youth of the Year award is not just handed out; the award must be earned. Youth of the Year finalists become selected based on their outstanding leadership, service, academic achievement, and dedication to their community. When Nayeli Mora received the award, the culmination of all the major stepping stones in her life came flooding back. 
Located on Van Raalte Avenue in downtown Holland, the Boy's and Girl's Club serves as a safe space for students of all ages to gather, work on school assignments, and foster relationships that will last a lifetime. Mora has taken part in the Boy's and Girl's Club for the past 10 years. 
"I was eight years old, starting elementary school in the United States for the first time. I faced bullying from my classmates because of my accent and lack of English language. If there was one place where I never struggled to just be myself and say what I felt, the Club was that place. Kids from all walks of life were treated as equals and everyone was important," Mora said in the speech that she gave on February 23 at the Youth of the Year Celebration Ceremony. 
During her time at the Boy's and Girl's Club, Mora grew tremendously. The Club has become her safe place; and her home away from home. Not only did Mora attend the Club for academic support, but the feeling of belonging is where she flourished. She wants to continue to help others in her future, similar to how the people at the Club helped her. 
Even though the nominees were all hoping to win the award, a sense of competition never occurred. They supported one another with whatever they needed. Peer and fellow nominee Jaylon Grimes speaks highly about his relationship with Mora. He feels she is "a close friend who helped me to have more confidence during the process." 
Mora owes a lot of her success and gratitude to her Club leader and lifelong friend, Justin Caserta. 
"[Justin] Castera has been the staff member I have always maintained a strong relationship with. I met him when I first started the Club in second grade and he always made sure I was okay in anything I needed. I had moments where I was struggling and just always listened to me and supported me. He has the kindest heart and has so much empathy. I learn from him and try to show empathy and kindness in my everyday life," Mora said.
Castera has led Mora's Club for 10 years. He describes her as passionate, bold, and a selfless advocate for others.
"I knew when Nayeli was just in middle school she was special. She came to the aid of someone who was getting bullied and stood up for that person when they didn't have the courage to do it themselves. That's a very hard thing to do at that age. Nayeli has always been outspoken and driven to push for what she believes in. I'm very proud of her," Castera said.
Aside from the benefit of the club, the West Ottawa community paved the way to a plethora of opportunities for Mora's success. Mora is an advocate for the Spanish culture, immigration, and putting an end to systematic racism within the education system. 
"West Ottawa gave me the opportunity to join clubs such as the Spanish Club that allowed me to express my culture and be more involved in my school and community," Mora said. 
During her sophomore year, Mora was brought under the wing by her AP Spanish instructor, Maria Castilleja. From there, Castilleja encouraged her to join the Spanish Club, and now, flash forward two years, Mora is the club's president. 
"She [Castellja] got me involved in Spanish Club which I love to attend. The Club helped me learn more, not only about my culture, but also more about myself. Senora Castilleja is one of the strongest people I have ever met. Her story inspires me to continue studying. She always makes sure I have the tools and support I need to pursue my dreams," Mora said. 
Castellja spoke very highly of Mora and her accomplishments. She claims Mora to be an asset in class and Spanish Club; she is constantly motivating others, being enthusiastic about learning, and being a positive influence on her classmates.
"Nayeli is strong with her convictions, she has a kind heart and wants to help others. She is not only committed to her own accomplishments, she contributes in our community, gives of her time and is the type of student who is driven, engaging, curious and one of the most caring students I have ever had, I am more than proud of her," Castilleja said. 
Mora used both Castilleja and Casterta as recommenders for the Youth of the Year application, a process that was short of easy. The application required tedious work resulting in hours spent crafting essays, consulting with the other nominees weekly, and memorizing the speech she was expected to give. 
"I had to complete three essays, one about my experience at the Boys and Girls club, another about the obstacles I faced in life, and finally an essay about what social issue mattered to me; I chose systematic racism in schools," Mora said. 
Mora plans to study political science next year at Grand Valley State University. Postgraduate, she wants to go to law school to study corporate and immigration law. Eventually, Mora dreams of owning her own law firm and providing equal opportunities for everyone, similar to her experience at the Boy's and Girl's Club. 
Winning the Youth of the Year award is not just another achievement to add onto a college application or a job resume, the award is a symbol of change, community, and character. The process aids Mora to use her voice for good; to motivate others to also find their voice and speak on behalf of those that cannot. Mora is one step closer to making a change.