Headin Home Pet Rescue: the blessings of COVID-19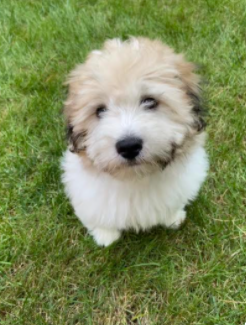 Beignet, a three-month-old Havenese mix puppy, trotted through the lawn, his petite body engulfed by the grass. The staff of Headin Home Pet Rescue stood in the warm August air, masks up, and socially distanced from the eager families. Beignet bounded towards Chicago resident Alisa Coghill, greeting her with happy yips and an excited tail wag. He nestled into her leg, burying his small face into her side. Coghill and Beignet have been inseparable ever since. 
   "Headin Home was a fantastic shelter because their care and concern for the well-being of animals is evident & shines through," Coghill said. 
   Despite the exceptional circumstances of COVID-19, Jim and Merri Bader, founders of Headin Home, a local Holland shelter, have made every effort to guide individuals through the process of pet adoption. 
   "At first it started out where we were getting a lot more people interested in adopting and fostering because everyone was home," Kenzie Shannon, a staff member at Headin Home said.
   At the beginning of the pandemic, there were many accomodations Headin Home had to make. 
    "We had to limit the amount of people that come in to see animals. The first month it hit I would say our foster homes doubled," Emily Wolters, another staff member of Headin Home said. "We had a lot of people reaching out."
   Although COVID-19 called for a lot of adaptations, the adoption process remained fairly similar.
   "For our dogs, people can fill out an adoption application online and if that gets approved we set up a meet 'n greet for them to come," Shannon said.
   The staff even continued to reach out to other shelters around the country to take in animals.
"We do a lot of shelter transfers where Emily will go and pick up a lot of dogs from other places… we have dogs right now from a South Carolina shelter, we've had dogs from a Tennessee shelter, and we help other shelters in Michigan," Shannon said.
   With millions of families staying home last spring, many were blessed with dogs from Headin Home. 
Biljana and Mercede's story: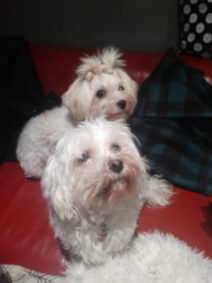 Biljana, while her littermates leaped and nipped at each other, hid in the corner unnoticed. She stood there alone, her eyes filled with fear. It was only until Kris Vander Till, a Holland resident, came to the adoption site when Biljana came out of hiding. There was an instant connection. Vander Till adopted Biljana on July 15, 2020, after she had recently lost her dog of 10 years. With only one dog left in the house, Vander Till decided that they needed another dog to keep their 15-year-old dog Snickles company. 
   "Snickles was not so sure and poor Biljana was so scared. Being a puppy mill survivor, she had no idea that we were safe and in love." 
   Dogs that were born in a puppy mill can't tell the difference between a loving owner and one with bad intentions. They are raised in a crowded, filthy environment with little food and water. 
   "There were 48 puppies at the beginning of COVID that we got from the shutdown puppy mill, Shannon said.
   Luckily, the puppy mill was discovered, driving them out of business. Headin Home took in all of the puppies and began to find the right homes for them. 
   About a month after Vander Till adopted Biljana, they experienced "total heartbreak again" when they lost their beloved Snickles.  
   "Poor Biljana was totally lost again without Snickles to follow around and get her direction from. I just felt she needed another dog as we did to help fill the huge hole in our hearts after losing both our fur babies just a couple of months apart." Once again, Headin Home Pet Rescue blessed the Vander Tills with another dog named Mercedes on September 15, 2020. 
   Biljana and Mercedes made a perfect pair, "They are inseparable," Vander Till said. 
   Watching Biljana and Mercedes grow into playful pups after being neglected at the puppy mill has been life-changing for the Vander Tills. 
   "It has been incredible to be a part of their rehabilitation. Every baby step they make is huge and a great reason for celebrating. It is amazing how far they have come," Vander Till said.
   Headin Home made it easy for the Vander Till's to adopt their dogs, despite the challenges of COVID-19.
   "I immediately felt a connection with  Kenzie. They are wonderful and I feel that they sincerely love all their animals," Vander Till said. 
   "They are running Headin Home from their hearts and not for any type of profit or gain."
Beignet's story: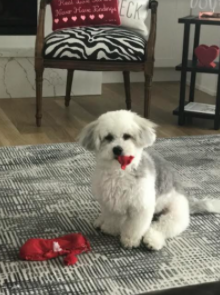 Three-month-old Beignet, a Coton de Tulear mix, romped through the grass. His black and white fur made him easily identified amongst the rest of his littermates. Beignet stuck his snout in the air, searching for the scent of newcomers. A few of his littermates had already been adopted, leaving only a few puppies remaining. Alisa Coghill, a resident of Chicago, Illinois, made the long trek to Holland in hopes of adopting a new furry friend from Headin Home. She had heard from a friend about the puppies, had seen a picture of Beignet, and knew he was the dog she wanted.
   "A few nervous moments added in when we thought the people ahead of us might have chosen the one we had our hearts set on – Benny! Luckily, we prevailed!" Coghill said.
Coghill adopted Beignet on July 23, 2020  Headin Home was recommended to her by a friend who had successfully adopted one of Beignet's littermates.
   "I am very satisfied with Headin Home. Our experience was absolutely positive from start to finish!" Coghill said. 
   Even adopting all the way from Illinois, Headin Home made the adoption process unstressful for Coghill. Headin Home does everything to make sure the adoption is right for the dog and for the owner. 
   "The process was thorough, which we felt was a good way to ensure that people who are willing to properly care for an animal will take the time to complete necessary requirements, such as providing references, name of veterinarian used at home location, list previous pets, etc." 
   The guidance and support from Headin Home during the adoption process do not go unnoticed. In fact, Coghill was astonished at the exceptional communication from the Headin Home staff.
   "They were very prompt in their responses…the shelter made the experience positive by keeping us well-informed of their procedures & what care the pups had been receiving," Coghill said.
   Beignet has been a huge blessing to Coghill, especially during the pandemic. 
   "Having a puppy is always a lot of work, but worth every minute!  This was especially true during Covid because it forced us to remain active and get outside more than most were doing!" Coghill said. 
   "Beignet has been a wonderful addition to our family & we are so thrilled to call him ours!"
Zuri's story :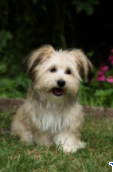 It's a big day for Zuri, today she is going to meet a potential owner, a future family. Despite being with her temporary family for only a week, she runs around the house, excited to meet Julie Vandenberg.
   Vandenberg decided to adopt a new puppy after her previous dog, Sheltie, a Shetland Sheepdog, died in November 2019 because of kidney disease. 
   For her, adopting Zuri was a given, especially during the uncertain times of the pandemic.
   "I live alone and COVID made it difficult to do things outside of my home to avoid the loneliness I was feeling without my Sheltie.  I decided to adopt because I needed rescuing too at that time," Vandenberg said
   Headin Home was the obvious choice for Vandenberg to adopt from, for she was already familiar with the shelter and the staff.
    "I chose Headin Home for my adoption service because Dr. Bader from Mapleview Animal Hospital has been my vet since 1997," Vandenberg said. 
She described Headin Home as the perfect place to adopt.
   "Everyone at Headin Home is dedicated to finding a fur-ever home for every animal in their care in an environment best suited for each individual animal," Vandenberg said.
   The shelter strives to find families that exactly match the needs of the animals, "For example, if a dog is more comfortable having another dog around, Headin Home will search for a home with another dog.  If a dog needs room to run, Headin Home will search for a home with a fenced-in yard," Vandenberg said. 
   Adopting during COVID can sound complicated,  but for Vandenberg, this time was perfect for strengthening her relationship with her new puppy. Zuri has established herself as the ideal partner to overcome this challenging time.
    "We have both found a best friend in each other.  We love doing things together like walking, riding a bike, watching TV. She was glued to the TV watching the animated version of The Lion King the other day – at least up to the point where Simba wasn't little anymore.  I think it was Simba's young voice that kept her attention" Vandenberg said.
   Today, Zuri attends the puppy preschool at Dogs Bay North and is happier than ever "She loved going there.  She got so excited and couldn't wait to get out of the car when we arrived at Dogs Bay," Vandenberg said. 
   Thanks to Headin Home, Vandenberg and Zuri have been inseparable ever since. They both cannot wait for the end of the pandemic to continue the many adventures they want to pursue. 
Tail and Tally's story: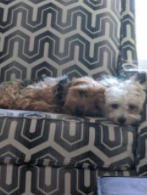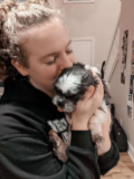 Tail and Tally were the lucky dogs of the COVID-19 adoption wave. In fact, one family decided to rescue not only one dog but two dogs at the same time.
   This family is the Meyer family. After adopting their previous dog Chewie, a Yorkshire Terrier Mix, Kaitlyn, the daughter of Shanna and Chris, convinced her parents to foster two dogs throughout the quarantine. 
   "I've always begged my parents for a second dog after we got my first dog almost three years ago. My dog, Chewie, is very playful and very good about playing with other dogs. We knew he would be great with other foster dogs because of how friendly he is."
   Shanna Meyer decided to contact Headin Home because they were already familiar with the shelter.
   "We chose Headin' Home because that is where we adopted our dog from. I had reached out a couple of years ago looking to rescue a Yorkie," Shanna said.
   The shelter provided the best process to adopt, even during the pandemic 
   "The process was quite easy to foster. We had to fill out an application on their website, and once approved, they contacted us with dogs they thought would get along well with Chewie. It was awesome to be able to devote some time and love to these fur-babies… especially when everything else in Holland was shut down," Shanna said. 
    For Kaitlyn, fostering a dog was a very unique experience. 
   "I really enjoyed the experience with one dog that we rescued. Tail was a fast learner and ended up in a happy home where he was renamed Peter. It was a very heartwarming moment when we found out that he found his forever home," Kaitlyn said. As a foster family, you are not just taking care of the dog, you are also helping him to find his future home.
    Unfortunately, this experience can also be heartbreaking. The Meyer family had experienced heartbreak with one of her foster dogs, Tally.    "One experience that I had wasn't very great at all, however. The very first foster dog that we've ever had was a very old 8-pound Shih Tzu named Tally (pictured right). Tally was rescued from a breeding shelter, and our goal was to make her last years of life comfortable and enjoyable. I loved taking naps with her in my bed and snuggling with her while watching The Office. We bonded really closely really fast, and I made the mistake that no fosterer should; I got attached," Kaitlyn said. Unfortunately, Tally died of kidney failure one week only after the Meyer family rescued her. Their relationship was already very strong, which is exactly what made saying goodbye so hard. 
   "With tears filling my eyes, Dr. Bader said, 'she's in extreme liver and kidney failure.' I held onto her tight as we gave her back to the shelter so that they could eventually put her down after hospice care. I cried so much that day, and I still miss her, even though she was only with me for a week," Kaitlyn said.
   Even with fostering, you take the risk of getting attached to the little puppy that you rescued.   "It is an amazing experience, but it can be very hard to say goodbye. The satisfaction you get when you help the dog find its home is indescribable. But you have to have the end in mind when you foster a dog," Kaitlyn said. "The only bad thing is that you want to keep all of them!"
Daisy and Ella's Story: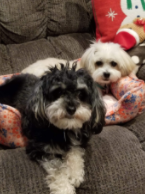 Daisy sat patiently at the door, waiting for her new companion to arrive. The brakes screeched as the car halted outside the front of the house. Daisy's tail began to wag as her owner, Leah Den Bleyker, walked up to the front door with her new dog, Ella. Den Bleyker placed the small, timid pup on the floor, allowing Ella and Daisy to meet for the first time. Daisy greeted Ella with a curious nudge. Ella however, retreated back to Den Bleyker, uneasy about the situation. 
  Since Den Bleyker adopted the pups, they have made great strides in adapting to their new home. 
   "When I adopted both of the dogs, they were both very timid and not trusting. Now, Daisy is more outgoing and she trusts me," Den Bleyker said. Although Ella was adopted after Daisy, her social skills have improved greatly.
   "When I first got her, she would hardly let me near her. Now, she has learned she can trust me and is less timid and fearful," Den Bleyker said.
   After adopting Daisy on August 19, 2020, Den Bleyker was very satisfied with Headin Home. She decided that she wanted to adopt her second dog from Headin Home because of how smoothly they operate the adoption service.
   "I like that there was no pressure to adopt the dogs and that they were willing to work with me to make the process go smoothly," Den Bleyker said. Headin Home makes the process less stressful by helping individuals through every step.  I like how effortless it was to adopt them since all their paper work was provided."
   Prior to adoptions, Headin Home makes sure the dogs are fully ready to be given to the families. The staff deals with the behind the scenes work such as vaccines, so that the families don't have to worry about taking the young pup back into the office after the adoption. 
  "Having them fixed, chipped, and vaccinated before adoption made it easier so I didn't have to go through those steps myself and wait for the process." Den Bleyker said. The medical histories of the dogs were also provided to Den Bleyker.
   Den Bleyker was first interested in adopting from Headin Home because they have a "foster-to-adopt" system available. Headin Home allowed Den Bleyker to "take the dogs home and see if they (were) compatible with my other animals."
   Headin Home wants people to be able to find the perfect dog for them. So if that means fostering the dog for a few weeks prior to the adoption to get a glimpse at what they're getting into, Headin Home is fully supportive. "It was a relief not to have to make a decision on the spot when I first met the dogs, even though I was pretty sure I wanted to adopt them from the beginning," Den Bleyker said. 
Hopper's story: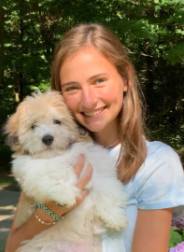 Hopper, the three month old Shih-Tzu, Havenese, Coton de Tulear, and Bichon mix, rolled onto his back in excitement when the Pratt family came to visit him and his littermates. He squeaked and wagged his tail, drawing the attention of Holland resident Jennifer Pratt. Hopper was already very social, greeting the family members and occasionally returning to his littermates for playtime. Hopper was exactly what the Pratts needed during the COVID-19 pandemic. 
   The Pratt family adopted Hopper on July 24, 2020 after the heartbreak of losing their twenty year old cat, Oreo, in early 2020. Prior to losing Oreo, they lost their beloved dog Wrigley in 2017.
   "The house felt empty and we were missing a furry companion to love," Pratt said.
The Pratts decided that the time was right for adopting another dog, considering the pandemic had everyone stuck at home. 
  "Adopting during COVID was great because there were fewer commitments and activities than usual, so we had more time to spend at home with our new puppy," Pratt said. 
   When the Pratts began to look for a new dog, they knew they wanted to adopt. Many people begin searching for breeders when they are looking for a dog rather than adoptions. However, some breeders can be very unethical. Hopper, like Beignet, was rescued from a puppy mill, where the dogs are not treated properly. 
   Since they were looking to adopt, they decided on looking into the adoptions at Headin Home. The Pratts were very familiar with Mapleview Animal Hospital, so they were excited to hear about the new puppies Headin Home had rescued in May.   
   "We chose Headin Home because it's Mapleview Animal Hospital's rescue service. Dr. Bader at Mapleview has been an awesome veterinarian to all of our pets ever since we moved to Holland in 1991." 
   Like many other people, the Pratts thought that Headin Home's adoptions were unstressful but much more meticulous than other adoption centers.
   "Headin Home does make the adoption process easy, but they are also very thorough in determining the right family for each of their rescue pets," Pratt said. Headin Home is determined to find the right home for the animals, so they are very precise with the adoption process. 
    "It's so great that they won't compromise their standards because they want to ensure every pet is adopted into a loving home and family that will love them and take care of them," Pratt said. 
   When the Pratts adopted Hopper, they immediately recognized how social he was. He's very energetic, always keeping Pratt very busy. 
   "Headin Home had done a great job of socializing our puppy with other puppies and also with people, so when we brought him home he was very happy to be with us and didn't seem nervous or afraid," Pratt said.
   Hopper was a perfect addition to the Pratt family, especially during such uncertain times. However, one thing is for certain that "Mapleview has always been such a blessing to us in the way that they truly care about the health and welfare of our pets, and of all animals," Pratt said.
   Despite the hardships of COVID-19, one thing remains constant: Headin Home Pet Rescue has been a blessing to many families.