A search for the spiciest dish in Holland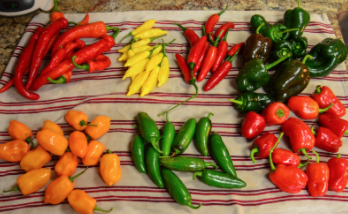 As a product of evolution, peppers became spicy to deter predators; but, now humans crave the taste. From simple Jalapeño peppers to elaborate crossbred peppers such as the Carolina Reaper humans chase the high of mouth-burning heat. Five years ago, Justin Anair and Alex Lindemann went on a search to find the spiciest food in Holland and now Sam Ramirez and I, Noah Boggs, continue their search for tear-jerking menu-items. We used the same rules they established originally: Request the spiciest food item at the four restaurants and eat at least a quarter of the meal or until we started crying. We went to four restaurants. Three new ones and then Buffalo Wild Wings again to try their new, spicier chicken wings.
The place with the least spicy food we tried was Noodles and Co. We got the Spicy Korean Beef Noodles and they were well… underwhelming. Although they are ranked the spiciest item on the menu and Noodles and co. is the third restaurant that pops up when you google "spicy food in Holland," they did not go crazy on spice and we both agreed we could eat them for a regular meal with no problems. 
The third least spicy dish we tried was the "weeping tiger" from Siri Thai Kitchen. Although the dish promises pain in the name, the delicious beef meal doesn't bring the weeping spice as it promises. It consists of delicious beef with an acidic hot chili sauce, and we both found it only slightly hotter than the dish from Noodles and Co. and certainly not the spiciest dish in Holland. 
Taking second place in our test was the Red Curry from Thai restaurant Pho Mekong that we ordered extra hot. This mouthwatering curry was delicious adding a nice vegetal kick of heat by using peppers and chili paste in the coconut-milk-based rice and sauce dish. We both agreed that if we ate a full meal of this delectable dish we would have pain, but it was bearable enough in medium doses.
Finally, we went to Buffalo Wild Wings. We secured the takeout order of their new Carolina Reaper Blazin' wings, and as soon as they entered the car Sam's eyes teared from the devilish odor. The wings were covered in inferno red-colored sauce that stung our noses just breathing, and as soon as we tasted the sauce we knew this would easily take the cake as the spiciest food in Holland. The intense buttery-heat lasted for dozens of minutes, covering our throats and tongues. The only response Sam had was "Oh my gosh Noah this isn't funny." It made our eyes water out of control and made us cough violently. We only made our way through four of the six unpleasant wings.
As with our predecessors, Buffalo Wild Wings was the spiciest dish we found. Their sauce is so hot that I doubt anyone actually enjoys and is simply designed to be a test of your pain tolerance. The meal we most enjoyed was the curry from Pho Mekong as it has a nice blend of heat and flavor. We would say we will keep looking for the hottest dish in Holland, but we both believe nothing will top this unless Buffalo Wild Wings comes back with a new hotter wing.