The snowmelt system: Bringing the community together during the winter
   My car door opened with a click and a cold breeze hit my bare face. I scrambled to put on my mask and looked for the Van Raalte Statue. I scanned Centennial Park and saw the looming bronze figure and the group that had started to collect underneath him. I left my car and approached the group, shivering in my sweatshirt as I walked on the dry, brick colored sidewalk. 
   I noticed that the group was outfitted in varying degrees of neon and lights, from neon yellow pants to blinking light vests. No one in all of downtown Holland could miss the brightly colored group. We stood, conversing lightly underneath the trees that surrounded Centennial Park before one man spoke up and described our route around downtown. 
   As the sliver of daylight slipped away behind the horizon, Holland Running Club embarked on its first group run of the season, and I followed close behind on the dry, cobbled streets into the heart of Holland.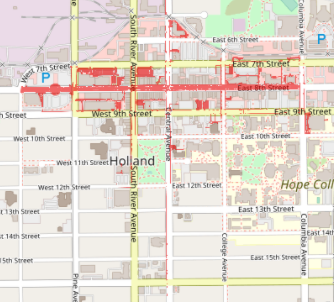 Holland's snowmelt system is a large underground heating system that utilizes water heated by Holland's Board of Public Works (BPW) power plant. Like a vast network of veins, water from the plant gets pumped at 95 degrees Fahrenheit through 190 miles of tubing into the heart of Holland, downtown.
   This network snakes beneath the brick sidewalks, melting one inch of snow per hour at 20 degrees Fahrenheit and breathing life back into the community during the winter.
   Originally, Holland's snowmelt system was suggested by Edgar D Prince, owner of the Prince Corporation, in 1988. Prince had seen similar, smaller scale snowmelt systems in Europe and believed that a snowmelt system would aid in drawing the community to downtown even in the winter. 
   After much deliberation, local businesses worked with the city of Holland to turn Prince's dream into reality. Today, the snowmelt system covers around five miles of the downtown Holland area and has the capacity to expand up to five times its current size.
   The snowmelt system in Holland is one of the largest publicly owned snowmelt systems in the country and attracts runners and shoppers from all over West Michigan.
   Brenda Seymour, local runner and snowmelt regular, said, "I think it has made a difference in our town, I think it made us a destination." 
   For the past six years, Seymour and her running group have run on bike trails, sidewalks, and roads around Holland at five in the morning in order to get a workout in before they had to go to work. They lovingly named this tradition, their "stupid o'clock runs."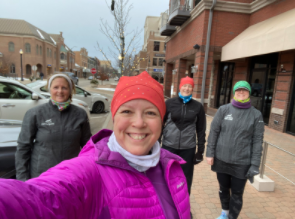 However, when the weather gets bad, Seymour and her group take the tradition to the snowmelt system to avoid running on dangerous ice and snow. "If it has snowed or there is ice, we are downtown, always," Seymour said.
   Some members of the group drive up to 30 minutes to run on the sidewalks of downtown Holland because running downtown is safer than running on icy roads and sidewalks.
   "There is no ice, so you are not slipping and falling. I have had two friends in the last week who ran on icy sidewalks, one broke her arm and one broke her thumb when they slipped and fell on the ice. They were both out running, not on snowmelt," Seymour said.
   In addition to casual runners, many out of season college and high school athletes also use the snowmelt system to keep up their fitness during the winter.
   Abby Olson, West Ottawa alumni and runner for Butler University, says that during the winter when there is a lot of snow she runs on the snowmelt system almost every day to avoid running on icy roads
   "I am very grateful that we have the snowmelt because it makes getting the mileage and intensity of running that I need a lot easier and more interesting," Olson said.
   Not only does the snowmelt system create a safe place for individual runners, but it also helps bring runners together through Holland Running Club (HRC).
   Established in 2014, the HRC has grown from a small group of runners to a large running community that hosts group runs a few times a week. During the winter, from December through March, the club utilizes the snowmelt system. Some members clock up to 80% of their winter miles on the snowmelt system.
   HRC's vice president, Ben Burry, credits the system as one of the primary causes of the club's growth. 
   "Without the snowmelt, we wouldn't be nearly the club we are. Casual runners would shy away I'm sure, because they wouldn't want to risk the icy sidewalks and streets. Many would give up running in the winter altogether. And once people tend to stop something like that, even if only for a few months, it is very difficult to get the motivation to start back up again the following spring," Burry said.
   Burry also explained that the HRC has worked hard to give the snowmelt system the recognition it deserves by getting it featured in an article and video in Runner's World Magazine. He also noted that in 2017, Road Runners Club of America (RRCA), HRC's parent organization, designated Holland as a Runner Friendly Community largely because of the snowmelt system.
   In addition to providing a safe path for runners and walkers, the snowmelt system also draws business downtown during the winter and eliminates the need for businesses to maintain a clean sidewalk in front of their store.
   The Apothecary Shop (formerly Model Drug Store), a family-run local business founded in the 1800's, has seen the great change the snowmelt system has brought to Holland.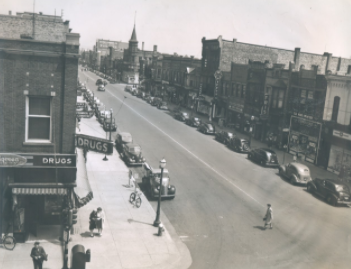 Store Manager, Jen Foley, described that when her grandparents bought Model Drug Store in 1961, they were in charge of snow control in front of their store.
   "My grandpa (Keith Ditch) talked about how being on the corner of 8th Street and River Avenue was difficult because snowplows would come through often and push up huge piles of heavy snow and ice. They had to keep the crosswalks clear, which was a lot of work," Foley said.
   Today, downtown businesses typically do not have to face the same onslaught of snow the Ditches faced because of the heated sidewalks.
   Foley does mention that the snowmelt system is not perfect. Occasionally when Holland is hit with a large wave of snow, some shoveling may be required to clear the sidewalks. However, maintenance is required far less often than  before the snowmelt system.
   Holland's clear sidewalks attract consumers and residents to downtown, which also aids businesses during the slow season.
   Kate Prefontaine, cafe manager at Ferris Coffee, said she sees and interacts with many customers who visit downtown purely because of the ice-free sidewalks. 
   "It makes Holland a hot spot all year round versus just in our sunny summer months," said Prefontaine.
   Foley agrees that the snowmelt system allows the community to enjoy downtown even in the winter. 
   "It's also wonderful for Warm Friend (a retirement home located at the corner of 8th and Central Ave.) residents. They can get out and walk downtown safely as well. It's good for everyone!" Foley said.
   Despite being located underneath our feet, the vast network of tubes and the gallons of water that make up the snowmelt system breathes life into downtown. Without the veins, the heart of Holland would grow still in the winter.
Follow HRC on Facebook- @hollandrunningclub
And visit Ferris Coffee and the Apothecary Shop downtown