Supper & space heaters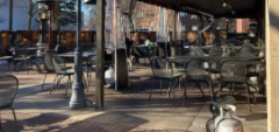 This time last year, Holland residents would never have imagined they'd be enjoying their Blarney Mac 'N' Cheese outside in below freezing temperatures. Now, a dinner outside sounds like a joyous glimpse at normalcy, even in the cold.
   In Holland, as government regulations loom over businesses, a few fan-favorite local restaurants are finding ways to keep consumers full in COVID safe conditions. 
   "The industry as a whole is very resilient, and we are used to rolling with it and making things happen," general manager of New Holland Brewing Company Erica Cantu said.
   The Holland community continues to enjoy the menus of local restaurants. Despite the COVID-19 pandemic, the town's beloved restaurants have used outdoor dining as an opportunity to keep some kind of normalcy in a safe way.
The Curragh:
   Amidst the hustle and bustle of 8th Street, The Curragh has transformed their patio space into a cozy spot to eat in a COVID safe environment. Distanced tables, masked servers, and propane fire heaters keep the space warm and happy. 
   "It's definitely been challenging. It's just like rules of the game, you just have to follow them," a long-time Curragh employee said. COVID-19 has thrown many obstacles in attempt to thwart The Curragh's success. "The biggest challenge was getting enough heaters," the staff member said.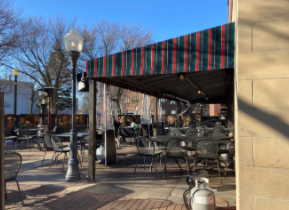 Although heating was an issue at first, The Curragh now has propane heaters scattered throughout each of the 25 available tables to keep the guests warm. 
   "My favorite part was eating outside and being together with my friends. I love to eat outside, so it didn't bother me that it was for COVID reasons or that it was 44 degrees out," Holland resident Michelle Willard said. "It was a nice atmosphere with the wood stove burning in the background and the space heaters to keep us warm, and of course a hot chocolate to enjoy."
   The Curragh has made great adjustments to accommodate with government regulations, and these adjustments have not gone unnoticed as the restaurant remains open, still serving guests.
Salt & Pepper:
   Salt & Pepper, a local savory grill and pub located on Lakewood Boulevard, has also joined the outdoor dining community by creating five secluded dining spaces behind the restaurant.
   The restaurant's "bubble tents" are able to be reserved for $20 for groups of four to six guests willing to spend a minimum of $100 on their meals. The enclosed bubbles are zipped shut with a table, chairs, and space heaters.
   Cali Grissen, a Zeeland resident, recently dined at Salt & Pepper. "My favorite part was being able to enjoy a dinner out to eat with my friends," Grissen said. "The waitress always wore her mask and she always sanitized before she came into our bubble. I also saw waiters cleaning other bubbles, and they sanitized everything."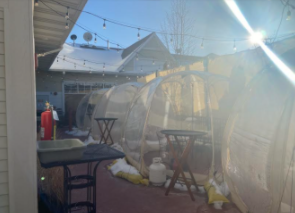 Salt & Pepper has faced its fair share of difficulties since the Coronavirus initially affected the Holland community. After the first restaurant shut down, Salt & Pepper lost 46 employees, going from 64 staff members to a mere 18. Since the availability of bubble tents, the restaurant has been able to employ 36.
   Mike Karas, manager of Salt & Pepper, recognizes the challenges he and his staff face on a daily basis since the pandemic began, but he refuses to let COVID-19 take away the restaurant. 
   "Managing reservations has been really hard on the staff. It's 20 mile per hour winds and five degrees outside. You walk outside to bring their food, and chips blow off the plate. It's stuff like that that customers don't really recognize. The hardest part is the actual service part of it," he said.
   "You don't really have a choice, so you have to adapt. But, do you want to? No," Karas said.
Big Lake Brewing:
   Enjoying a restaurant-style meal can also be done at Big Lake Brewing as their outdoor patio is open for business. Fitted with space heaters and comfortable seating, guests are able to indulge in their favorite Big Lake foods without breaking any current health regulations. 
   The restaurant has ten tables available for outdoor dining and keeps its guests warm and comfortable with six heaters, both propane heaters and natural gas fire pits.
   "It's been tough, most of our front of house staff was laid off and we've had to switch to a lot more to-go oriented serving. Government regulations are open to interpretation, and finding out whose interpretation to interpret and then going from there can be really complicated," a Big Lake Brewing employee said.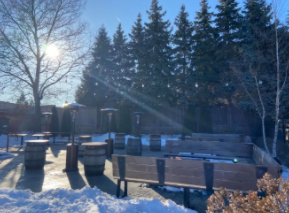 "Not everybody pays attention or agrees (to government regulations), so having everybody on the same page has been a very delicate dance," he said.
   "I'm usually, actually all of the time, an indoor person, so it was nice having a change of scenery," Sr. Andrew Key said. "It's very similar to indoor dining; the service was really nice and they still brought the food out to you." 
   Despite the changes of day to day life, Big Lake Brewing has found ways to remain serving its customers throughout COVID closures.
   "Our community has been very supportive in keeping us going and there's been way more people sitting outside than we ever would have thought there would be this time of year," the Big Lake employee said.
New Holland:
   Another Downtown Holland restaurant has put its own spin on dining outdoors. New Holland Brewing Company has opened its "outdoor beer garden" to continue serving their guests in a safe and sanitary way.
   Located behind the restaurant's storefront on 8th Street, New Holland's outdoor seating is fitted with 18 socially distanced tables and numerous heaters. New Holland has transformed their outdoor space into a warm and comfortable year round dining area.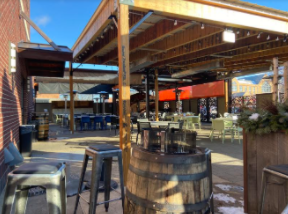 When indoor dining closed, New Holland's profits were greatly impacted. Still, the restaurant was able to utilize takeout and outdoor alternatives to remain in business.
   "Since we've opened outdoor dining, we have always had some brave folks willing to sit out there," Cantu said, recognizing just how willing community members have been when it comes to supporting the establishment.
El Rancho: 
  Clearly, outdoor dining is no longer reserved for warmer seasons. At El Rancho, located off of Riley street, outdoor dining is available. 
  The patio next to the establishment is encased in a white tent filled with plenty of heaters to keep the guests warm. The tent is connected to the building, making it easy for the staff members to move quickly between the dining area and the kitchen.
   After her recent outdoor dining experience at El Rancho, Sr. Leah Hopkins was thrilled by her time there, "The space heaters made the space feel warm and cozy. El Rancho had good service, nice workers, and a fun environment. I was happy to be sitting down in a restaurant for the first time in weeks," she said.
   "It felt similar to being in a secluded booth, I was very comfortable while I was eating. It was a very COVID safe environment, tables were distanced and separated with plastic curtains and anyone who wasn't seated wore a mask," Jr. Grant Sandstedt said. 
   Changes brought on by the COVID-19 pandemic continue to be ongoing, but Holland-area restaurants have worked relentlessly to roll with the punches and continue to serve the community.
   As guidelines continue to evolve, supporting local businesses is now more important than ever. Whether eating at home or at a restaurant, indoors or outdoors, help treasured Holland community restaurants stay in business by continuing to dine locally.