The Manning Family: Three additions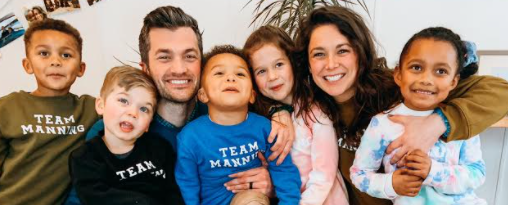 It was a Friday night: pizza night at Jake Manning's household. After coming home from work, Jake knew that this was anything but the typical pizza night with his wife, Bryanna, and his two children, Lousie and Teddy. He was walking into his house to be welcomed by a new family, his three foster children, at the very moment that he opened the door.
Eight years ago when Jake and Bryanna got married, they desired to grow their family someday through domestic adoption. They always loved the idea, but when they started to actually explore what that could look like, they learned that there was a true need in their community for foster care.
Although they were eager to adopt children one day, it was a very long process that took a lot of time and prayer. After all of the praying, conversing, reading, waiting, and learning as much as they could, while not too much to scare them away from the idea, Jake and Bry took the plunge and began the licensing process in 2017.
The Manning's continued to educate themselves about the need and the process of fostering to adopt. They began the months-long process to attain their license. They initially did this through Bethany Christian Services, but later transferred the license to the Michigan Department of Health and Human Services.
"We actually got a call to be the three kids' foster family in the fall of 2019, but we had just begun a major renovation on our home we were about to move into so we actually never had the opportunity to say yes to their placement with us," Jake said. "However, Bryanna and I kept thinking about these three kids and the possibility of becoming their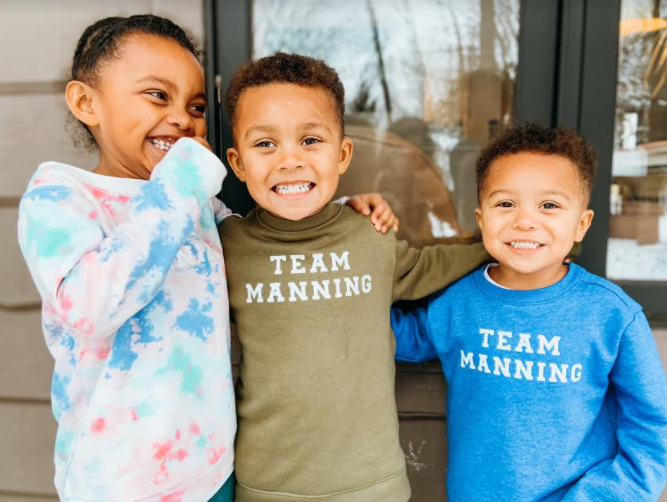 family. From there, we contacted the foster family…" who was currently taking care of these three kids, "and asked if they'd like to have a weekend 'off' and if we could provide some short-term respite care for the children to get to know them. We wanted to see how life with five kids would be. We ended up having them stay with us for a long weekend in February 2020. After catching our breath that Sunday evening, we still felt unified in our peace and optimism about pursuing these children to join our family."
The Manning's became licensed for foster care with the intention to adopt. Their children (who were adopted on the 20th of January) moved into their home from another foster home with the intention that they would adopt them. The three kids have been living with them for six months (per State of Michigan law) and the adoption will be finalized after that time period.
Because the foster kids moved in after their parental rights were already terminated, (which means that their parents are no longer legal guardians and the plan is no longer to return them to their birth family- but to be adopted), their time in the Manning's home as foster children looked a lot different than most situations.
Normally, the plan is to reunify kids with their birth families once their families prove they are stable and healthy again. Therefore, during the time they are in care, the children are visiting with family members in controlled settings before returning back to their foster home.
"As you can imagine, this is highly emotional and difficult for everyone involved. Overall, I don't know any line of work that carries more intense emotions with it than foster care.
When children, family, safety, and home are concerned- it's always going to be so complex and emotional," says Bryanna.
Jake added that "the experience over the last six months has been incredibly challenging and equally rewarding and life-giving."
Bryanna goes on to explain how the entire process of fostering is "…highly emotional. As a mother of two young biological children, I empathize greatly with the pain that the mothers are going through after their children are removed from their home. There are many different reasons that children end up in the child welfare system and all of them are hard and complex. It is very emotional to walk through these things with kids that you come to love and parents that you want to be healthy and make good choices."
Jake and Bryanna, although they are fostering to adopt these three children, have two biological children, Louise and Teddy, and they were just as excited to hear that they were going to get a new addition to their family. Three new additions to be exact. Jake explains that "(Louise and Teddy) have been very excited about 'getting a sister' and 'getting more brothers'. It's good to, again, have so many more moments of excitement and appreciation for the growth in our family out of Louise and Teddy."
However, there are times where the kids wish that things were back to normal. "Those moments of wanting things to return to what they were, do periodically surface," says Jake. "…we acknowledge and have seen evidence of longing for moments gone by when it was 'just us' and that has been tough to hear."
Through all of the emotions that the Manning family experienced during this process, they had a lot of amazing experiences that helped them not only learn about each other but grow closer as a family. When Bryanna and Jake went through foster care training, they heard that one of the most helpful traits to have as foster parents is a great sense of humor.
"When you are working through so many hard things on a daily basis, you have to find ways to laugh about it, or else it is just too heavy," says Bryanna. "Humor is so important and that's why I am always grateful to my husband for helping me find the lightness in most situations. There have been times when all the kids are yelling in the car, or the 17th kid has lost their cool over the color bowl we picked out for them, or a child is adamant they won't change out of their jammies for the day. Jake and I just have to find a way to laugh about it. It helps keep us sane."
Jake and Bryanna fostered the three kids during the pandemic, but they still found ways to grow together and spend time with one another in outdoor settings. Jake says that he and his family are "… fortunate to have Lake Michigan access and a small park with a playground in our neighborhood. We spent a ton of time during the spring and summer and early fall outside and on the beach. It was great for all of us to be outside so much as we walked through the challenges of the blending of our family with the pandemic still lurking."
On January 20, the official adoption date through a zoom meeting with the judge, Jake says that he "…looked forward to slowly settling into our new life as one family- rather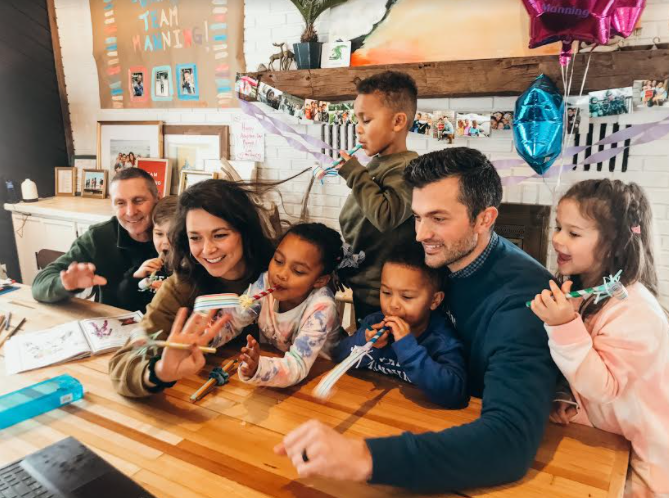 than two. I also look forward to moving on and making more family memories together."
Through their countless pizza nights, outdoor adventures, and much more, the whole family cannot wait to continue bonding and growing closer together. To celebrate the new additions to the family, the Manning's are going to do an annual "Family Day" celebration in the summer to commemorate when they moved in and they first became the family they are now.
Jake closes by saying that he thinks that "…one of the most evident things Bry and I have learned from this so far is that we all teach our kids and were taught ourselves as kids that we need to rely on one another, but that's never been more of a reality than it is for us over the last six months. We have always needed our community of friends and family, but it's become so increasingly real how great of a need we have for our community and that with their help and support, we will be able to answer this call as a family."