Raw Mana
Sweat dripped from the lifter's brow as the Hawaiian sun beat through the windows into the gym. The words "RAW MANA" erupted from his throat as he pumped himself up for the next lift. Jesse Garza, another lifter in the gym, laughed at the man as he had misheard him. Garza is Hispanic and had thought he heard the man say "raw hermana" meaning "raw sister" in Spanish.
After the man performed his lift, Garza approached him and asked what he had said. The man laughed and said, "brah it means raw power… mana means 'power' in Hawaiian."
Raw Mana is a saying that lifters would shout to pump themselves up to lift, but the words also held meaning to powerlifters like Garza who power lift 'raw.' Lifting raw means lifting without equipment that could aid their abilities such as bench or squat shirts and deadlifting suits.
Since Garza's encounter with the man in Hawaii, "raw mana" has stuck with Garza throughout his powerlifting career. In his 17 years of competing, Garza never used equipment to aid his lifting.
Garza's passion for lifting started at five years old when he got his first weight set. He fell in love with lifting because it made him "feel strong and more confident." Garza continued to lift throughout elementary, middle school, and his high school football career at Holland High.
Garza started lifting competitively in 1996 when he was 25 years old. Back then there was no powerlifting in Michigan, so Garza would travel to other states to compete: Indiana, Illinois, and Ohio. Garza explained it was "just me and an atlas because there was no Siri or GPS."
Garza took seven years of competitive lifting to qualify for his first world powerlifting meet in 2003. From that year on, Garza competed in five more world competitions. Garza eventually made Team USA in the American Drug-Free Powerlifting Federation and competed globally. He even got to travel to places like Bradford University In England.
In 2012, at a World lifting meet in Orlando, Florida, Garza faced extreme injuries that brought his lifting career to a halt. Four tendons in Garza's shoulder separated which required surgery to reattach them to the bone. It took Garza one year and two months to compete again. His first competition back was a world qualifying meet.
Garza explained, "that was my last meet as I retired from the sport I loved, respected, and feared."
After retiring from powerlifting, Garza continued to pursue his passion for lifting by opening his own gym.
On the south side of Holland, right next to the Secretary of State, nestled among other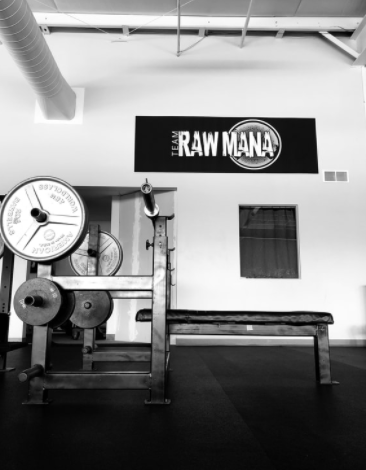 businesses in the strip of buildings, is a small gym. From the outside, the building doesn't look like much.
On the inside, one will find walls covered with mirrors, raw mana banners, and powerlifting awards. Decorating the room are racks of fat bells (circular dumbbells) of assorted weights increasing all the way up to 106 pounds, along with benches, squat racks, and deadlift platforms, all designed for powerlifting.
Garza opened the gym Raw Mana in 2012, which was the first athletic facility in the area.
He was inspired to start Raw Mana after going back to his old high school, Holland High, to help with the high school football team. At Holland, Garza explained that players were not practicing safe lifting. He knew how critical it was that the young men were lifting properly, and he realized that there was a need for guidance in the weight room. Ultimately, Garza started Raw Mana as a lifting facility for young athletes to teach them how to perform lifts correctly and safely.
"Anyone can hand out programs and cookie-cutter lifts, but here at Raw Mana, I practice what I preach with all my athletes," Garza said.
At Raw Mana, Garza trains a variety of people. Many of his clients are powerlifters or student-athletes ranging from elementary school age up to the collegiate level. The other portion of his clients just want to get in shape and lose weight. Garza also recently started working with a client with physical disabilities and has provided her with physical therapy through strength-training.
Many students at West Ottawa (WO) have taken advantage of having a powerlifting gym just minutes away.
The typical high school student at WO watches morning announcements produced by WO Broadcast students. Each show features a short segment called "We are WO" that highlights a student's talents or story. There have been five We are WOs made on powerlifters from Raw Mana. Four of the We Are WOs highlight Raw Mana's most successful powerlifter, Eli Permesang.
Sr. Eli Permesang has been lifting at Raw Mana for five years. Permesang lifts at Raw Mana to get stronger and prepare for powerlifting meets. As a result of powerlifting, Permesang has seen improvements in the sports he plays. Permesang is a talented football player and recently committed to play at the collegiate level for Concordia Ann Arbor. He attributes his successful football career to the work he put in at Raw Mana and the time he spent with Garza.
"Raw Mana is like my second family and is the reason why I get the opportunity to play for Concordia Ann Arbor football."
Sr. Michael Jonas is another WO athlete who lifts at Raw Mana. Jonas doesn't compete in powerlifting competitions, but he lifts to be stronger, faster, and to improve his play in lacrosse. He has been lifting at Raw Mana for one year and seven months and claims that he's "seen many good outcomes from lifting, including becoming better at lacrosse and increasing the chances of getting looked at by college coaches."
Soph. Nasario Gutierrez-Bernal (Rico), is a WO student who lifts at Raw Mana. Unlike Permesang and Jonas, Rico lifts at Raw Mana to lose weight and grow muscle – not to aid his athletic abilities. Rico has been going to Raw Mana for around two years. He explains the many benefits that he has gained from working out, including losing weight, growing muscle, and learning the proper weight lifting forms. Rico shows that Raw Mana isn't only for people that play sports. Rico has enjoyed lifting so much that he plans on competing in a powerlifting competition in the near future.
This small gym has had a big impact. Raw Mana helped many student-athletes play at the collegiate level, helped people lose weight and get in shape, and even
provided physical therapy for those with physical disabilities. Even more, Raw Mana is also a second home for the people who go there. People who lift at Raw Mana see Garza as a mentor and a friend. He often attends his client's sporting events and is present on signing day when they commit to playing in college. Garza is always there for his clients and welcomes everyone with open arms.