"I just love gymnastics"
It all started with bouncing off the furniture. 
Genna Lebster was placed in gymnastics at the age of three as a way to safely use all the energy she released by constantly climbing on the furniture at home. Genna's mom, Cathy Lebster, recalls, "She loved it immediately, but it didn't occur to me that it would go anywhere." Now a senior in high school, Genna has signed with Michigan State University to be part of their gymnastics team. 
From ages three to six, Genna was in recreational gymnastics classes. She stood out to the coaches due to her talent and dedication. At six, Genna was invited to try out for the competitive gymnastics team at her gym. She made the team and was able to start competing at level three. At her very first sanctioned competition, Genna won first in the all-around competition. 
In gymnastics, the higher the level, the more rigorous the training schedule. For Genna, a typical week of training now consists of practice five days a week for four hours each.  Practice includes stretching, all four events, and conditioning/strength at the end. These lengthy practices are what develop a great gymnast. 
Even though their practices are full of hard work, there is also a lot of bonding that happens between teammates. Sarah Moraw, Genna's teammate, said, "On top of a strong work ethic, Genna is an incredible teammate. Her bubbly personality is such a joy to be around every day in the gym. She always enters the gym with a smile on her face, excited to talk with teammates and practice the sport she loves. Genna is a great encourager and never fails to be the first one to cheer for a teammate or give a small pep talk."
Not only does Genna stand out in the gym, she also stands out in the community. At school, Genna takes many rigorous classes that require much dedication outside of the classroom. She is also part of the National Honors Society and the West Ottawa Broadcasting Network. In her free time, Genna can be found at home spending time with her family and friends, at sporting events supporting her sisters, or at Michigan State University cheering for the Spartans. 
No great athlete is created without a few challenges and setbacks. Cathy said, "She has definitely had a few setbacks, but she has always turned them into comebacks. Her grit and tenacity both in the gym and in the classroom have amazed us as her parents." In fifth grade, Genna broke her foot, which caused her to be out for two and a half months. Thankfully, she was able to fully recover and it did not majorly affect her gymnastics career. 
Unfortunately, Genna faced a large setback in her freshman year at regionals. "In warm up on bars I peeled off the high bar and put my hands out to catch me. But I locked out my arms so my right elbow hyperextended and was as close to becoming dislocated. That injury not only put me out of the gym for about four months, but took away my chance to make the national team which was very disappointing", said Genna. When reflecting on the injury, Genna's coach Tami Schaafsma said, "Looking back, I think that injury was a turning point for Genna; that unfortunate moment strengthened her resolve to achieve her long-term goals." 
By achieving her goal of becoming a college gymnast, Genna has truly made comebacks from all the obstacles she has faced. Her aspirations for becoming a college gymnast started at a very young age. "Growing up I always went to college gymnastics meets, and I absolutely loved watching them. Those gymnasts were my biggest role models and I wanted to be as amazing as they were." As Genna began to excel at gymnastics she came to the realization that she was capable of becoming a college gymnast and since then she has never given up. 
During her sophomore year, Genna began her lengthy recruiting process. Genna began by emailing over 30 different schools videos of her skills and accomplishments. Her next step was then to travel around the country to participate in camps to showcase her abilities and learn new techniques. 
The Coronavirus struck the gymnastics world hard and forced gyms in Michigan to close down for six months. This hindered Genna's recruiting process as she was stuck at home unable to perfect her advanced skills. Instead, Genna did all she could from working out at home to sending colleges videos of her conditioning and perfecting basic skills. With Michigan being the last state to reopen gyms, Genna was at a major disadvantage compared to her fellow recruits but she persevered.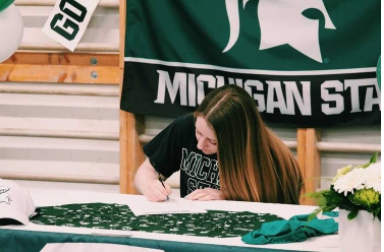 Genna began to narrow down her options until she decided to sign with Michigan State University.
"Being a Spartan is in my blood. I love the campus, the people, the location, just everything about it. MSU feels like home." said Genna. This decision came easily to her as MSU has always been a large part of her life. Cathy said, "She grew up cheering for the Spartans. She even competed at JO meets at MSU when she was younger. To see her achieve her goal to become an MSU gymnast makes my heart just burst with joy for her." 
Simply put, Genna loves gymnastics and has used her love of the sport to make her dreams become reality.