Top 10 basketball players in West Ottawa history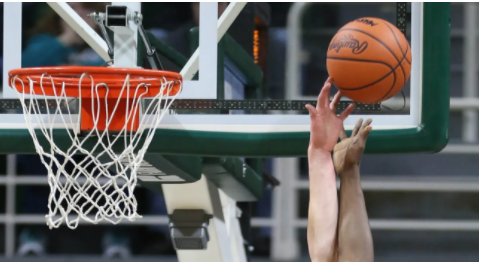 With the basketball season right around the corner, we decided to take a look at some of the best basketball players in the history of West Ottawa. Interviews with coaches, trainers, announcers, and WO graduates led us to create the list of the top 10 best men's basketball players in West Ottawa history. 
Honorable mention: Xavier Wade
Xavier Wade was a guard who assisted his team in making a deep run into the playoffs and making it to the championship. He was a force on the court averaging 12.2 points and 4.1 assists per game. Wade's coach, Steve Windemuller, said, "Xavier was ultra-competitive and loved to play in big games. He was explosive in either guard position and was very tough to guard," Windemuller said. Wade was also a part of the Holland Sentinel 1st team and received multiple offers to play basketball in college. Wade committed to Ferris State University to play football and basketball, where he was a dual-sport athlete for a year and then chose to focus on football.
10. Dan Scheerhorn
Dan Scheerhorn is one of those players who played long enough ago that we couldn't find any stats, but he definitely deserves a spot on the list. He was a 6'4'' and weighed 187 pounds and played at GRCC as a forward. He was a prominent player on his team and was recommended to be on the list by some West Ottawa history experts of the West Ottawa community such as Karl Von Ins, the West Ottawa basketball announcer and former coach.
9. Dan Kender
At number nine on the list, we have Dan Kender (class of 1990). Kender was an all-out athlete, playing football, baseball, and basketball. During his senior year, he won the All-Conference award for basketball. Further, he broke the school record for most rebounds in a single season and held the record for several years. Most importantly, Kender earned the prestigious O.K. Red Male Athlete of the Year award in 1990. 
8. Steve Windemuller
Widely known as West Ottawa's current Varsity basketball coach, Steve Windemuller was also quite the player when he was in high school (class of 1981). As a defensive player, Windemuller was always given the task of guarding the best offensive player on the opposing team. Running the "box and one" defense, Windemuller was "always the one". As a senior, Windemuller played a huge role on a team with a dominant record. "I was part of a team that won 13 games my senior season, up to a few years ago that was one of the best records ever at WO," Windemuller said. Although being a more defensive player, he was still able to score points. "I was a defensive, take charges, dive on the floor type of player, that could shoot it pre three-point line," Windemuller said. He also achieved the All-Conference and All-Area award and averaged around 14.0 points per game.
7. C.J. Van Wieren
Next on the list is C.J. Van Wieren (class of 2003). Being a multi-sport athlete, Van Wieren was known to be quite athletic. Playing guard and forward, Van Wieren was a versatile player who had a high value to the team. During his time at West Ottawa, Van Wieren earned All-Area and All-Conference selection in basketball. In his senior year, he was All-State honors as well. During his junior year, Van Wieren was selected to be in the Division 1 All-State and Detroit News Dream Team. After high school, Van Wieren went on to play basketball and football at Ferris State University. Additionally, Van Weiren was inducted into the West Ottawa High School Hall of Fame on September 25, 2013.
6. Jorddan Myrick
Coming in 6th place is Jorddan Myrick. In the class of 2011, Myrick was an all-out stud on the court. Myrick was a guard, and during his senior year, he averaged 19.8 points per game. Even though he wasn't backed by the strongest team, Myrick put all of his efforts into each game, helping his team win those 6 games his senior season. He would drop high point games, like 26 points against Comstock Park and 23 points against Grand Haven during his senior season to bring his team to victory. While at West Ottawa, Myrick earned All OK-Red Conference, All-Area, and Detroit Free Press All-State Third Team honors. After he graduated, Myrick played for Central Michigan University during his freshman year of college, and then transferred to Lake Superior State University to play basketball.
5. Les Zommermaand 
Although not as well known and not as many stats, Les Zommermaand definitely deserves to be in the top 10. He was a force on the court being regarded in many Holland Sentinel articles as the best player on his team and is now in the West Ottawa Hall of Fame. Von Ins saw him play and felt Zommermaand deserved a spot in the top ten. Graduating from West Ottawa the same year as Zommermaand, WO athletic trainer Deb Kiekover says "Les was a terrific athlete. He was very dedicated and determined. I remember watching him play. Very skilled. Just a natural." Several WO graduates from Zommermaand's time strongly believe Zommermaand is one of the greatest basketball players in West Ottawa history.
4. Leonard Houston
At number 4, we have Leonard Houston (class of 2004). At 6'3, Houston was a guard who could ball. In his senior year of high school, he averaged 15.4 points per game, 4.7 rebounds per game, and 1.1 steals per game. With the help of his teammates, Houston led West Ottawa to a stunning 16-6 record as a senior. He also played a huge role in West Ottawa's first OK-Red Championship since 1970 in 2004. Houston earned Michigan Class-A Fourth Team All-State honors as well. He balled out in Brighton, Michigan in the Class-A Michigan All-State game, where he scored 24 points and got the attention of colleges like Drake University in Iowa. He would drop high-scoring games such as his senior game against Grand Rapids Baptist, where he dropped 34 points. Further, Houston was named All-League choice TWICE. During his senior year, Houston was in the Holland Sentinel All-Area Dream Team. After high school, Houston played at Drake University. He even helped Drake get to the 2007 NCAA Division 1 Tournament.
3. Tyler Bosma
While many know Tyler Bosma (class of 2018) as an amazing baseball player, he was also very gifted at basketball. As a power forward, he could make some huge dunks, yet also drain 3-pointers without a problem. In his junior year, Bosma earned the All-Conference award, All-State Honorable Mention, and was included in the Holland Sentinel 1st Team. As a junior, he played a huge role in helping his team achieve a 23-2 record, with a 12-0 league record. The same year, Bosma helped his team achieve the 1st district championship in school history, as well as the 1st ever regional appearance, where West Ottawa lost. But Bosma was even more impressive in his senior year. With some of his best friends as teammates, Bosma helped the team achieve a 25-3 record, with an 11-1 league record. He also led West Ottawa to its first-ever back-to-back OK-Red Conference titles, along with West Ottawa's first-ever state appearance for basketball, where they lost in the state finals. His senior year, Bosma earned 1st Team Class A Award from BankHoops, as well as the Holland Sentinel Player of the Year. Bosma's coach, Steve Windemuller, said Bosma was "such a competitor on a very good team made up of his best friends. Tyler was the glue guy that kept them all together. Tyler did it all or could do it all on any given night. Tyler had a great three-year basketball career at WO and averaged approximately 16 points per game, 7-8 rebounds per game, and 3-5 assists per game – he could do it all."
2. Lynn Loncki
In second place, we have Lynn Loncki, from the class of 1970. Loncki was an absolute baller. At 6'7, 230 pounds, and playing forward, Loncki was a tank on the court. During his senior year, he led the team to West Ottawa's first-ever conference championship, an impressive accomplishment. Also, he was named Most Valuable Player both his junior and senior seasons. The one main thing setting Loncki apart from other players on the list is his sheer ability to score. During his high school basketball career, Loncki scored a whopping 1,040 points. Yes, he scored 1,040 points over his four years of playing basketball. The score smashed the school record back then, and he still holds the career points scored record, 50 years later. He was inducted into the West Ottawa Hall of Fame 42 years after he graduated. However, his basketball career didn't stop after high school. He went on to play basketball for Cornell University, where he was a starter and the captain of the team. Loncki played 68 games in the Ivy League with Cornell, playing an important role within the team. With his incredible scoring ability, along with his major accomplishments during and after high school, Lynn Loncki deserves to be the number two player to have ever played basketball at WO.
1. Jake Van Tubbergen
Unsurprisingly, Jake Van Tubbergen (class of 2017) is number one on our list of the best basketball players to have ever played at West Ottawa. Anybody who has seen Van Tubbergen play knows he is an all-out baller. Van Tubbergen, playing forward, led West Ottawa to historic runs for basketball. During his senior season, Van Tubbergen was the team captain and led the Panthers to a 23-2 record, with a 12-0 league record, placing them in 1st place. He, along with other talented players, led West Ottawa to its first-ever district championship, first-ever regional appearance, and first-ever state final appearance. For team awards, Van Tubbergen was given the Most Valuable Player Award. Plus, he was awarded All-Conference, 2nd Team All-State, Holland Sentinel 1st Team, Basketball Coaches of Michigan (BCAM) 1st Team, and Grand Rapids Press-MLive 1st Team Dream Team. Along with all of those awards, Van Tubbergen had very impressive stats as well. As a senior, he averaged 18.9 points, 8.6 rebounds, 3.0 assists, 1.6 steals, and 1.1 blocks per game. Van Tubbergen averaged 72% from the free-throw line, 64% from the field, and 45% from beyond the arc. Jake's coach, Steve Windemuller, had high things to say about Jake. "Yes, JVT is one of the best players to ever play at WO, if not the best. Jake could really score the basketball in many different ways. He was blessed with size [6'7] and length that was hard for opponents to contend with. Jake was one of those guys that just kept getting better even after high school," Windemuller said. After graduating, Van Tubbergen went to Grand Valley State University (GVSU) with a full-ride scholarship to hoop. He is currently a senior at GVSU and is looking forward to his senior season. Last year, as a junior, Van Tubbergen did some amazing things for the GVSU Lakers. He averaged a double-double and averaged 18.4 points and 10.0 rebounds per game. He scored 39 points against Northern Michigan, the most points by a Laker in a single game since 1997. Van Tubbergen was the first Laker to earn the National Association of Basketball Coaches (NABC) status since 2008. Van Tubbergen truly is an amazing basketball player and is without a doubt one of the best players to have ever played at West Ottawa High School.