Teenage depression
   It's 6:30 am, time to get up and go to school, but you just can't do it. 
   Something inside of you just wants to stay in bed all day. 
   Fifteen minutes later you muster up the motivation to get out of bed and get dressed.
   The next task is breakfast, the smell of fresh waffles, your favorite breakfast food, fills the kitchen but you can't bring yourself to eat them, you're not sick, you're just not hungry. 
    You ask yourself: "What is wrong with me?  Am I depressed?"
   Depression is prominent in the lives of many teens. 
   In a local survey of 67 teens, 57 (83.6%) said they have experienced depression. Depression affects several aspects of life such as motivation, eating, sleeping, social life, thought patterns, and grades. All of these combined can be detrimental. 
   A person could not be able to sleep because they spend all night obsessing over how much they hate themselves and their life. They then have to muster up the courage to get out of bed and face the life and person they hate most. They have no self-respect and could care less about their well-being. This leads them to not eating and heading off to school. 
   At school, they are drained from the constant thinking, lack of sleep, and malnutrition. They easily lose focus in class and don't learn anything, leading to poor grades. During lunch they are so drained from trying to stay on top of life that they ignore their friends and focus on social media, seeing how everyone's life is so perfect, reminding themselves why they hate their own so much. 
   This endless cycle is not a choice, it is simply how their brain is functioning. Their emotional brain is taking over the logical brain leading them to experience this vicious cycle. Having a mental illness is not a choice, just as you cannot choose if your leg breaks during a sports game.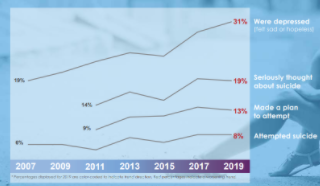 The Ottawa County Health Department surveys teens every other year on depression. According to their survey, the rate of depression amongst adolescents has increased over the past 12 years, climbing from 19% to 31%. 
   To work through depression, many teens have seen a counselor, of 61 responses in a local survey, 30 people (49.2%) have seen a counselor to help them work through their depression. 
   In regards to counseling, therapist Matt Lantz, LPC, owner and therapist at Anchor of Hope in Holland, Michigan, shared his thoughts on teenage depression. 
   "When I am looking at trends in depression & teens right now, I think it is impossible to separate social media and these feelings of depression. As a therapist of teens, one of the first areas of interest for me is the amount of screen time a teen has." 
   The amount of time a teen spends on social media often increases depression due to the constant comparison social media promotes. 
   "It is not just the comparing though, of course, we also notice that our friends are being invited to other parties or social invites that we are not invited to, or it seems like life could just never be as good as someone else's… this constant and never-ending race inevitably leads to depressive feelings as we simply can't keep up with this pace of life and this non-stop comparison game."
   The pressures of family, friends, school, social media and a pandemic combined can feel all-consuming and lead to many kinds of depressive and anxious feelings. 
   "It is most important to know in these times that you are not alone. This is all a lot to manage and we need each other."
   "It is important to talk about how we feel in these moments and to reach out to support from a close network of people around us. Find people you trust and make sure you do not hesitate to reach out when these depressive and anxious feelings begin to surface."
    "And of course, also seek a therapist. It can be really helpful to have a 3rd party to also support you through these feelings as well who is not your mom or dad or friend, but is a professional who desires to be on the journey with you."
   "You are not alone!"
   While depression can feel overwhelming and never-ending, there is light at the end of the tunnel. Several teachers at West Ottawa High School have worked through depression and now have a successful life and career. 
   Instructor Bethany Willcock shared a portion of her experience with depression. "Depression took my Grandma and Uncle from my family before I was even born. When I started showing similar symptoms, my mom took me to the doctor right away. I am glad I reached out early when I wasn't even sure what I was feeling so I could make sure my family didn't even come close to experiencing another tragedy." 
   Teachers at West Ottawa want their students to know that they are not alone in their struggles with depression and other mental illnesses. Teachers desire to support students who are in need and care deeply for them. 
   An anonymous teacher at West Ottawa shared her story and experience of being treated with medication. She believes, "So many people suffer from depression and are often too scared to speak up about it. I think the intervention I got saved my life." 
   She encourages teens who are struggling to seek help. "… it takes time to really figure out what will be best for you.  Sometimes you have to try different types of meds to find one that really helps. You also have to give it time. Medication is not an instant fix. It can take weeks or months to notice a difference. You have to stay consistent with it, and take the meds. I have seen so many people stop them too soon before even seeing a change. 
   While medication can be helpful, it is not the answer for everyone. Every person is different and therefore, can respond differently to a treatment.  For some, counseling alone is helpful and for others, medication is needed to help with a chemical imbalance in the brain. 
   Depression is difficult to go through, but it is treatable. In a local survey, the most common coping methods were exercise, journaling, deep breathing, and listening to music. With support from loved ones, a therapist, or medication, it is possible to come out of a dark place. 
   If you are currently experiencing depression please do not be afraid to reach out. Linked below are some resources to help. 
Resources: 
If you need immediate help… 
Suicide Hotline: 1-800-273-8255 
Resource Hotline: 211
If you are a danger to yourself or others, please proceed to the nearest emergency room or call 911
If you would like to find a therapist… 
Therapist Search: https://www.psychologytoday.com/us/therapists?search=49424 
Mosaic Counseling: https://mosaiccounseling.com/ 
If you aren't quite sure where to start…