National Anthem? Booooring!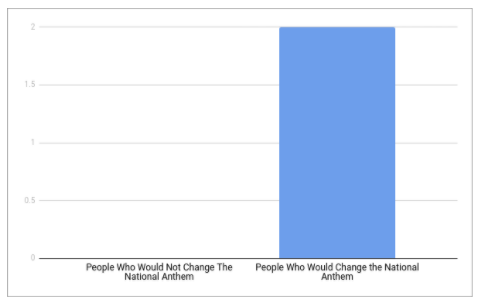 Harold Oakes, 96, estimates that he has heard the national anthem 94,287 times. He said, "It still fills me with respect and reverence to this day." He must have adult onset hearing loss. 
   This dumpster fire of a song has been ingrained into the minds of Americans, brainwashing countless innocent citizens. 
   For hundreds of years, the purpose of the national anthem was to display morals that Americans hold close. Maybe that was accurate in the olden days, but in modern America, people are reluctant to recite the monotonous lyrics. 
   Quoted directly from the mouths of our crusty ancestors, "O say can you see, by the dawn's early light." I would be surprised to hear that someone in this generation even KNOWS what that means. No one talks like this anymore; it's completely outdated. 
   The national anthem should reflect the vocabulary of the newer generation to keep them interested. "You can't even hit the dougie to it. It doesn't even slap," said Sean Saewert, a regular on the r/EmoScreamo subreddit. 
   In a national poll of two people, 79% said that they were fed up with this tradition. Both also gave stupendous suggestions to replace the current national anthem. 
   US-born citizen Joey Martinez said, "[We need] something more hype, such as 'Gucci Gang' … get some culture in this country." 
   "Gucci Gang," released by rapper Lil Pump on August 31, 2017, is a perfect candidate to replace the national anthem. "Gucci Gang" was accepted as the "banger" of '17, climbing to #3 on the Billboard Hot 100. It's impossible to question the lyrical genius behind this song. 
   Martinez provides inarguable support for the song. "Spend three racks on a new chain." "Rather go and buy Balmains, ayy." "Lil Pump still sell dat meth." These hot bars reflect the lifestyle of today's youth in the best way possible. Martinez can recount multiple times that he has spent large amounts of money on jewelry. 
   War veteran Draike Laarman had something to say. He proposed "Marble Floors" by Rick Ross, which "has a really good hidden message." This song is not nearly as popular as its predecessor, "Gucci Gang," but still remains a favorite among Laarman and his friends. 
   Hip-hop artist Rick Ross speaks on his home life, often cooking for himself and his immediate family. "Whippin' work it smelling like they dinner rolls." Rick Ross is responsible for his four children, among many fiances with whom he had them. 
   "Cup filled with pink, I'm supporting breast cancer," recites rapper 2 Chainz, promoting awareness for the disease. The Star Spangled Banner has always been a symbol of patriotism and support. These morals should be renewed, focusing on more recent topics of discussion. 
It would seem that there is a common trend, showing that this boring old song should be updated, to reflect a more current state of being in modern America. Several options here may prove to be solid choices to replace the national anthem and bring America together in harmony once again.