Walsh's blueprint to a 39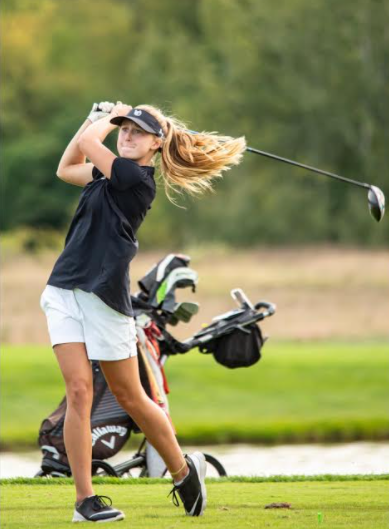 With forty minutes left in class, Sr. Sophie Walsh was hurrying through her work. She glanced at the clock. It was time.
   Walsh stood, grabbed her backpack, and headed for the door. Her friend hollered, "Soph, shoot a thirty-nine!" She smiled, nodded, and left.
   Three hours later, she stood on the green at Pigeon Creek Golf Course, hands shaky and her adrenaline pumping. The warm September air blew at her face as she lined up her shot, the number thirty-nine circulating through her head. One shot left from six feet out. One shot to beat her best score. She studied the ball, drew back her putter, and…
   Unlike other sports, the lower the score the better. With limited matches left in her high school golf career, she wanted to "go out with a bang," her lowest score of her career.
   Golf is special for Walsh because her dad encouraged her to play in her freshman year. Walsh and her dad are very close, so naturally she took his advice and tried out the sport.
  Although there's no such thing as a perfect round, Walsh strives for perfection. "Sophie is very serious and intense when she plays golf. She strives for the most perfect shot always. That's what keeps her going, that push and drive for the perfect round," Walsh's mother said. 
Four Hours Earlier:
   The team arrived at Pigeon Creek at 3:15. The weather was "…a bit chilly but then it warmed up and it was perfect," Walsh said. 
   Walsh had phenomenal scores prior to the Pigeon Creek match. She shot a forty-four, a forty-three, and a forty-two. Every day beating her previous score, which is incredibly difficult. However, that wasn't good enough for Walsh, her goal was "to break forty and just have fun." 
   Walsh was paired up with Sr. Lauren Villemure and Sr. Lydia Foy. They set out onto the course, pushing their bag carts through the dewy grass. They arrived at the tee box; it was time to chase thirty-nine.
   Walsh is "a fierce competitor," West Ottawa Varsity Golf Coach Tarry Cutter said. "Her attitude is a winning attitude. She doesn't like losing or
having a bad hole." Naturally, she was ready to do anything to pummel her previous scores. "I really enjoy working with Sophie. Her competitive nature clashes with mine and it spurs me to help her get even better."
Hole One:
  Often, the first hole of a match can determine the outcome. She had a very smooth start with a killer drive that hooked slightly to the left. After the first drive, her initial stress subsided.
   "Hole one… there was some water I was worried about but I avoided it," Walsh said. 
   After passing the intimidating pond, it was smooth sailing. Her best shot on hole one was sinking a putt from six feet out. Putting drills are a big part of her practice, considering Cutter told the team regularly, "The short game is key for every golfer." 
   Walsh parred her first hole, which plays a key role in a golfer's mindset. One bad hole and there goes the confidence. However, Walsh has a mindset of  "take it one shot at a time and don't get upset," she said. 
   After hole one, Walsh "… had a lot of good recovery iron shots and read the greens super well," she said. 
In the first  six holes, Walsh took the lead for West Ottawa, shooting two pars and three bogeys on holes two through six. Excellent. In the last three holes, Walsh began to realize she was on track for beating her score.
Hole Seven:
Going into the seventh, Walsh was satisfied with her score. Her strokes were smooth and consistent. To start off, she  "… had a long drive that went left," Walsh said. So far, her drives had been successful the whole match.
   She "…hit an iron shot onto the green, and two putted from like thirty feet." Walsh's willingness to "put time into her putting," as Cutter said, gave her a significant advantage. Similar to hole seven, her drive on hole eight went way left. She had "… a one hundred seventy five iron shot to the left of the green and
chipped on and two putted," she said. The biggest thing getting her through the match were the wise words of Cutter: "Take one shot at a time and take your time."
Hole Nine: 
Walsh scooped her ball out of the cup on hole eight. Only one hole left for the match, and a very important one. The last hole in any match can be tough, considering it's the final determination of a golfer's score. Walsh didn't think about the holes she had just played. She focused on the upcoming shots.
   She stuck her neon green tee deep into the ground and carefully placed her ball on top. "It's only a par three," she thought to herself, "one more to go."
   She lined up her shot, drew back her nine iron and struck the ball perfectly straight, launching it up. The ball landed with a thunk on the edge of the green. As she began walking towards her ball, the adrenaline began to kick in. Her putting game would ultimately decide whether she'd achieve her goal. 
   Walsh squatted next to her ball, studying the green. She decided she was about seventeen feet out from the hole. She took a deep breath, relaxed her shoulders, and took her putt. The ball rolled across the smooth surface of the green and halted about six feet out. "Not bad," Walsh thought to herself, "but I have to make it."
  The other girls took their putts, leaving Walsh with a few minutes to think about her next shot. "Just make it, that's all just make it." 
   The most intimidating aspect was the space between her and the hole; a six foot putt is not  easy. There are many factors that could go wrong: the ball breaks right, the greens are faster than expected, the putter isn't lined up correctly, etc. Walsh placed her hands on her putter, lined her feet up with the hole, and loosened her shoulders. All she had to do was generate the right amount of speed. She studied the ball, drew back her putter, and… *click* the ball was off, advancing towards the hole. Five feet left. Walsh was still following through with her putter. Four feet left. The ball maintained a steady speed. Three feet left. Walsh watched the ball, gripping her putter nervously. Two feet left. "It's going in," Walsh muttered under her breath. One foot left. Her heart raced. *Clunk* Walsh stood there wide eyed. Her jaw dropped. 
   Walsh looked at Cutter who was smiling widely. "Did I just break forty?" Walsh said astonished. "Now you know how to go low. Welcome to golf!" Cutter said cheerfully.