Sr. Diego Dedios prepares for the Marines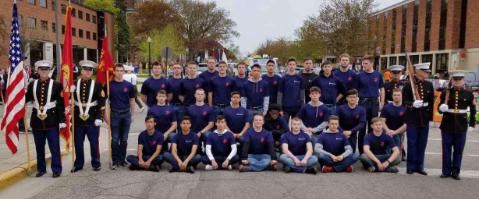 Every Thursday evening and Saturday morning, Sr. Diego Dedios heads to the Marine Corps office to workout with the recruiters and other teens enlisting in the military. It's important that nobody is late to workouts otherwise there will be discipline.
   Dedios shows up early. With the sun beaming down and barely any shade, the teens sit on the hard road and stretch before they run 1.5 miles. Already drained from the running, the teens will take ammo cans filled with sand until they each weigh about 40 pounds, and put them over their heads. Then they will lift them over and over again until their arms can barely move. 
   Starting the process for enlisting into the Marines while still in high school is a big responsibility. Getting ready for the responsibility and hard work that comes with being a Marine takes dedication. However, for Dedios all this work is worth it for how much it could benefit him. "The sooner you join the higher rank you can have; the higher rank and power will give you the opportunity to make more money." Starting early helps someone succeed faster than someone who enlists in their late 20s.
   Keeping up with school while handling working out with the Marines can be tough. Recruiters come by schools to see how the teens are doing in all of their classes. They will look up the names of all the boys and girls, and if they see someone who is not passing a class, they will pick them up after school, head back to the office, do a hard workout with them, then sit them down and help them with their classwork and hopefully get their grade up to an A.
   For Dedios this help from the Marines has been valuable. "I would say it helps a lot. They keep pushing you to do better, and it's pretty helpful and encourages a lot of kids to keep working hard." 
   Since Dedios was a kid, he knew he wanted to go into the military. His decision to enlist first started when he watched the action movie Lone Survivor. This interest progressed into him watching documentaries about Marines.
   He started to consider the Marines more seriously until eventually he walked into an office to talk to a recruiter. Dedios was filled with thoughts and emotions during that first meeting. He felt nervous yet excited to be finally talking to a recruiter, because Dedios knew this was what he wanted. "To where I got now to being a big part of everything. It's going to be worth it no matter what," said Dedios.
   For Dedios, working with the Marines is very serious. For his Military Occupational Specialty (MOS), he is going to be a part of 0311, which is the military code for the Infantry Rifleman. That means he will have to take even more specialty training after he enlists.
   Getting to know what MOS a person will take on is important. With over 180 jobs to pick from, it is crucial to consider the different responsibilities each MOS requires.
   On top of all of this, Dedios is also the squad leader for Holland, meaning he has the added responsibility of leading the group, planning the workouts, pushing others to do their best, and just all together being a good example to everyone at the office.
   Enlisting really changes a person for the better when they are learning self discipline and responsibility through lots of hard work. As Dedios puts it, "It's life changing."