The Olson sisters: Born to run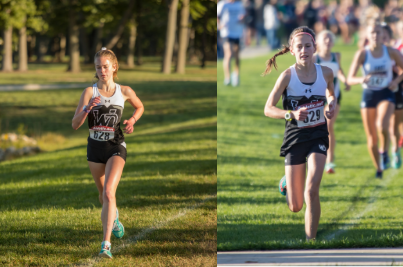 On Saturday, August 23 at Allendale high school, West Ottawa's women's cross country team was ready for their first race of the season.  Fans and supporters watched as the runners came around the practice football and past the baseball dugout for the last quarter mile. 
   The first runner to finish was Frosh. Arianne Olson. Then fans waited and waited. Thirty seconds later, Arianne's older sister Abby finished.  
   This was the first race of the season the sisters took 1st and 2nd, which they have now done five more times. 
   West Ottawa Women's Cross Country Team started training in June, but the Olson sisters had already been preparing for years. The sisters found a love for being active, and eventually running, quickly after they learned to walk.
   The sisters started cross country skiing at Pigeon Creek County Park when they were two years old. "When the girls were younger and there was snow on the ground, we would spend a couple of hours almost every weekend out on the trails," Julie Olson, mother of the sisters, said. 
   When the sisters started kindergarten at Waukazoo Elementary, they had Instructor Tim deForest for physical education. DeForest started a Hiking Club at lunch where students would run together. 
   "We would run as many laps around the field as we could and eventually tried to run a marathon distance over thirteen days," Abby said. Hiking Club was where the Olson sisters first found joy in running. 
   "I would go out and buy these kids a marathon metal, and for certain kids that would get them to run and run and run, and the Olson girls were two of them," deForest said. "That's where all of a sudden you could see these girls absolutely love to run and have incredible talent too." 
   Encouraged by deForest, Abby ran in the Grand Rapids Kids' Marathon in second grade. The marathon was similar to Hiking Club where she would record her miles every day until she hit 25 and finished the last 1.2 miles in Grand Rapids. The next year, Arianne ran with her. 
   Having only run long distances in fragments, "Abby decided that she had to do a 10k when she was 10 and a half marathon when she was 13. Arianne followed in those footsteps," Julie said. 
   "By the time both those girls left Waukazoo, I knew, if they kept running, they were going to be something special," deForest said. "Abby was incredible. Then three years later Arianne came. Arianne broke my fourth grade record and then my fifth grade record. She was my fastest girl over 23 years." Arianne's 5th grade time of 6:36 still stands at Waukazoo. 
   Their parents were instrumental in developing the sisters' passions and still show enormous support. 
   "It's sort of a lifestyle that you have to live, and eventually becomes sort of second nature, and I think that's what it's become in their household," West Ottawa Cross Country Coach Kyle Barnes said. "Almost every week they bring chocolate milk to the meets for all the athletes. They've been overly supportive of everything that we do."
   The sisters know that they have benefited from each other, too.
   Abby helped Arianne prepare for the high school team. "She had already seen a lot of the courses we run on, so that probably helped her, too. She's also seen a lot of my training over my high school year," Abby said.
   "I have been training with Abby in the off seasons since I was in middle school, and we have run a lot of races together during indoor track season," Arianne said. Arianne broke the school record at the Spartan Invitational on September 13 this year and has since broken her record three more times. She is currently the fastest female freshman in the state. 
   Arianne has helped Abby became the fastest she's ever been. "Arianne is faster than me, so she pushes me in workouts to do the best I can," Abby said. Abby set her lifetime best at the Portage meet on October 5, which also made her the fastest female senior ever at West Ottawa. 
   "Just from a standing standpoint, you can't do better than having your first two runners finish 1st and 2nd. That's a huge advantage to have not only one front runner, but we really have two front runners," Barnes said. "Most teams don't have one runner as good as Abby or Arianne."
   Both sisters have helped lead West Ottawa to major accomplishments this year. Abby and Arianne took 1st and 2nd place at the conference meet, helping West Ottawa to win for the first time in school history. 
   Team Captain Sr. Lucy Groothuis finished 3rd for the Panthers at Conference. "We have been working towards this as a team since June. I looked at Abby, and we hugged. I was so proud to be a part of the team that finally made this conference win happen," Groothuis said. "Abby and I are both seniors, but she's been running for so long, and I knew how important this was to her."
   Last year, Abby was the first West Ottawa runner to win the regional title since 2004. This year, Arianne placed 1st and Abby 2nd, helping West Ottawa win the team title for the first time since 1996. 
   "It's super exciting to watch [Arianne] come in. It looks like this is like not a big deal. She comes in, looking like she didn't just run three miles. She kind of looks effortless. She just always looks like she has more to give. She has this steadiness about her that is amazing to watch, " West Ottawa supporter Missy Groothuis said.
   "Running is a lot of hard work, but it's definitely worth the moments when it pays off," Arianne said.                      
   Besides their places, the sisters have helped the team in ways that can't be measured. "They both lead by example. They train at a high level. They race hard. They follow race plans. They do all the right things, which is also part of the reason why they're so good," Barnes said. 
   "I don't think most runners can say they consistently finish 1st and 2nd with their sister," Groothuis said. 
   The Olson sisters journey started with a love for running and has turned into much more. 
   They will run together as Panthers one last time for State finals this Saturday at Michigan International Speedway. 
   Joining them will be Sr. Lucy Groothuis, Frosh. Megan Postma, Jr. Abby Bonnema, Jr. Sophie Bonnema, Jr. Emily Laird, Frosh. Lillian Reiner, and Soph. Natalie Blake.