What do you want your child to believe?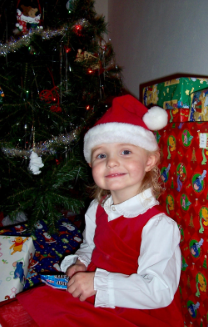 One day you're going to be a parent. You'll have to teach your child what's right, what's wrong, what's true, and what's a lie. One day you'll have to decide either lie to your child about Santa Claus or rob them of magical memories.
   Holland resident, Jo Trembly, was raised to believe in Santa Claus. She remembers running down the stairs on those cold Christmas mornings, her hair in a blonde mess, to presents wrapped in red and green paper underneath the sparkling tree, her green stocking filled to the brim with candy and small toys, and the cookies that she and her parents had made the night before had been nibbled on. 
   However, when she grew older and had children of her own she chose to teach them that Santa wasn't real. She chose for them not to have that same experience. Why? Jo explains that the decision was made because of her childhood. In her home there wasn't a set focus on the true meaning of Christmas. Christmas morning like many other children was solely focused on presents and Saint Nick. 
   As she grew older and became a devout Christian, she realized that the fairytale had taken over her Christmas, had robbed her from celebrating the true meaning of the holiday.
   When it came time that she had children she wanted them to focus on the real meaning of Christmas. "I wanted them to know that Bible stories were real, and that stories like of Santa weren't. And yeah it could be fun, but because faith is important to us it was a sacrifice worth it." 
   In preschool, Isabel Trembly remembers her classmates getting excited as a story of Santa was read aloud. Isabel wasn't raised to believe in Santa, so when they went out to the playground for recess she told all of her classmates that he wasn't real. The teacher eventually noticed and had to pull young Isabel aside and called her mother to explain what had happened that day.
   When young Isabel returns home Jo and her husband Paul sat  Isabel down and explained that even though she knows that Santa isn't real, other kids don't. They asked her to keep that secret so those kids could still enjoy the magic.
   So Isabel did, she grew up keeping the secret from all her friends, but never felt left out from the group. "I always felt that even though we didn't grow up believing in Santa, Mom and Dad still made Christmas fun." 
   In the future Isabel wants to raise her future children the same. Her memories of Christmas never were surrounding the fairytale, but instead focused on the meaning of the holiday and family. She wishes for her children to have that same experience.
   On the other hand, Anna Zoerner a junior at West Ottawa, grew up in a household that chose to raise her to believe in Santa. Anna has fond memories of the fairytale, she says that Santa was a really fun experience for her and she would never go back and change that aspect of her childhood.
   Her mother, Tracy Zoerner, grew up in a household that raised her to believe in Santa, she remembers presents, cookies, and reindeer. "I was really excited to raise my own kids. It's just a really fun experience for them." 
   Tracy never felt that she was lying to her children, "I wasn't lying to them. That there wasn't a Santa Claus, I was him!" Because of this Tracy never had the conversation telling her children that Santa wasn't real, she let them find out for themselves.
   Anna was raised Chrtistian and was taught the real meaning of Christmas, but explains that Santa was still a fun experience for her. However, she describes that when she found out that he wasn't real she was really disappointed. 
   Although she had to deal with that disappointment Anna still wishes to raise her future children believing in Santa. She wishes that they too have the same experience that she had growing up. 
   Being a parent can be stressful with the obligations and the constant decision making. All of it affects the child's life and their outlook. You can be truthful with your child like the Tremblys,  and raise them to value the true meaning of Christmas. Or you can give them those precious memories like the Zoerners did.