The unlikely success story of Gavin Temple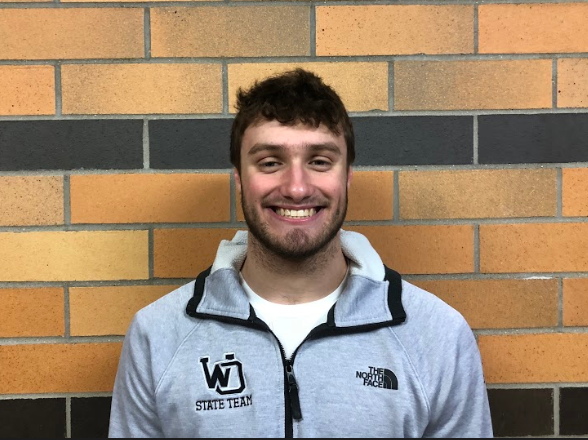 11 All-Conference members.
   5 All-State members.
   3 All-American relays.
   1 state championship. 
   These are a few of the accomplishments of last year's West Ottawa Boys Swim Team. By now, if you follow West Ottawa athletics you know how it happened. You know about the tight races and the victory coming down to the last .06 seconds of the meet. 
   This article isn't about that. This article isn't going to focus on how hard the team worked to win or how committed all of them were in the off-season. No, this article is about the one member who had not swum for months, the one member who wasn't necessarily excited about another year of hard work in the pool. This article is about the unique success story that is Gavin Temple.
   Of the eight scoring members of the 2019 West Ottawa State team, seven have completed at least four full years of club swimming. Temple has done a grand total of three weeks. Many would say their main sport is swimming. Temple prefers water polo. Almost all of these scoring members know exactly where their times are individually ranked in the state at any moment. Temple has no clue where he ranks. Seven of these eight members plan to swim in college. Temple has no desire to swim past high school. 
   One element Temple and the rest of his scoring teammates have in common is that they all started in elementary school, but unlike the others, Temple quit after only a few seasons.
   But then, just when his swimming career could have ended as quickly as it began, he decided to join the middle school swim team and reignite his swimming career. This wasn't because he had some newfound passion for swimming though. As he will tell you, "I really only started swimming again because all of my friends were doing it." 
   By his freshman year he decided, with some persuasion from his parents, to continue swimming. Most of his first year of high school swimming came and went with Temple spending most practices trying to skip out on hard sets by pretending his goggles broke or that he was suddenly feeling sick. He was more concerned with just enjoying himself, rather than focusing on any goal or trying to improve. Former teammate Derek Maas describes Temple his freshman year as being "a funny kid," who was "happy (he) was on the team." At the end of that year, Temple began to show the potential he possessed. In the 100 yard butterfly, Temple dropped over five seconds improving from a 1:02.75 to a 57.69 in a matter of two days. That kind of improvement is uncommon, so naturally, people began to take notice. "After doing almost nothing all year, I thought that (improvement) was crazy," says Maas.
   Sophomore year was much like the beginning of the year before. Temple swam most of the year in the back six lanes, away from the more experienced swimmers. That year he would go to more extreme measures to avoid the particularly hard workouts. "I would often just sit on the wall and float underwater," Temple said. "When I would get bored of that, I would go to the 'bathroom' and watch Netflix or Youtube on my phone." Temple was swimming for the fun of it. He didn't really care how well he did; he just wanted to hang out with the team.
   But then, something few could have predicted happened. At the Conference Meet of his sophomore year, Temple dropped another 2.5 second in the 100 butterfly. This put him in a position where he could try to get the State Meet qualifying time, something that only one other sophomore for West Ottawa had done that year and something most high school swimmers never achieve. Temple attended the Hudsonville Second Shave Meet just five days later hoping to get the State qualifying time of 53.89 seconds. Many of his teammates even came on deck to cheer him on, as these last few days he had become something of a team legend.  
   The time for the 100 yard butterfly came and Temple was visibly shaking in anticipation. The starting horn went off and Temple bolted into the water. His arms moved around his shoulders at the intensity of a wind turbine in a hurricane. On the last lap of the race he attacked the wall with all he had and finished in 53.87 seconds. He had cut it close, but he had done it. He was officially the newest member of the 2018 State Team.
   The West Ottawa team finished in 2nd place in the state that year. Temple swam his one event and did not place high enough to score. Still, the season was more successful than he ever thought it would be. "After that season was the first time I realized I could actually be good (at swimming)," Temple said.
   After the bittersweet second place finish, many of the members of the swim team began to pour themselves into the sport in an attempt to gain that last edge to finally be the state champions. Not Temple though. While many swimmers started club season in the spring and carried that all the way through the summer, Temple spent his summer working, playing some club water polo, and generally just enjoying himself. 
   When Gavin's junior year started, head coach Steve Bowyer made a point to move him into lane 3, with the highest achieving swimmers on the team. While this certainly helped Temple work harder, he wasn't without his typical "goggle issues" or "foot cramps." However, Temple probably worked harder that season than any before. Everyone on the team knew this had to be the year, Temple included.
   At the Conference Meet, Temple improved his 100 yard butterfly to 53.26 seconds, and also qualified for the State Meet in the 50 yard freestyle for the first time, going an impressive time of 22.00 seconds. The Panthers won their Conference Meet for the 6th time in a row and began to prepare for the State Meet.
   Bowyer knew that if his team was going to be state champions, they would have to place at least top three in all of their three relays. The relays were the key to victory. That meant whomever he put on the relays had to be someone Bowyer knew he could count on. After much deliberation, Bowyer decided to put Temple on both the butterfly leg of the 200 yard medley relay and the second leg of the 200 yard freestyle relay.
   The pressure was on for Temple like never before. He couldn't just float his way through the rest of the season, he now had to prove to his coach that putting him on two relays was the right decision. "It was different because these people (other state team members) have been training super hard for this and I kind of just walked through it with little effort," said Gavin. Those last two weeks before the State Championship Meet Temple worked on his starts and technique more than ever before. He was determined not to let his teammates down.
   His day to prove himself finally came on March 9, 2019. The day before,Temple had just missed placing in the top 16 scoring positions in both of his individual events, but his relays finished the preliminary round seeded 1st and 3rd, respectively. Prelims mean nothing if the team can't back it up in the finals though. With Detroit Catholic Central threatening to take the state title from West Ottawa, the Panthers knew that every point counted. That Saturday morning, at noon, Temple had his first event, the 200 yard medley relay. 
   The starting horn sounded and eventual "Swimmer of the Meet" Derek Maas started off the Panther relay with the backstroke. Senior Khadin Soto followed him. By the time Temple jumped in the pool, his relay was ahead by nearly three seconds. Temple still had to do well. He had a near perfect start and first 25 yards of his race, and other than a poor turn, his first event went on without a hitch. He touched the wall in 23.00 seconds, good for the second fastest butterfly split of the whole meet. Sophomore Kevin Maas brought up the rear and the relay easily finished first with a time of 1:31.01. The relay was among one of the fastest in Michigan's history, and would qualify for an automatic All-American spot.
   Temple wouldn't swim again until the 9th event, the 200 freestyle relay. The circumstances were a lot more intense this time around however. Detroit Catholic Central had made this a closer meet than the Panthers had anticipated. If the West Ottawa relay could beat Detroit Catholic Central's, they could give themselves a much needed cushion in points. 
   Sophomore Kevin Maas started the relay off in a blazing time of 21.73. Once he touched the wall, it was Gavin's turn. Temple finished his leg in a personal best time of 21.83 seconds. After him, Junior Jamahl Hogan and senior Sam Smith finished the relay off in a total time of 1:25.74, also earning an All-American spot, and finishing just 0.17 seconds ahead of Detroit Catholic Central.
   The rest of the meet is history. Just three events later, West Ottawa's Khadin Soto out-touched Detroit Catholics Central's Conor Brownell by just 0.06 seconds and the Panthers were Division 1 state champions for the first time ever. For Gavin, this was unbelievable. "The moment was very surreal, I didn't expect to win the State Meet but when we did, it was unexplainable" he said.
   Gavin's story is unlike any other. His incredible improvement is something even the most veteran swimmers can't explain. "I've definitely never seen someone as fast as him with as little a swimming base," says Derek Maas. As another season approaches, Temple once again wrestles with the decision to swim again or instead spend his winter working. One thing is for sure though, his current and former teammates alike all want to see what he can do with one more year. "He is a great asset to the team both as a swimmer and a leader," says current senior Kyle Langdon. Khadin Soto agrees saying "He has made huge improvements since tenth grade, so this year, he could improve even more." No one wants to see him go which speaks to how great a teammate and friend he has been to the members of the West Ottawa team. As Derek Maas puts it, "I know how close of friends he is with a lot of guys on the team, and even though it might be tough at times, I think he would be happy he did it at the end of the season."