Hiking in Holland – where should you go?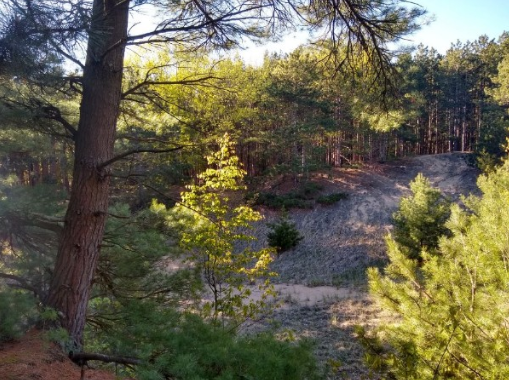 Rounding a bend on the unmarked trail connecting two loops, I grab my mom's arm and point wildly ahead. A concrete bunker rises out of the dune ahead of us, covered in graffiti. I scramble up the corner and stand eight feet off the ground, taking in my surroundings: the wooden manhole cover just ahead of me marked "No Access", the stoned guy in a hammock ten yards down the slope, the beach and the lake to the west. I've found this place once before, with my church youth group; we spent half an hour dropping rocks down through a hole in the roof and listening to them take longer than they should to hit the bottom. I didn't expect to see it today.
   I always seem to find something interesting when I go hiking, whether an oddly climbable tree, a surprise swamp, a pair of herons, or a mysterious bunker. All my classmates looking for summer activities need look no further: below are listed four local trail systems, each rated by navigability, terrain, and natural beauty.
VAN BUREN STREET DUNES
   A trailhead and four cars' worth of street parking on Van Buren St between Lakeshore Avenue and Butternut Drive mark this 120-acre property. Despite the limited parking, a spot or two is always open.
Navigability ★★★☆☆ (3/5)
   The trailhead map displays a large loop with a smaller one nestled inside, but there are actually many more trails than that, and it's difficult to tell which are official and which aren't. In other words, the map is useless. However, hikers will never go long without spotting a post with a green arrow.  Hikers resolutely following the green arrows should arrive back at their car easily.
Terrain: Medium
   The trails range between half a foot and two feet wide with frequent ups and downs. Van Buren Street Dunes offers a pleasant workout for those looking for one, but hikers should come expecting paths formed by fellow curious explorers.
Natural Beauty ★★★★★ (5/5)
   Paths wander through dune grass, pine forest, and leaf-dropping trees, offering spectacular views from ridges and secret clearings. The picture at the top of the page shows one such view.
SAUGATUCK DUNES STATE PARK
   Saugatuck Dunes is a popular tourist destination and has a large parking lot that can get crowded, but usually has spots left. The park is located near the intersection of I-196 and the Blue Star Highway.
Navigability ★★★★★ (5/5)
   Saugatuck Dunes has four interconnected trail systems. Dispensers at each trailhead hold brochure maps, and markers at all official intersections present the colors associated with each trail. Many markers include maps. Some unmarked trails exist, but it's easy to tell which trails are the official ones.
Terrain: Easy
   All marked trails are well-maintained, wide, and even. Slopes are gradual.
Natural Beauty ★★★★★ (5/5)
   The beauty and popularity of Saugatuck Dunes make it feel more like a national park than a state park. The trails are inviting and the woods are colorful. The many outlets to the beach offer spectacular views as the lake changes from day to day.
RILEY TRAILS PARK
   Riley Trails is a common destination for locals including trails for both hikers and mountain bikers. Its large parking lot on Riley St between 160th and 168th is rarely crowded.
Navigability ★★☆☆☆ (2/5)
   The Riley Trails maps are meticulous, to say the least. The length of each section of trail, as short as 0.02 miles, is marked, as well as the locations of trail markers, cross-country skiing difficulties, and whether each section of trail is available to mountain bikers or just hikers.
   This is too much information on one map, and the odd angles at which trails intersect don't make navigation any easier. You won't get lost, per se, but hiking in Riley Trails feels like wandering from one marker to the next and wondering how exactly you got there.
Terrain: Easy/Medium
   The trails vary in difficulty. Turns onto more difficult trails are fairly obvious, so hikers can choose to seek them out or to avoid them.
Natural Beauty ★★★★☆ (4/5)
  Riley Trails beautifully showcases the multiple forest types common in dune ecosystems. However, the park is centered on a former landfill, so the view from a significant portion of the innermost loop is a large grassy hill – not exactly what hikers expect from the woods. Fortunately, the innermost loop counts for only a fraction of the total park area.
PISGAH DUNE BOARDWALK
   Mt. Pisgah is known for its 239 steps to the dune top, but also includes a few loops of hiking trails stretching back into the Holland State Park campgrounds. Mt. Pisgah doesn't have dedicated parking; hikers must find a spot along Ottawa Beach Road and walk to the trailhead.
Navigability ★★★★★ (5/5)
   Google Maps knows the route of the Mt. Pisgah Dune Boardwalk, and trail markers posted at every intersection display accurate and easy-to-read maps. Unlike the ones at Riley Trails, the trails are easy to tell apart too. 
Terrain: Medium
   Most sections of the trail are easy to walk, but no full loop can be completed without at least one steep, narrow incline riddled with tree roots.
Natural Beauty ★★★★☆ (4/5)
   Though the top of Mt. Pisgah offers a gorgeous view of Lakes Michigan and Macatawa, the loop trail isn't anything special. The site is far enough back from the lake to include only one type of forest, and the only views from the loop are trees, leaves, and houses.