Kaepernick's inspiring protest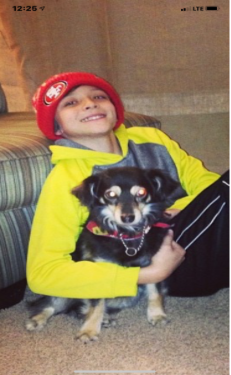 "Believe in something, even if it means sacrificing everything."
Ten-year-old me, wearing my 49ers beanie, watches in amazement as Colin Kaepernick slices through the Packers defense. He starts the game by throwing a pick-six and giving the Packers a 7-0 lead, but he recovers immediately  
He throws two touchdowns and runs for another two. He leads the 49ers to a 45-31 victory, carrying them into the next round of the playoffs. In the same game, he breaks the record for most rushing yards in a single game by a quarterback and most total yards by a quarterback in a playoff game.
  At that moment, I fell in love watching Kaepernick play. Over the next two years, I watched every game I could. I cheered as he led the 49ers to the 2013 AFC championship.
  I respected him more and more every game.
  Fast forward to the 2016 season. During the 49ers final preseason game against the Cleveland Browns, Kaepernick kneels during the National Anthem to protest against black violence.  I saw his protest in the news the next day, and of course I was taken by surprise. I hadn't seen a protest like his before.
  After Kaepernick's bad 2015 season, I was excited for his return; I wanted him to have a great season, but I worried that people would take his protest the wrong way.
  Sadly, my fears were confirmed. People believed he was disrespecting veterans and should be banned from the NFL. Being only 14, I didn't understand. Why couldn't everyone see what he was protesting? Why didn't everyone understand what he was doing?  
   I had lots of questions, but there was something I was sure about. I respected Kaepernick more than anything. He had chosen to sacrifice his career for what he believed in.
  I assumed everyone would move on eventually, and all the protests would blow over after a few weeks. I was wrong.
  Throughout the 2016-2017 season, athletes all over the country joined Kaepernick. NFL players such as Robert Quinn, Kenny Britt, Eli Harold, Devin McCourty, and Marcus Peters all stood while raising their fist during the anthem. Even members of a high school football team in West Seattle knelt. More and more players and people kept kneeling and protesting throughout the season including high schoolers, middle schoolers and even a band performing at an Oakland Athletics game.
  I was excited; I thought the overwhelming amount of protests inspired by Kaepernick would cause others to believe in his cause. But, I was wrong again.  
  In October of 2017, President Trump stated that "the NFL should've suspended Kaepernick for kneeling". I was furious. How could the president of our country believe a peaceful protest is reason enough for someone to lose his job.
  I didn't understand, but the protests kept going. Kneeling, raisings fists, and even refusing to come out of the locker room during the anthem.
  As 2017 came and went, I wasn't surprised when Colin Kaepernick was unsigned. I was disappointed that I couldn't watch my favorite player anymore, but I understood that he wanted to do more than play football, and I was proud to be a fan.   
  On September 5, 2018, 1:11 PM, Kaepernick tweeted a Nike ad voiced by him and starring other athletes like LeBron James, Serena Williams, and Shaquem Griffin.  All these players have inspired me and other youth with their amazing stories.
  LeBron James just opened a private "I Promise" school for at risk teens in Akron, OH. Even though she grew up in Compton, California, Serena Williams overcame everything to become one of the most dominant  athletes of all time. Shaquem Griffin went undefeated in his senior season at UCF and got drafted by the Seattle Seahawks in 2018, all with just one hand.
  I couldn't be happier about Nike's decision. Finally, I had confirmation that other people respected Kaepernick's actions, especially a popular company like Nike.  
  Although my 49ers gear from when I was ten no longer fits, I still feel the same amazement watching Kaepernick following his passions. This is about more than football now.