Best fries in Holland, Michigan
It's FRYday night. The most obvious way to celebrate the weekend is by enjoying the finest food this world has to offer: french fries. But where should you go? As a dedicated french fry connoisseur, I journeyed through Holland to answer this question.  
After polling nearly 100 students, teachers, and family members, the top recommendations were Five Guys, Wendy's, Red Robin, Chick-fil-a, and Arby's. And in an effort to make my results as conclusive and reliable as possible, I developed a rubric based on flavor, texture, presentation, and price. The french fries could earn up to ten points in each category. For the price score, the cost of the french fries was subtracted from ten points. I am proud to announce that the taste-testing is done, and the results are in!
Five Guys
Presentation: 4
Flavor: 7
Texture: 5
Price: 10-5 = 5
Total score: 21/40
Presentation:
Walking into Five Guys, I was filled with anticipation. My stomach was rumbling from a long day at school, and I was ready to take a seat and sink my teeth into a perfectly crispy, slightly greasy french fry. When our order was called, I was underwhelmed by the presentation. I got a brown paper bag streaked with spots from the oil seeping through. Opening the bag, a plain white cup had french fries spilling over with lots of extra fries piled in the bag. Of course, I will never turn down extra french fries, but there should be a cup that properly accommodates the number of fries I'm receiving. Between the boring paper bag and a logo-less cup, I'm pretty disappointed.
Flavor:
The flavor was the best part of Five Guys' french fries. The potato actually tasted like potato, not like the chemically produced, vegetable-like products of some fast food joints. It also had a good amount of salt, not too salty. However, it was still bland. Maybe this is normal? Maybe I have been living in ignorant bliss, dunking all of my french fries with enough ketchup to mask the blandness of the potato. But I don't think so; I maintain my conviction that french fries can be delightfully tasty without the help of condiments.
Texture:
The first french fry I plucked from the bag was sadly limp. Holding it up, the french fry gave into gravity and flopped over, similar to the downturned look I had on my own face. I like my french fries to be crispy, but that being said, it wasn't terrible once I bit into it. The inside of the french fry was nicely fluffy and warm. A solid 5/10.
Overall, Five Guys does not seem to value the appearance of their french fries, but they do prioritize using real, fresh potatoes, which I appreciate. However, it could not make up for the lack of flavor and sogginess or the high price.
Wendy's
Presentation: 6
Flavor: 4
Texture: 3
Price: 10-1= 9*
*Wendy's had a special deal for $1 fries any size during our visit, but usually a medium fry costs $1.99
Total Score: 22/40
Presentation:
The Wendy's french fries came in a cute red box with the logo plastered across the center. It was nicely filled, without too many fries spilling out, and they looked tasty. Though it was nothing too fancy, it was better than average: 6/10.
Flavor:
The amount of salt was okay, but there could have been a bit more, and there was no other seasoning, so yet again they were pretty bland. I'm starting to think french fries, in general, are not very exciting without ketchup. Wendy's advertises their french fries as "natural cut," which means some of the skin from the potato remains on the fries. Although I noticed the skin in the appearance, it didn't really change the taste. But I did feel "healthier" eating a more natural fry, so that's good.  
Texture:
This was Wendy's weakest point. From the outside, they looked good. They weren't soggy or limp at all, but when I bit into it, I realized it was all a facade. They were so dry. Good thing I bought some lemonade to go with them because my mouth was like the Sahara Desert biting into these. I've never realized how detrimental dryness is to the tastiness of a french fry: 3/10.
Unfortunately, Wendy's fries were below average. The redeeming factor was the price, only $1.99! So if you're on a budget and not a french fry snob, go here.
Red Robin
Presentation: 8
Flavor: 8
Texture: 8
Price: 10-3= 7
Total Score: 31/40
Presentation:
Red Robin's french fries came on a nice platter with some cute patterned paper underneath the french fries. They looked beautifully golden and crispy with a little bit of brownish seasoning sprinkled on top. I was intrigued and excited.
Flavor:
These french fries had a nice marriage of crispy, seasoned outside and a soft potato inside. I liked that there was more than just salt on these french fries. They mixed in some pepper and the famous Red Robin seasoning as well, just to spice things up (no pun intended). The only downside: these french fries are somewhat oily.
Texture:
The texture of Red Robin's signature steak fries was extraordinary. Steak fries get a bad rap that they are soggy because they are so large, but not in this case. The moment I bit into the fry, there was a delightful combination of crisp and warm. The outside was fried to perfection, not too burned and not too underdone. As I chewed the french fry, the mashed potato consistency took over and was equally delicious. The only problem was that the french fries near the bottom of the dish were too small and as a result were a little overdone. However, Red Robin's french fries are bottomless, so if there are a few you don't like, ditch them and get a new basket!
Red Robin received high marks across the board. Each problem on its own was fairly insignificant, but they did add up. The fries could have been more proportionally sized, some were a tad overdone, and my napkin at the end was covered with greasy fingerprints.
Chick-fil-a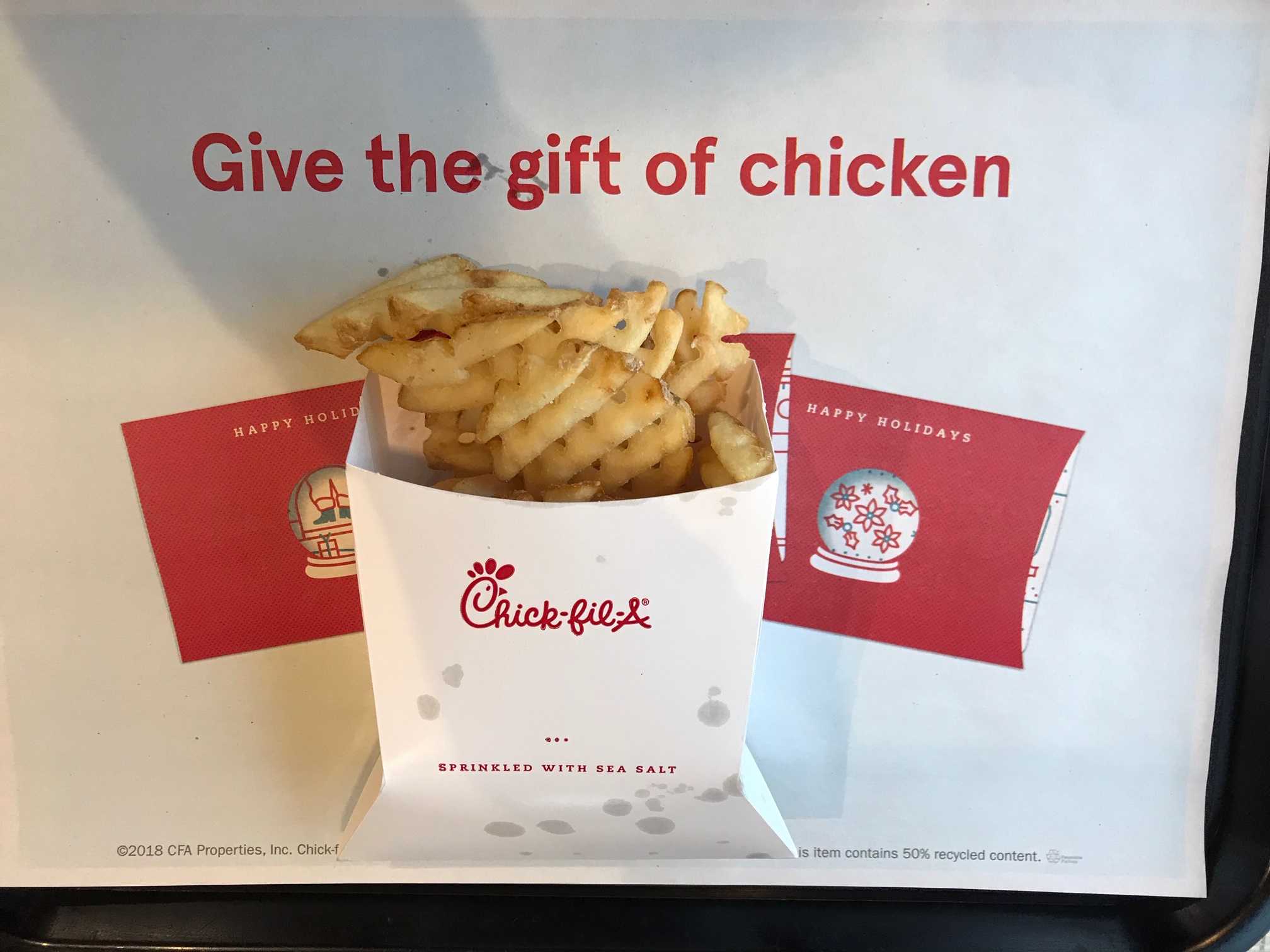 Presentation: 6
Flavor: 8
Texture: 9
Price: 10 – 3 = 7
Total score: 30/40
Presentation:
Chick-fil-a's presentation was comparable to Wendy's: a cute box with a good amount of fries spilling out. If I want to be a stickler, there were some oil spots visible, but hey, these are french fries so what can you expect? I'm ready to dig in.
Flavor:
Props to the people working at Chick-fil-a because they know the proper amount of salt for a fry. Although there was a lack of other seasoning, the amount of salt was perfect and delicious. Yet, I have determined that unless there are extra seasonings, even a perfectly salted french fry is bland on its own. In the back of my mind, I knew this unfortunate truth, I just wasn't ready to admit it to myself.
Texture:
This was the highlight of Chick-fil-a's fries for sure. The waffle shape was unique, and it increased the surface area of the fry, therefore increasing my delight. These fries were beautifully crispy, while not being even the slightest bit overdone- not even the small fries at the end! I was equally impressed with the inside of the fry. The potato was soft and warm and melted in my mouth.
Chick-fil-a has a solid fry that I would be happy to eat any day. The texture was satisfactorily crispy, none of the fries were overdone, and the amount of salt made me anything but salty.
Arby's
Presentation: 7
Flavor: 9
Texture: 9
Price: 10 – 3 = 7
Total score: 32/40
Presentation:
Arby's french fries came out on a black platter with a cardboard box of tantalizing curly fries placed directly in the middle. The golden fries filled the box to the brim with a perfect amount of spillage onto the platter. The main problem with this presentation was that the platter was oversized which made the box of french fries look smaller. Not a big deal, but definitely noticeable.
Flavor:
Upon perusing the curly fries, I noticed that along with the salt, there was a reddish colored seasoning. I'm not sure what the seasoning is, but it's magical. Biting into the fry, the mixture of flavors danced in my mouth, and I split into a huge grin. This is the fry I've been looking for! Arby's proved that french fries can be delicious without the help of ketchup. In fact, I purposely avoided ketchup while eating these fries so I could fully appreciate their taste.
Texture:
The texture of these fries is the absolute best! The outside has a delightful crunch. After breaking through this delicately crisp skin, I tasted warm, flaky potato. The fries were firm and not soggy while retaining enough moisture that they were not dry inside. Arby's is known for its curly fries, but sadly they're not all curly. The size and shape varies a lot, but who knows? Maybe Arby's is just trying to spread some accepting vibes in their restaurant.
In the end, it was a close call between Arby's, Chick-fil-a, and Red Robin, but Arby's came out on top. The texture was nearly perfect and the taste simply could not be beat. Not to mention, curly fries are way more fun; it's just a fact. Maybe their slogan should change from "We have the meats" to "We have the french fries" because that's the real star of the show here.
| | | | | | |
| --- | --- | --- | --- | --- | --- |
| | Presentation | Texture | Flavor | Price | Total |
| Five Guys | 4/10 | 5/10 | 7/10 | 5/10 | 21/40 |
| Wendy's | 6/10 | 3/10 | 4/10 | 9/10 | 22/40 |
| Chick-fil-a | 6/10 | 9/10 | 8/10 | 7/10 | 30/40 |
| Red Robin | 8/10 | 8/10 | 8/10 | 7/10 | 31/40 |
| Arby's | 7/10 | 9/10 | 9/10 | 7/10 | 32/40 |