Varsity Basketball: five things to look for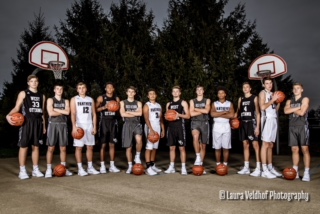 Early into the first quarter of a preseason scrimmage against Shrine, Jr. Blake Pedersen passed to Jr. Kobe Hescott, and the pass was tipped and stolen. Shrine's point guard was on a breakaway sprint for an "easy" two points. However, what Shrine's point guard didn't account for was 6 foot 3 inch Hescott. As the point guard extended his arm for the layup Hescott slammed the ball against the backboard for an incredible block. This is just a glimpse of what the West Ottawa varsity basketball team has in store for fans this season.
  After two Saturday scrimmages and an opening win at Kalamazoo Loy Norrix, a few facts have emerged. Tuesday's home game against Godwin Heights will be most Panther basketball fans' first chance to see this year's model, but it is not the team's first action. Here are five things that fans can expect from the boys in black and white this season.
Sr. Tra'vion McDaniel is big, and he can really play
 McDaniel looks to improve on his game this season. He didn't see a lot of the court last season but looks to change that this year with his time spent in the weight room. "Tra has been grinding all offseason not just on the court but in the weight room too. And for us as a team that is a huge help to have somebody his size to be as strong as he is now," Jr. Blake Pederson said. "In our scrimmage against Almont there was a loose ball and Tra went for it as one of their players did and even though Tra got to the ball late, he was able to rip it away from the kid with pure strength," said Pederson. This team expects McDaniel to have a great season with his improvements.
Jr. Blake Pedersen can shoot the three
 Now, I'm sure we all remember Sr. Jason Fairfield and his incredible three point accuracy; however, there's an additional shooter in town and his name is Blake Pederson. Not only is Pederson accurate, but he is also confident shooting more than a few threes per game. "With  two great shooters on our team it makes us a lot more threatening. We can score from almost anywhere and with multiple players," Hescott said. "Our scrimmage against Detroit Country Day was close I think we only won by three and Ped was on fire from three that game," Hescott said. With this new deep offensive weapon, Fairfield should feel a lot of pressure come off of his shoulders.
The team can really defend
  West Ottawa isn't just a one-trick pony either as they have a scary defense. This defense is improved by Tanner Wiegerink, who is not shy to make the big block or steal. "The guy is just huge. Simple. And when somebody is his height in the paint defending your basket only good things are bound to happen," Pederson said. "When we were scrimmaging against East Kentwood Tanner didn't have one crazy block but he had quite a few solid blocks. He's just a consistent player." Pederson said. If WO wants their defense to match their fast paced offense Wiegerink will have to play at the level he showed this preseason. The Panthers defense was impressive on Friday, when they held Loy Norrix to 29 points in their opener.
The team is deep
  Now while the starting five for this varsity squad looks solid doesn't mean they don't have a few bench players who can hold their own on the court. Jr. Alex Janetzke is the perfect example of a sixth man. Janetzke, like Pederson and Fairfield, isn't scared of shooting threes. "He was just throwing threes down left and right against Flint Beecher [in a recent scrimmage]. And we only won that game by two points so having a player come off the bench that can heat up instantly is clutch," Hescott said.  Janetzke is going to have a lot of pressure on him when he is called on but his teammates and coaches believe in him.
Soph. Blake Bosma is big, aggressive, and skilled
  Bosma is recognized for his height, and yet he is one tough kid to cover when he drives into the paint. "Against Utica Ford, Bosma drove up the lane and had a really nice reverse layup. For somebody his height to have the moves he has will help our offense a ton this season," said Pederson. Bosma and his moves are going to be looked at by many this season; however, his teammates are confident he will perform above standards.
  If you would like to see what this new varsity squad has in store for us this season make sure to join the crowd for Tuesday's home game at 7:00 against Godwin Heights.