A zoo on the lakeshore: The Getz legacy
If you could live anyone else's life, whose life would you live? Most people would say they want to live as a celebrity, athletic superstar, or historical figure. If I had a choice, I would want to be George F. Getz. I know what you're thinking…who's George F. Getz? He may not be a household name, or well-known by any means, but what Getz accomplished in life is a testament to his hard work and adventurous spirit. Getz was a self-made multi-millionaire, but he was more than his bank account. He put a zoo in his own backyard because he could, he went hunting in Africa, and he served in World War I at 53 years old, and that's not even all of it.
George F. Getz
  George F. Getz was born on December 26, 1865, and had a rough childhood. He lived as a penniless farm boy but was greatly intrigued by the animals he visited in nearby zoos. At 12 years old, he decided to make a life for himself. One of the earliest recorded incidents in his life was when he hopped a train and made his way to Chicago, IL, determined to shape his future. After Getz arrived in Chicago, he got a job working as a mailboy for the Baltimore and Ohio Railroad.
  In a short 23 years, Getz climbed the corporate ladder, eventually fulfilling his dream of becoming a self-made man in 1901; he founded and owned the Globe Corporation, a real estate and investment firm located in Chicago. A world-renowned businessman, he surrounded himself with entertainment stars, industrial kings, sports phenoms, and US presidents.
  In 1910, Getz moved to Michigan searching for a summer cottage for his wife, Susan Getz. Unfortunately, she passed away that summer. Those in Getz's life said he wanted to honor his wife by providing his children with her dream vacation home.
  Getz spent the next seven years building up his property. He amassed a whopping 253 acres on the shores of Lake Michigan. This land was put to use, as Getz also built up his collection of animals. He was preparing to create his own personal zoo, inspired by the ones he visited as a kid. Unfortunately, the United States entered World War I. So Getz did what any aging millionaire would do. He sold all the animals and joined the Red Cross to serve in France.
  After Getz returned from war, his collection of animals grew even further. Almost everyone in the Holland area knew of the "private" farm.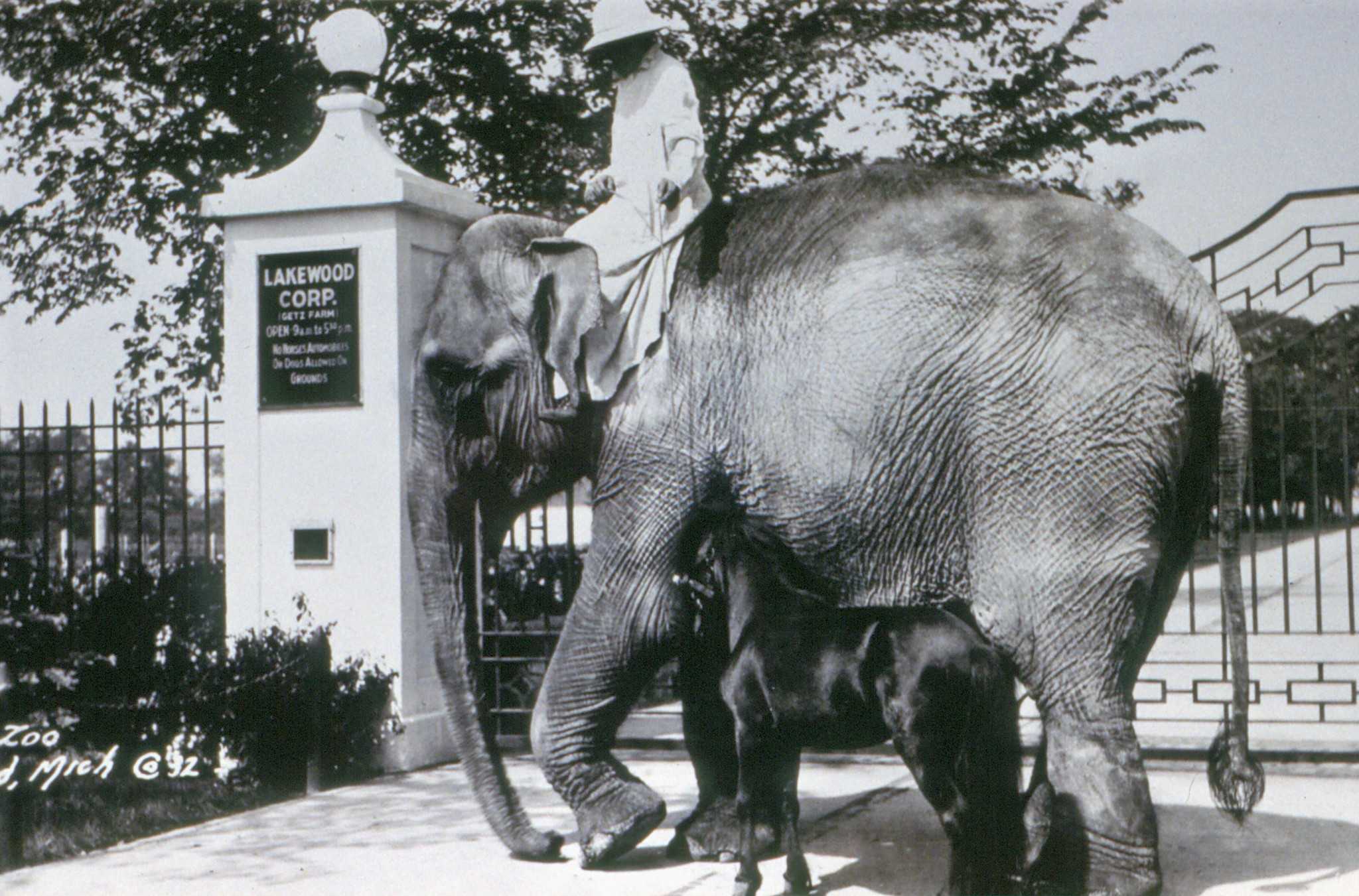 Getz was the West Michigan version of Jay Gatsby, throwing lavish parties and attracting thousands. In July 1926,  Getz threw a massive barbecue for the entire city of Holland, inviting the whole city so that they could meet Fred Green, a Republican candidate for governor. This party was MASSIVE. There were 30,000 attendees, 5,000 cars parked along the road, and 6,000 pounds of barbecue along with 18,000 hot dogs were eaten.
  The next year, the city of Holland threw Getz a banquet in honor of his devotion to the city. His accolades up to that point included, but weren't limited to, loaning money to the Ottawa County Road Commission to have Alpena Beach Road (what is now Lakewood Boulevard) paved, helping to bring electricity to spots along the lakeshore, working to keep chicken pox at bay after an epidemic, inviting the whole city and veterans to his estate for a July 4 barbecue, and giving men jobs and housing while providing their kids with an education.
  Following the banquet, Getz left for Africa with his son, George Getz, Jr., and a few corporate friends. They had the ultimate African experience, seeing Lake Victoria, the Serengeti, and Kilimanjaro. Getz also went on hunting expeditions, which he had filmed. When he returned home, Getz held screenings of his hunts, free for the general public.
Lakewood Farm
  Wait a second. A farm? On the beach? Lakewood Farm, also known as Getz Farm, was a zoo and garden on the shores of Lake Michigan near present-day Tunnel Park. Getz "started" the farm in 1910 when he purchased land from Ida F. Fay.
  Over the next few years, Getz diversified his zoo to include poultry, donkeys, baboons, bears, Arabian stallions, and camels. These animals became a spectacle at the 1913 Holland Fair, where Getz invited the public to view the wildlife. In 1914, Getz purchased animals from the Fowler-Fletcher Company Sideshow, expanding his collection with a red fox, two wildcats, an eagle, a badger, a leopard, two coyotes, and five monkeys.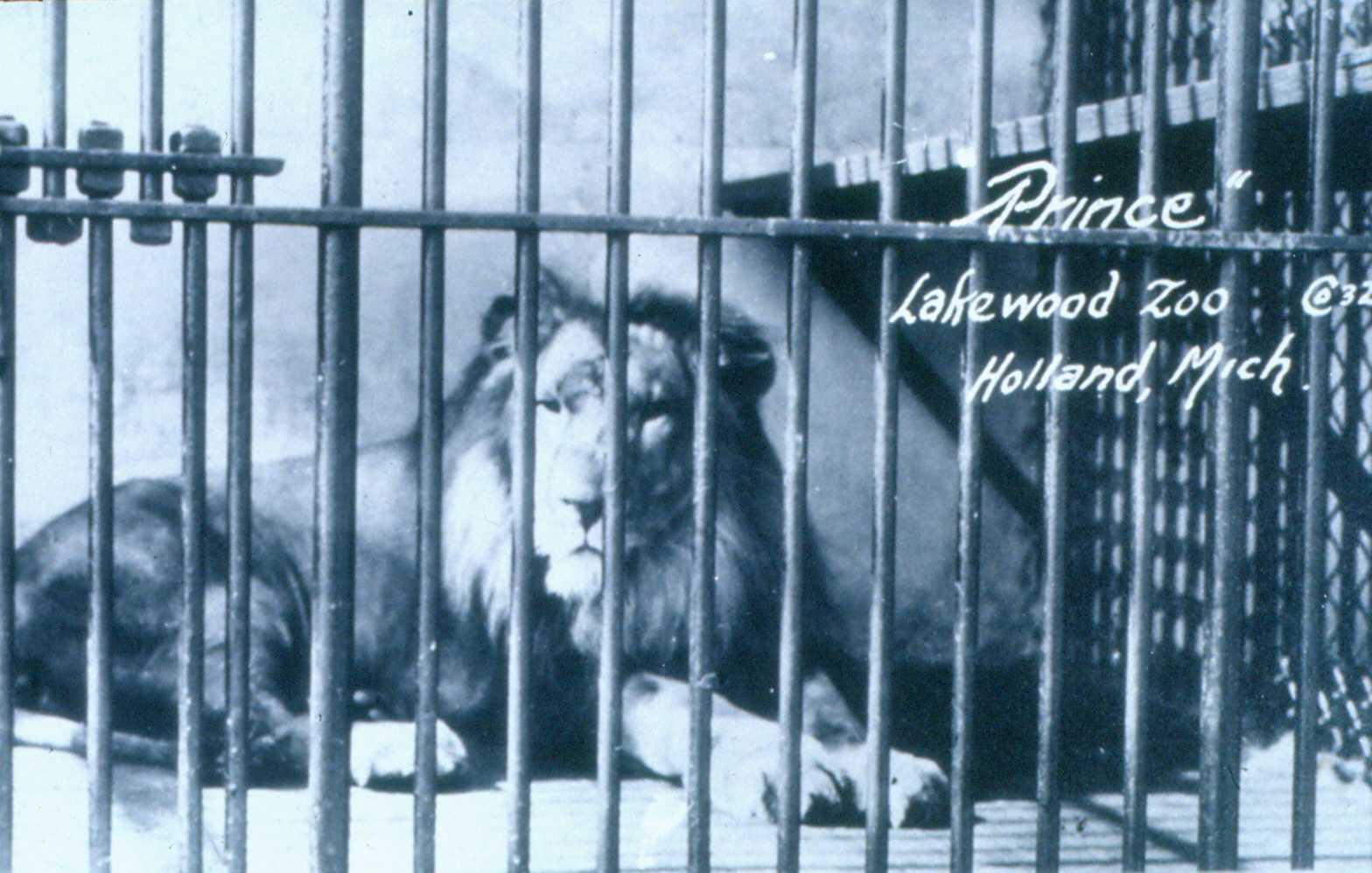 Lakewood Farm often attracted a lot of people. In fact, in one weekend, an estimated 50,000 visitors entered the farm and, in one season, 800,000 people visited. To put that in perspective, Cedar Point averages 21,000 visitors a day. In 1932, Getz decided to charge an entry fee for the first time.
  Memories of the farm itself, although scarce, still linger throughout Holland's elderly community. In a 2012 interview, Holland resident Bill Vogelzang reminisced on visiting the farm in his youth. "On holidays, we would go to Getz Farm, and that was a big deal. That's like going to Chicago now. And they had all kinds of animals; giraffes, and elephants, a python, and tigers and lions. I remember when they used to throw chunks of meat in the lion's cage. And boy, the lions would be right there, you know?"
  In addition to the farm, Getz also allowed the public access to his beach. People could go swimming, lay out on the shore, or wade in the shallows. "Everything was so different, nowadays, guys wear trunk bathing suits, and women wear bikinis. Then, guys would wear the old wool suits. And we didn't go out swimming very often, but when we'd go, my mother would pack a lunch and we'd go to Getz Farm. It used to be such a fun day to go to Getz Farm," Vogelzang said. Now we have the State Park and Tunnel Park, but being able to visit a zoo then go swimming in Lake Michigan would be unbelievable.
  Sadly, tragedy struck the next year. A massive storm ravaged the West Michigan area and caused $15,000 in damages to the Getz property. One might think, "If he is a multi-millionaire, why would $15,000 be enough to shut down the zoo?" Well, the storm destroying the zoo happened during the Great Depression, making it difficult for Getz to continue owning the farm. Getz also had to take into account the fact that he was employing a lot of locals as farmhands and caretakers. This weighed hard on his decision because he knew that he would benefit from closing, but many other people would not. Determined to save his land, Getz had to make the hard call. He shut the zoo down and had the animals moved to more suitable habitats. Finding new homes for the animals, however, was not as simple as it may seem. It took almost four months for all the animals to find new homes.
  Present day owner, Patti Bing, remembers hearing stories about the farm from her grandma, "Many of the people that remember it are now passed away, including my grandmother who says she used to be able to hear the lion roar while she was staying in Idlewood Beach near Tunnel Park."
What Still Exists?
Some remnants of the farm can still be seen today at the same location next to Tunnel Park.
  If someone is driving along Lakeshore Drive, they may notice a dated, rusty water tower next to the road. The water tower stored water that was given to the animals during the days of Getz Farm.
  The original Getz house is still present on site. The area is private property, so it is possible to see the house from the lakeside, but access to the neighborhood is required.
  Globe Corporation is a real estate company, founded and owned by Getz. To this day, Getz Family members are still running Globe Corporation
  At one point, Getz started a schoolhouse for his two sons and the families living on Lakewood farm. Consequently, he named it Lakewood School (sound familiar?) Although the original schoolhouse is no longer standing itself, Lakewood elementary is still part of the West Ottawa school district.
 There is a small firehouse where they stored a carriage with red fire buckets, like an old  fire truck. This firehouse sits next to Lakewood Boulevard, inside the private area.
  Several homes nearby were caretaker cottages, and, in fact, people are still living in these homes today.
  Inside the home were some furnishings that remained with the original Getz home since it was built.
  There is still a large train bell hanging outside. The bell goes back to Getz's railroad days. During weddings, it is a tradition to ring the bell.
  It is hard to encompass the life and legacy of such a man and a farm. The Holland Daily Sentinel put it best in a 1916 piece: "There are many men who can and there are many men that would, but the man who can and does is not so easily found. That man is George F. Getz of Holland and Chicago."