Creating the super teacher trait by trait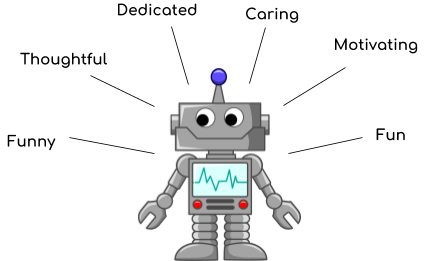 "Okay class, get out your Chromebooks and take a look at the assignment I posted on Google Classroom" the teacher says. But, this is no ordinary teacher; in fact, this teacher is about as far from the ordinary as one can get.
  This is roboteacher. Roboteacher is a custom made robotic teacher. Not only is he without flaws, but he is also comprised of the collective strong points of some of the teachers here at WO. Mr. Robo has it all; he has a sense of humor, he makes learning fun, he pushes students to be the best they can be, he is dedicated, he is caring, and he is thoughtful.
  Everyone can agree, a class is more enjoyable when the teacher is funny. Mr. Robo would need to incorporate humor like social studies instructor Brian Taylor. "I didn't think I would be very interested in government, but Mr.Taylor made that class one of the most enjoyable classes I have taken so far. He has a great sense of humor, and while I learned a lot in that class, I also had lots of fun," Jr. Brooke Drost said.
  Jr. Elizabeth Snider agrees, and was pleasantly surprised by Mr. Taylor's approach on the subject. "When people think of government, because it's a required class, they thinks it's going to be really boring, but Mr. Taylor uses a lot of humor and it makes the class really funny and easy to understand."
  Through the incorporation of humor, teachers are more likely to engage students who may otherwise have no interest in the topic, and make a subject more relatable.  
  The robotic teacher would need to make learning fun. Math instructor Shanna Meyer has this quality, according to Jr. Avery Warsaw. "She taught a boring subject in a fun and unique way. Like, she would come up with silly games that would help us remember the math, and she'd motivate us with prizes. She always made the content really simple and easy to understand and never rushed through lesson plans."
  Snider agrees with Warsaw. "She does a good job at teaching the material and always has fun activities to help with tough material. Again, she really cares about how students are doing. We always have a lot of laughs in that class and she's very approachable."
  By using games and rewards, Meyer makes a difficult subject both fun and easy to understand.
  While it is important to have fun in class, it is also important to strive for high academic achievement, and it is a the teacher's job to push their students. Mr. Robo would need to challenge his students to reach their full academic potential like English Instructor Ken Strobel. "He really pushed me to be a better writer and I felt he truly cared about his teaching and students," Snider said. If teachers care about their students, they will encourage them to finish the course stronger than when they started.  
  Arguably, one of the most important aspects of a great teacher is dedication. If teachers are not dedicated to their jobs, the students will not be dedicated to their learning. The robot would need to demonstrate dedication like science instructor Mike Jaeger. "I really appreciated his dedication and the time that he spent making sure his students succeeded. During the leaf project he gave up tons of time on the weekends and Wednesday nights helping us collect and identify leaves. He does whatever he can to make sure you understand the content and do well in his class" Drost said.
  Snider agrees. "He cares about his students and the well being of the school. He spends more time at the school and has offered more time to help students than anyone I know."
  When teachers are dedicated, they show their students they care about their academic success and well-being. This dedication is passed on to the students. When students see teachers putting so much effort into their education, they are willing to reciprocate the hard work.
  Great teachers show their students they care about them in and out of the classroom like Spanish instructor Melanie Zwyghuizen. "She treats her students with respect and has real conversation with them. I have formed a really strong bond with her and I know that she cares about me outside of my grade in the class," Drost said. Great teachers realize students have lives outside of school, and make time to care about their students' interests, or the hardships they may be facing. Mr. Robo would need to have a caring personality in order to match this quality, so students feel he is willing to invest in their well-being in and out of the classroom.
  Finally, the ultimate robotic teacher would need to be thoughtful, similar to instructor Traci Howard. "She's really easy to talk to and always super nice. She always made us food too and she took us on some field trips which was fun," Warsaw said. Howard uses her personal time to make food for her classes and plan field trips, both things she is not required to do, but does because she is considerate and knows the students appreciate these extra touches.
 Another aspect of being a thoughtful teacher, is considering what your students need to succeed, and working with them to get there. "Mrs. Howard does everything she can in order to help you do well," Jr. Ashley Le said. Every teacher is expected to help their students achieve success, but only the most thoughtful go above and beyond to provide enriching learning opportunities. To be thoughtful like Mrs. Howard, Mr. Robo would need to consider what he can do to make his students' educational experience the best they can be, and occasionally consider what he could do to brighten the classes' day as well as put a smile on his students' faces.
  There are many characteristics that make teachers memorable: their dedication, sense of humor, thoughtfulness, the fun games they play, their ability to push their students toward success, and their caring nature. But overall, what makes a teacher great is the ability to go above and beyond to guide their students down the path of success.