The avid football fans of WO
The crunches of pads, the squeals of whistles, the echoes of the roaring fans throughout the stadium. Millions of Americans await the annual return of these sounds in August. It marks the return of football season. Many people love to watch college and professional games every weekend, but some West Ottawa students show great dedication to their favorite teams and would never miss the opportunity to watch some football.
 Jr. Avery Marzynski is one of these fans and is extremely dedicated to his favorite team: the Green Bay Packers. Marzynski's happiness lives and dies with the success of his team. Marzynski is ecstatic when the Packers win, but miserable with a loss. "I feel like a million bucks when we win, but I'm not happy when we lose. I think 'why didn't we win?'" Not only does Marzynski enthusiastically watch his team play, but he also occasionally supports his team from the stands. Last year, Marzynski took a trip to Ford Field in Detroit to watch a key game in Green Bay's 2017 season. "The winner was gonna win the division, so it was a really big game.We were with a ton of Lions fans, so when Green Bay won, they were really upset," Marzynski said. In a land with mostly Lions fans, Marzynski is also proud to display his apparel. "I have Green Bay socks, two pairs of shorts, 6 jerseys, …4 or 5 hats, 2 blankets, and pillows," Marzynski said.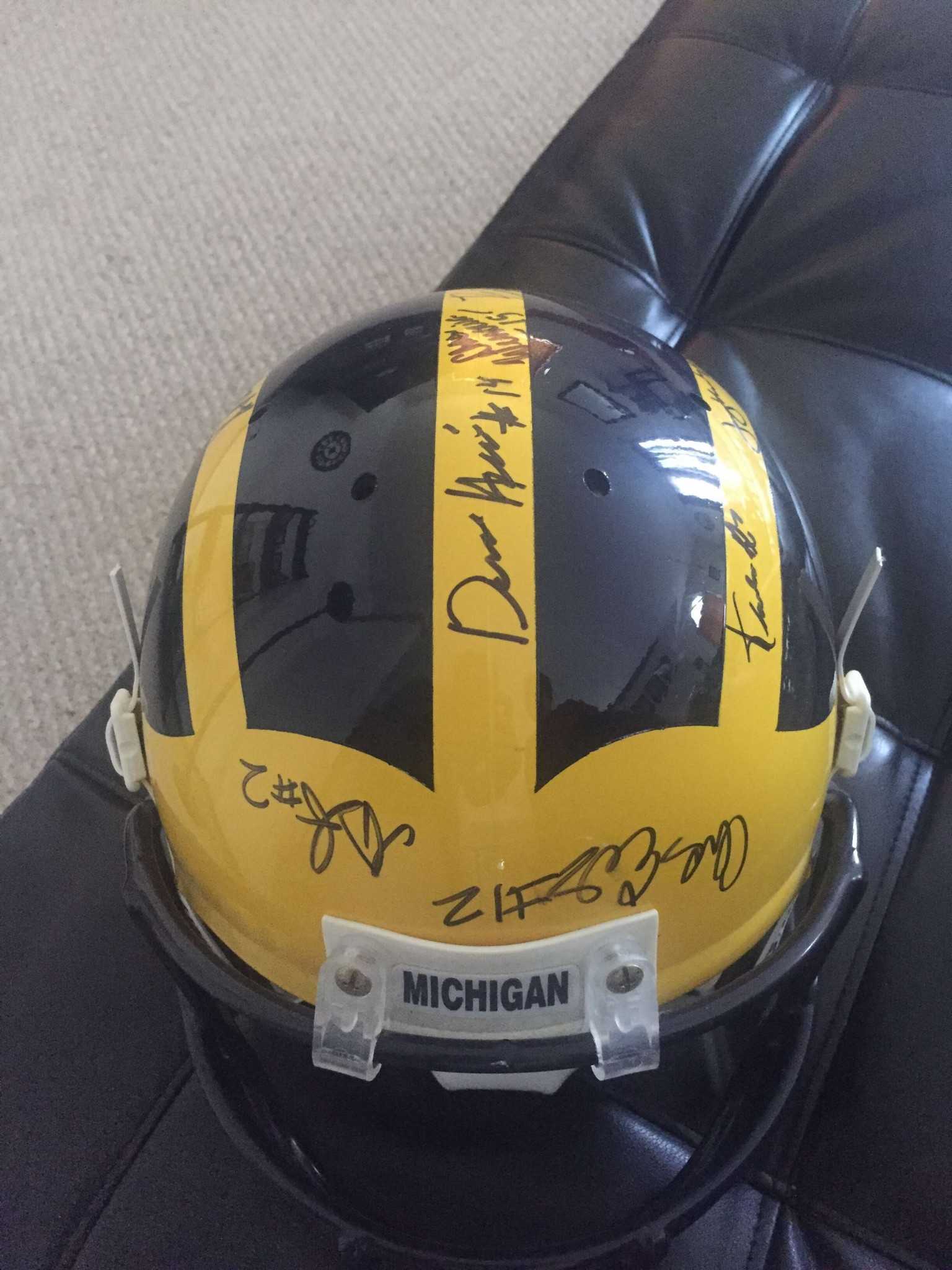 Jr. Chris Freeman focuses more on college football, in great support of his favorite team: the Michigan Wolverines. Freeman is enthusiastic to cheer for his team and has seen them play live several times. "I've gone to plenty of games, and I really enjoy going. After one game where we beat Rutgers, I got signatures on a Michigan football helmet," Freeman said. This helmet features the signatures of the 2016 Michigan football team, and it is a beloved possession. "I felt really excited to have the signatures. I had wanted to do it, and it was really cool to be up close with the players," he said. Freeman has also been to one of Michigan's biggest games in recent years. "I went down to the Citrus Bowl in Orlando, Florida and we smoked them. I was super excited during that game. It was a great experience to be at the game." The 2016 Citrus Bowl was a big game for Michigan, with a 41-7 victory against Florida. This game is one that only one the most dedicated of fans would go to, and Freeman is proud to have been in the stands, rooting for his favorite team.
  Jr. Collin Bell also pays great interest to college football, but to his favorite team: the Michigan State Spartans. Bell has some fond memories of the Spartans, of games both live and on tv. "I went to the Michigan vs Michigan State 10 years ago. Michigan State barely won in a close away game. I was with my aunt and my sister, and they were both rooting for Michigan," Bell said. Bell also remembers one game in particular that was incredible. "My favorite memory was a couple years ago when Michigan State was playing Michigan and Michigan was up by a few points at the end of the game. And somehow, Michigan dropped the ball and Michigan State picked it up and scored for the win. When Michigan State won, I felt really happy because they weren't supposed to win that game. I was really excited when they won." That is a game that is remembered as a classic, and Bell was happy to share how he watched in awe as his Spartans pulled off an incredible comeback for the rivalry win.
  Jr. Jacob Stonick is also an avid fan of the Michigan Wolverines, and he is very dedicated to the team. Stonick enjoys watching games on tv, and his mood often depends on if Michigan wins or loses. "I feel happy when they win. I feel relieved and glad that they won," Stonick said. However, with a loss, Stonick becomes quite upset. "I feel sad. I feel angry about what happened, but I get over it. I think 'I can't believe that happened,'" Stonick said. Not only does Stonick root for the Wolverines, but he also partakes in some friendly trash talk with rival friends. "I have some friends that are Michigan State fans, and a couple friends and cousins that are huge Ohio State fans. I trash talk a little bit with them. I just tell them that Michigan is better." According to Stonick, he likes to be competitive with friends who like rival teams, but it's all just playful rivalries. Stonick has also seen a few games live, in some interesting sites. "I went to the Michigan vs Penn State game last year. Michigan blew them out. It was really cool to see the stadium, and to be with a bunch of fans rooting for the same team." Stonick said. "I was happy that Michigan blew them out. I was with my mom, and she was also happy about the result." Michigan won 49-10 that game, which was a delight to Michigan fans watching from the home and in the stadium.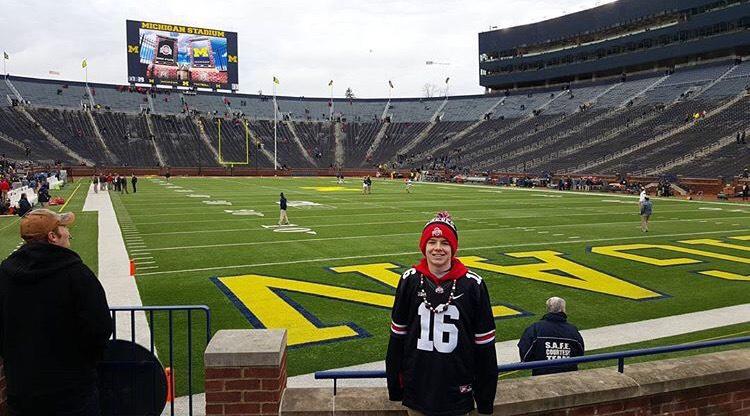 Jr. Aidan Engle likes a team that is generally unpopular in Michigan: the Ohio State Buckeyes. Because most people in Michigan like either Michigan or Michigan State, Ohio State is often considered a rival by local football fans. Despite this, Engle supports the Buckeyes with strong enthusiasm and loyalty. According to Engle, the success of the team is extremely important to him. "When they win, I'm extremely happy. It's the best part of my weekend when I get to see Ohio State win," Engle said. However, an Ohio State loss also impacts Engle. "I feel depressed when they lose. When Ohio State loses football games, I'm in a really bad mood for a few days," Engle said. He also has fond memories of the team and its success. "My favorite memory of Ohio State football is when they won the national championship in 2014 against Oregon. After that game, I was so happy because I didn't think Ohio State was gonna win," Engle said. Engle has also been to a game against the Buckeyes' biggest rival: Michigan. "I went to the Michigan vs Ohio State 2 years ago when Ohio State won 42-13 in Ann Arbor. I was really happy that Ohio State won," Engle said. Engle truly is a devoted fan and cares a huge amount about the Buckeyes.
  As the 2017 football season continues, it is certain these fans will be attentively watching their favorite teams with hopeful attitudes, and some may hopefully get to celebrate some success. However, win or loss, these fans definitely will loyally support their team joyfully.