WO graduation 2017
West Ottawa's Senior Class President, Katie O'Brien, delivered a reflection to the Class of 2017. Her voice was loud and clear. Faced towards the crowd, O'Brien spoke of the  past four years and how everyone would move forward to wherever that may be: college, trade school, military, or the workforce. The crowd of parents, friends, and teachers cheered.
  On May 25, WO held their Class of 2017 Graduation. The north gym was filled to the brim as an estimated amount of 2,500 parents, family, and friends rushed in to see the seniors graduate.
   As Principal Todd Tulgestke stood at the podium in front of the entire school, he spoke of all the achievements of the seniors.  
Achievements:
Ten seniors accepted IB diplomas

Two seniors accepted congressional appointments to the United States Military Academy at West Point and the United States Air Force Academy

15 seniors committed to join the United States Army, the United States Air Force, and the United States Marines

The seniors in Industrial Technology won six State Championships in woodworking

The seniors garnered 4.4 Million dollars in first-year scholarships

The seniors won O-K Red Championships in Boys Swimming and Diving, Boys Basketball, Girls Tennis, and Girls Baseball

The senior-led journalism class won State awards in 1st, 2nd, 3rd place as well as three honorable mentions

The senior-led bands earned D1 ratings from State Solo and Ensemble
  Last and most importantly, 140 Seniors of the Class of 2017 will be the first in their family to attend college Fall 2017.
  Before the commencement speaker, top scholar Jarod Klavon gave a speech to his class. Klavon read his letter to himself from his freshman year. "Dear me: it will be tough to juggle sports in school, I hope all the honors classes will be worth it. Are they fun? Is my goal in life the same? Or has it changed? Remember to study, I know you'll try not to. What colleges are you looking at? Who are some of your main friends?" Klavon was able to perfectly capture the thoughts and questions all the seniors had from during their freshmen year. But, now as graduated seniors, they could finally retrieve the answers to the questions they once asked their future selves.
  Back to visit her school, WO Alumni Juanita Bocanegra spoke of her success and growth from her time at WO, as the commencement speaker for the 2017 year. Bocanegra grew up as an only child in a migrant camp. She grew up poor and spoke little English. Thanks to the help of her teachers, Bocanegra advanced in her studies and broke out as an A-student. She received many full-ride scholarships from colleges and universities in and out of state. After graduating from WO, Bocanegra went to college and then went to law school. Soon after, she got a job at a Grand Rapids law firm. From there, she quit her job and started working at the Ottawa County Prosecutor's office.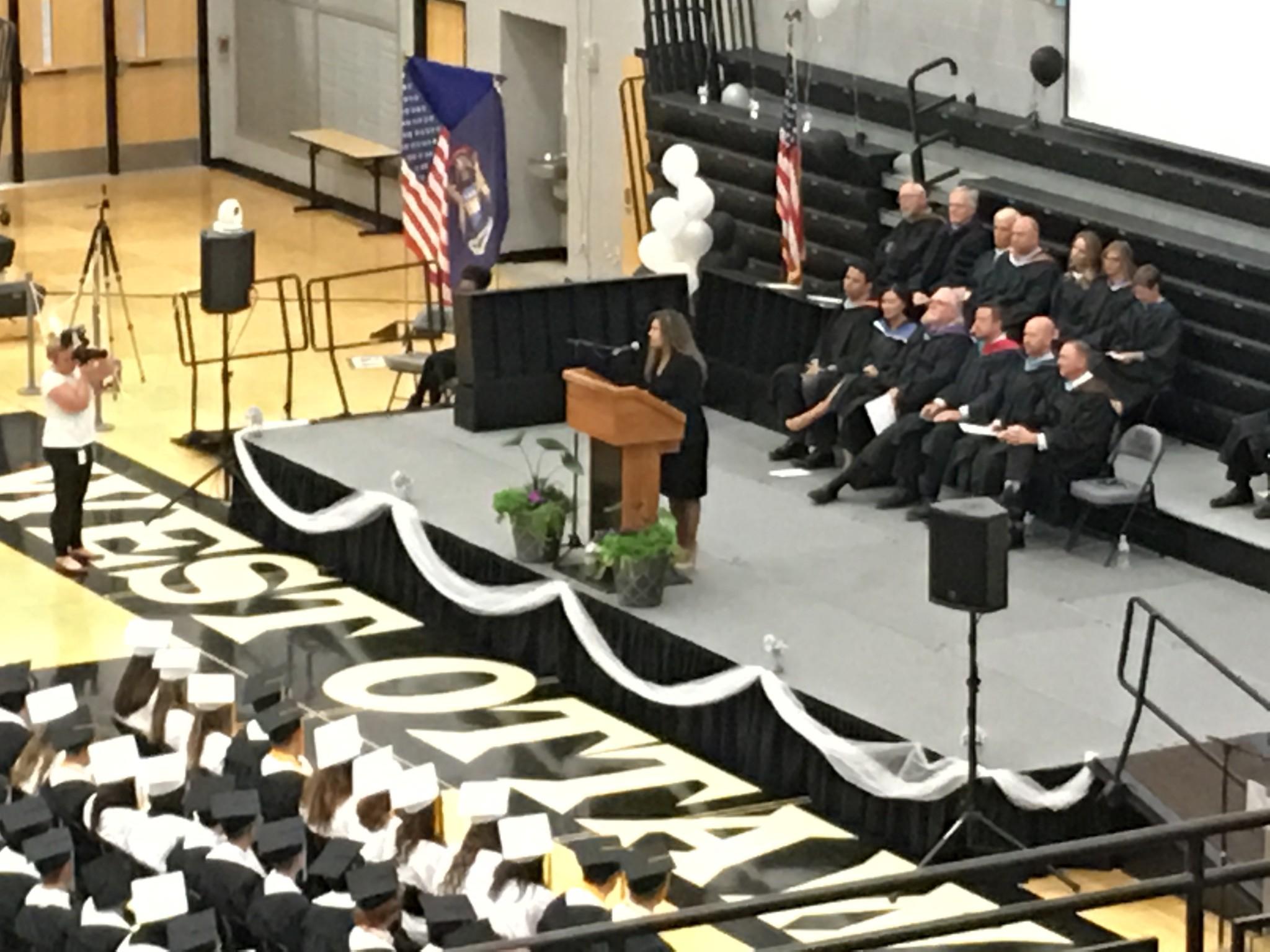 Bocanegra left advice to the now-graduated Class of 2017:
"Each of you graduating today has the tools to be successful. And by successful, I mean doing something with your life that gives you personal satisfaction and joy while allowing you to earn a good living. Each of you is extraordinary in some way and has something to offer. If you don't already know what that is, figure it out and pursue it. Keep in mind, change is inevitable and certain.
  "So, how do you ensure success? Look inward, understand yourself. What do you like to do? What are you good at? There is often a link between the two because none of us like to struggle if we don't have to. Many of you here already know what you want to do with your life. At least for the next few years. But there are others who may not be so sure and that's okay. It's not late for you to decide. However, I encourage you to take action, do something, do anything, but just don't do nothing. If you can't think of anything  you think you may be good at, I encourage you to unplug from the technology long enough to plug into the wisdom of the adults around you."
The entire 2017 WO Graduation can be seen at the following link: https://www.youtube.com/watch?v=0laGvccea5w