Sr. Damon Mihelac is this year's Poet Laureate.
His poem "Last Night I Dreamed of Chickens" was selected from 30 submitted poems. The overall quality of the poems created a great challenge for the judges, but Mihelac's piece stood above the rest.
The judges, five faculty members and two students,  specifically noted Mihelac's link to the famous poem by William Carlos Williams, "The Red Wheelbarrow." Judge Michelle Stoel appreciated how Mihelac cleverly modernized Williams' poem, "making his own artistic point." Judge Chris Norton felt that Mihelac's voice "culminated in a sense of wholeness," presenting something "inexpressible as our dreams' effects on our conscious moments."
Mihelac crafted the poem at work, STM Manufacturing, because "that's when I get really inspired; I just like making poems while I'm on break."The poem itself was for an English assignment. "I'm usually coined as the angry one in the class so I just kinda used that to write something different that wasn't like a romantic poem. I ain't about romantic," Mihelac said.
Last Night I Dreamed of Chickens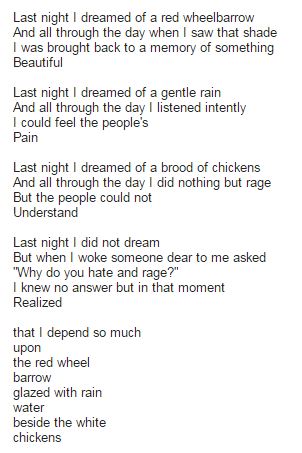 The contest runner-up is Jr. Cayla Khoung. Judges appreciated her creative and effective use of form. Judge Norton praised how Khoung "played with the placement of the words on the page – reminiscent of Adrienne Rich."