Eric Schuch takes on Junior Hockey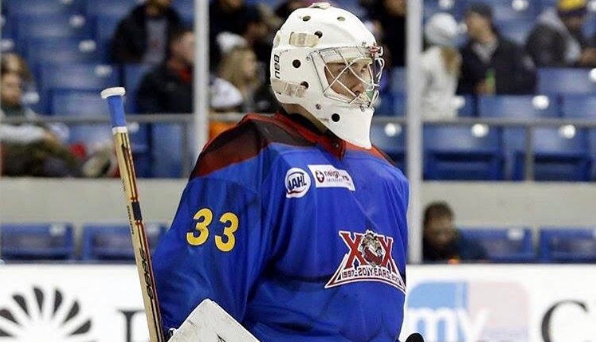 WO Sr. Eric Schuch stands patiently in the crease of Ector County Coliseum, home of the Odessa Jackalopes.  He looks through his face mask, sweat dripping from his hair, running over his eyebrows and dropping onto the ice. The ref raises his hand at center ice signaling to see if both goalies are ready; Schuch gives the nod, the ref bends down, drops the puck in between both centers, and Schuch's first official junior hockey start had began.  "I was nervous, but after the first period it wasn't too bad… we lost in overtime but it was a great experience," Schuch said.
 To get noticed by colleges, hockey players do not play high school hockey like basketball and football players do. In order to go D1, the best path for youth hockey players is to play AAA and then play junior hockey in one of the junior leagues in the US. Playing juniors hasn't been easy for Schuch. The team that is affiliated with him (they own his rights in their junior hockey league) is located in Odessa, Texas. Weekly, Schuch has no idea when or where the team wants him to play. When he gets the call up, he leaves Holland and heads for whatever city the team's going to play next. "I only take four classes because it's easier if I have to miss school for periods of time due to hockey," Schuch said. Unfortunately, Schuch doesn't play full time in Odessa; instead he plays for the Fox Motor U18 AAA hockey team in between call ups from juniors. "I do plan to take a year off from school and focus more on hockey, hopefully either play with Odessa or in the USHL," said Schuch.
  The limited time that Schuch has spent playing juniors is already paying off. Schuch explained that when he's playing juniors he's living with a separate family. He's learned to be on his own and function as if he were 24 years old and had his own apartment. "That's a big difference between high school and junior hockey, learning to manage your time, be on your own and function by yourself," Schuch said.
  Junior hockey provides Schuch more than life lessons. The goal is college hockey, and junior hockey helps put him much closer to achieving it.  "I talked to Ferris State University at the beginning of the season; hopefully something can come out of that," Schuch said. High school hockey would not provide Schuch the same opportunities that the NAHL and the USHL junior hockey leagues provide him.
 Currently Schuch is affiliated with a team in the NAHL, a step below the USHL. "I've talked to Waterloo, they are in the USHL, so hopefully I can play possibly up there, but the goal is to play full time juniors next year, and then hopefully play for a college team," Schuch said. 95% of the players in the USHL play D1 college hockey; so, if Schuch plays in the USHL, his chances increase dramatically at playing college hockey.
  Currently Schuch is posting an above .500 win percentage in the AAA tier 1 elite league. His goals against average is 2.99, and his save percentage is a little less than .900 through 15 games played. Its vitally important for Schuch to play well for the rest of this year and next year in order for colleges and USHL teams to notice him.
  Schuch made the decision to play junior hockey and so far it has payed off for him. Had Schuch played high school hockey, the opportunities that are being presented to him would not have arised. Hopefully, as this year progresses, he continues down the path to playing college hockey.