Young Democrats vs Young Republicans
Many know about Hillary Clinton, Donald Trump, the Republicans, and the Democrats. However, no one really focuses on what the young members of these parties think about what is going on with the election and the United States. In order to get this information, both the Young Republicans and Young Democrats at WO had a modified debate. Each club/party got to ask the opposing club/party three questions, and in turn received three questions to respond too.
Young Republican questions; Young Democrat answers
Considering Hillary Clinton is has been a political insider for over 30 years, and around 65% of Americans believe the country is headed in the wrong direction, why should those 65% of Americans expect Hillary to change anything?
"Although we don't necessarily endorse Hillary Clinton, we don't expect change from either candidate unless the two parties in Congress start working together. Congress is currently at a 13.8% approval rating, according to the RCL polling average. If those 65% of Americans want to see actual change, they should change the Congress first, and go out and vote on November 8th."
Clinton talks a lot about building on the "successes" of the Obama administration. After being the only president since Herbert Hoover to never achieve a 3% growth rate in annual GDP, spending more money than all presidents from George Washington to Bill Clinton combined, supporting the the Affordable Care Act (which has already lost the support of three of America's largest health care providers after they hemorrhaged hundreds of millions of dollars), and allowing the conditions that created ISIS to thrive, what are the successes she's referring to?
"The reason that Obama's GDP growth is so low is due to the negative growth during the Bush administration. Obama entered office on this negative growth, and The Great Recession was in full swing. The GDP had an annual growth rate of -5.4%. Since then, it has achieved a growth rate of approximately 4.1%. And, in 2014-2015 annual household income had the largest one year jump in the history of recording those statistics. The economy has also seen more than 70 months of straight private sector job growth, whereas the economy was hemorrhaging jobs at the end of the Bush administration."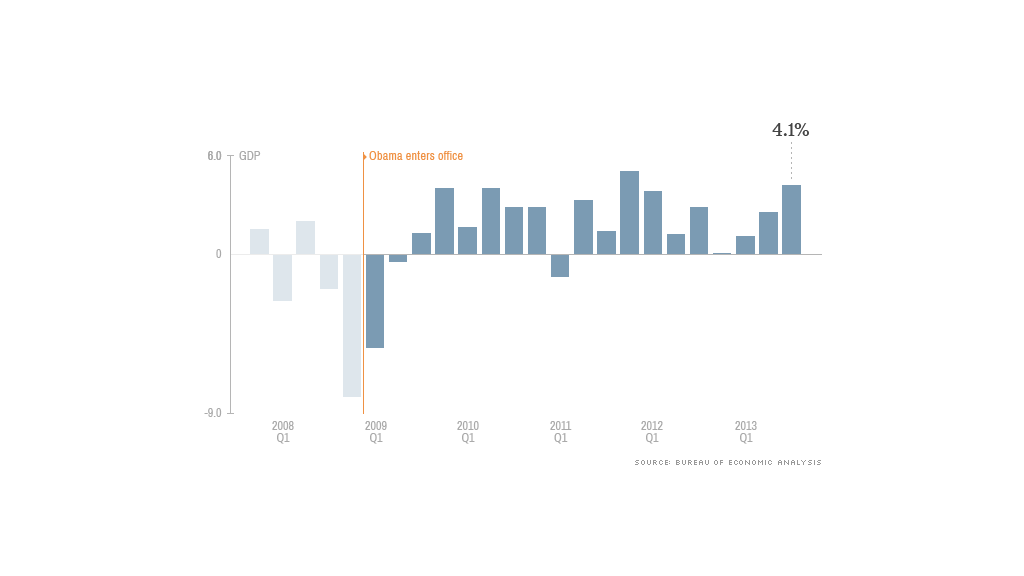 "Obamacare has dropped the uninsured rate from 16% (2010) to 8.6% (2016), and freelancers have been allowed to thrive due to no longer needing to have a big companies insurance to get around having a 'preexisting condition.'"
ISIS was formed based upon the power gap in the region caused by the Iraq War, a foreign policy mistake acknowledged by both candidates. Since the formation of ISIS, they have shrunken in size significantly enough that the US military is now threatening Mosul, one of the key strongholds of ISIS.
Can we trust Hillary Clinton to handle our foreign affairs with her record as Secretary of State, including the failed Russian Reset, the failed Libyan intervention, and a failed exit strategy from Iraq among others?
"While every Secretary of State has their negatives, Hillary Clinton had many successes as Secretary of State which are often overshadowed by these 'failed' actions. Hillary Clinton was an important part of the assassination of Osama Bin Laden, she visited 112 countries to help repair the worldwide view of America, and advocated for Women's rights across the globe and even before the UN general assembly. She had some failures; But just like all secretaries of state, her tenure was marked by successes as well as failures. As President, she will learn from these mistakes and improve America's image overseas after the international embarrassment of the Donald Trump candidacy."
Young Democrat questions; Young Republican answers
What does it mean to be a Republican?
  "Being a Republican means we support the ideals that our country was founded on: limited government, personal liberty, individualism, and equality of opportunity. We uphold our Constitution, and believe in a philosophy that allows equal opportunities for success. We reward those who spend their lives working hard by not taxing them into poverty. We believe in fiscal responsibility, both in our own lives and in the government. We believe in free enterprise and support a government that is responsible, effective, and limited in power. We believe in the crucial unalienable rights–life, liberty, and the pursuit of happiness. Finally, we work to spread these ideals by electing Republican officials at all levels of government."
Is Donald Trump smart for not paying taxes?
  "Typically, the Young Republicans have a policy of not speaking for candidates. Each candidate has their own message to spread, and we do not wish to stifle or misinterpret it. That being said, we do believe that anyone who can save money through legal provisions in the tax code is smart for doing so. Mr. Trump's ability to not pay taxes is not a negative reflection on him, rather it points to a larger issue of the complexity and convolutedness of the American tax code. Back in the primary, several of our members supported Senator Ted Cruz's proposal of simplifying the tax code so that taxes could be completed on a post card. Though Mr. Cruz was not the Republican nominee, we hope that him and other Members of Congress work to make tax reform a priority. Here in Michigan, we are blessed to have the leadership of Congressman Bill Huizenga, a member of the House Financial Services Committee and the Chair of the Monetary Policy and Trade Subcommittee. Congressman Huizenga is working to address the financial concerns that we in Ottawa County have, including tax policy, monetary policy, and financial independence."
What was not included in the Republican Party platform that your members wish had been included?
  "The Republican Party platform encompassed a number of important policies, but our members wish it had included a section about providing opportunities for the next generation of Republicans. For the future success of the party, it is crucial to involve young people. Organizations like the Michigan Federation of College Republicans and the College Republican National Committee are tremendous resources for college students, but a national or state organization for high school students would be helpful to us."