East Kentwood Preview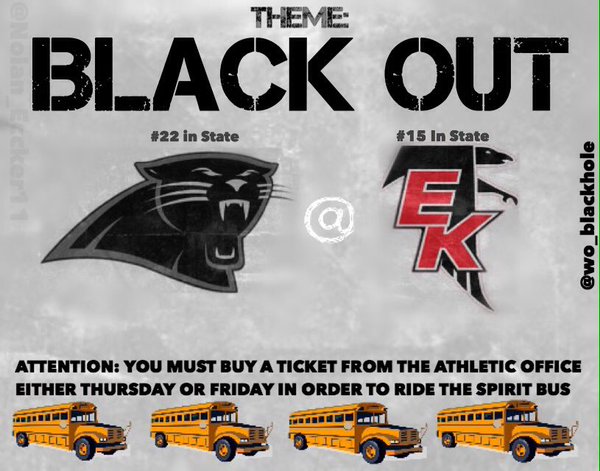 The Hype: The Panthers head to East Kentwood to play the biggest game in recent West Ottawa basketball history. The West Ottawa student section has already filled 4 buses to head to Kentwood Friday night. This is not only unheard of for West Ottawa, but unheard of from any Michigan high school. Kentwood is also recognizing the hype around the game. Their players are retweeting the Black Hole twitter account and their coaches showed up to West Ottawa's game Tuesday at Mona Shores.  The students are excited, the players are excited and the teams are excited. It's going to be a good one.
The Matchups (Projected):
Brandon Fuller v Jake Van Tubergen
Cameron Spicer v John Wehrmeyer
Curtis LaGrone v Nick Wehrmeyer
Micah Rosser v Tyler Bosma
Andrew Madison v Jared Miller
Keys for West Ottawa:
Make shots. Sounds simple but is a real key for West Ottawa. In West Ottawa's game Tuesday, the Panthers went in a slump, taking good shots but missing them, allowing Mona Shores to cut the lead to within 10. If West Ottawa has one of these slumps against East Kentwood, expect the Falcons to  take control of the game. But these slumps are rare for West Ottawa; the majority of the time the Panthers run good sets resulting in made shots.
Keys for East Kentwood:
Force turnovers. The Panthers are susceptible to  turnovers. If the Falcons can force turnovers and get easy buckets they will be able to get the lead and maintain it. West Ottawa recently turned the ball over 21 times against a less athletic and lengthy team in the Northview Wildcats. If the Falcons can turn over the young West Ottawa team then they will have an advantage in the game.
Keep your eye on:
Youth vs Experience. West Ottawa starts 3 underclassmen, including 2 sophomores. East Kentwood starts 5 experienced seniors.