Homeless for a Night: Great cause, bad name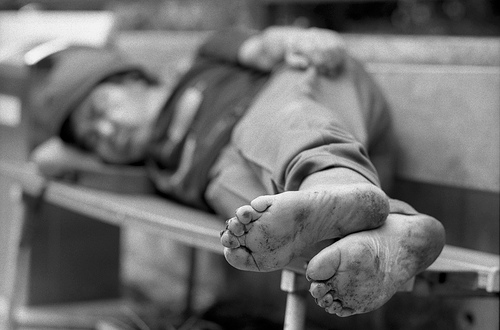 On average, 70 women and children, along with 90 men, make their way to the Holland Rescue Mission to seek shelter per night. Over the last year, 60,285 people have lodged at HRM. These people stayed in beds, not boxes.
  West Ottawa Students Sr. Sally Davis and Sr. Kennedy Sauer coordinated the noble event  Homeless for a Night, attempting to raise awareness as well as money for homelessness around the area. Students came together as a community and stayed a night outside in order to bring awareness to homelessness.  As much as this is a wonderful cause, it comes across in a wrong way. It has the intention of raising awareness, but, it feels as if students are celebrating. With a simple name change from Homeless for a Night to Homeless Awareness Night, this "wrong" feeling would be eliminated..
   According to the National Coalition for the Homeless, addiction disorders, mental illness, domestic violence, and low-income are the main causes of homelessness in the United States. On a single night in January 2014, 578,424 people were experiencing homelessness, meaning they were sleeping outside or in a shelter. Despite the poor economy, homelessness is continually decreasing due to government aid and students like Davis and Sauer, who are working hard to help those in need.
  While men, women, and children are actually suffering from starvation, frostbite, and illness; The WO event "Homeless for a night" encouraged students to bring their boxes and prepare for a cold night with friends in order to raise awareness for those who are homeless.
   Homeless for a Night is a noble way to raise awareness for a serious issue. However a simple name change can change the aspect of the night. When told to attend an event named "Homeless For A Night", many assumed they would be experiencing a night similar to an actual homeless person, but those who attend are actually just enjoying a cold night with some friends. If the name of the event were to be changed to "Homeless Awareness Night",a  movie,and boxes would seem more acceptable and appreciated. Although, the intention of homeless for a night was not to show that one night outside is remotely close to an actual homelessness, it came across to some as actually a night in the  harsh, brutal wind and bitter cold weather. The fact that students were able to bring a box, cuddle with soft blankets and wear winter jackets proves that the event was not meant to be aimed towards offending anyone nor was it meant to portray an actual night homeless.
 Even though the event brought concern to some, it ended up being a successful night. "Over 80 people showed up, it was great!," Davis said. Within the 80+ people who participated in the event, $450.00 was raised for homelessness in the community. "The cold made a lot of people including myself, realize the reality of homelessness," Davis said. Not only did the weather enhance the reality, but the guest speakers as well.  Davis and Sauer successfully raised awareness for homelessness in a fun, intriguing way. "Nothing can truly portray homelessness unless you have been homeless, but the night gave everyone a feel for what many go through every night," Davis said. "We did not to intend to make anyone feel like our event is as a rough as an actual night homeless," Sauer said.  
  Homeless for a Night not only brought awareness to the West Ottawa Students but it brought awareness to the community.  Thank You Sally Davis and Kennedy Sauer for their incredible effort on putting on this event. The West Ottawa Community will continue to raise awareness for homelessness in our community.