"Hey! There's service down the hall. C'mon!" she grabbed her phone and jumped out of her bed. The news spread like a wildfire. Girls started cramming into the one room with service. Johanna Weigle finally connected with her family. Little did she know that the other ten girls in that room would become her best friends.
    It was the first day of classes at the University of Michigan when the university suspected apprehensive activity on the campus computer network. Due to the suspicious activity, the university decided to disconnect the internet campus wide.
  Social media is a big comfort blanket for humans and with the internet being down it came with a lot of conflicting emotions. 
  "At first I just thought it was strange and kind of funny that the internet of such a huge well-known school would go down. But soon it came out that they had shut it down on purpose because of a security threat for our personal information that made me a little nervous,"  Michigan freshman Margot Frendt said.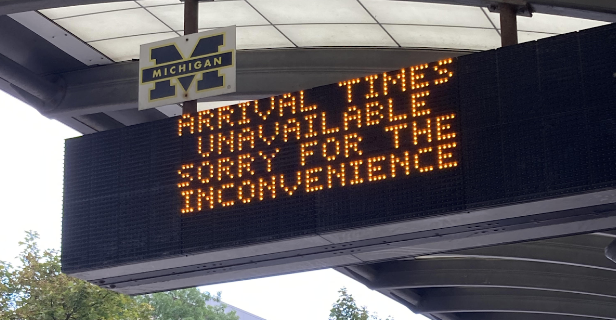 Students were scrambling with anxiety about the school work and how it would get done. "The Wi-Fi definitely made the first few days of school challenging. UMich uses an online platform called Canvas to distribute course materials, and many students could not view the syllabus for a class and did not have access to assignments," Michigan freshman Kolin Van Fossan said.
 "Professors were very understanding and almost all assignment deadlines were extended. Because the outage occurred in the first week of school, there were no major complications."
   Snapchat was down, messages failed to send, but that didn't stop Michigan freshmen from making friends. In fact, it might have contributed to developing friendships.
   "I was in multiple group chats that were created for the sole purpose of figuring out which Starbucks or Panera had some sort of WiFi connection that we could use to get a little work done. We would all then try to cram into the small Panera booths and cram for thirty minutes before the internet would be too overloaded. Often we would have to buy drinks or a snack for the employees to let us stay there," Michigan Freshman Jackson Jonker said. 
   An unexpected turn of events turned out to be one of the best ways for these Michigan freshmen to start the school year. Even with all the anxiety and stress, their friendships are thriving like no other. "There wasn't a lot of time for the outage to have a huge impact on any connections or lack thereof that I made. If anything, it helped me connect with people on my floor because we had a shared experience to talk/rant about," Margot Frendt said.
    The connections made during this outage still continue to blossom with the WiFi now back on. 
 "That night really helped me be closer to all my friends. We had nothing else to do and we really enjoyed the company of others. People would leave their door open and just sit and socialize," Johanna Weigle said. 
  In Ann Arbor, ultimately the internet being down was good. Friendships are still growing. This unpredicted event was for the best.