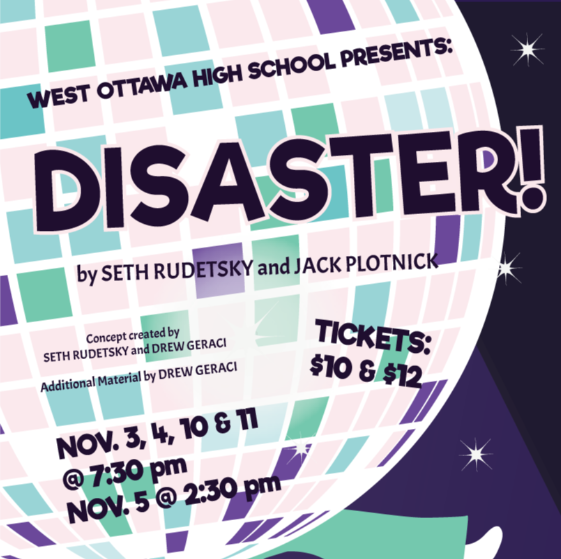 "What's NOT a Disaster? Every WO production! The talent! The songs! The fun! If you haven't experienced this yet, treat yourself this weekend." This was the message Instructor Michelle Stoel wrote on her Twitter page. 
   "The vocal talent and comedic timing were incredible. I laughed at times and got chills at others. It was the highlight of my weekend! My mom loved it so much that she is going to bring my dad to see it this weekend,"  Stoel said.
  Harbor Lights Instructor Susan Veld said, "I loved all of it! The music was wonderful, the actors were amazing, the choreography was outstanding, and I laughed so hard my cheeks hurt."
Instructor Heather Postma emailed WO Staff, "I never thought a nun, Lauren Espy, could make me laugh so much. DISASTER! is amazing and we were smiling or laughing the whole time. There are lots of seats left for this weekend and you don't want to miss this show. The depth of singing talent is apparent as the many lead roles have their time in the spotlight. Outstanding performances by Haven March, Keegan Angel, Mark Cosgrove, Grace Conkright, Victoria De Leon, Lily Montes, Noah Carithers and so many more. Hilarious doesn't even start to describe the performance by Caedmon Kephart playing twins Ben and Lisa. Shout out to the pit orchestra as well. The songs you love from the 70's are woven into the scenes in such a way that you just can't help but laugh. Go see this show and tell your friends and family! Thanks for making us Panther Proud!"
   "100% agree with everything [Postma] said! This show was so much fun! You'll catch yourself laughing out loud and singing along! You will be blown away by amazing talent we have at WO! You do not want to miss this show!" Instructor Amy Duistermars replied to the Postma email. 
Instructor Lisa Foy said, "It is AMAZING!  If you need some joy and laughter, buy tickets now."
 Security guard Mark DeVries said, "I've been going to West Ottawa musicals for over 20 years and this is the best one yet, the music was awesome."
There are two more showings of Disaster! happening Friday and Saturday, both at 7:30 PM. If you haven't watched it already, go have some guaranteed fun.