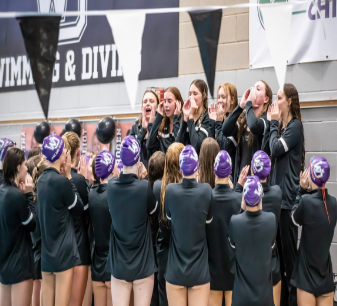 The Varsity Girls swim and dive team gathered closely after a tiresome practice. Coach Steve Bowyer announced that the Purple Power meet was in one month. This was exciting as this event had never been done before; however, Jr. Liliana Perez did not have high expectations for the success of the event. "I know that not many people are fans of swimming and don't look forward to sitting in the stands for a whole meet," Perez said. The girls knew it would take a lot to fill the stands. But, on October 19, the stands were jam-packed. Spectators wore purple ribbons to symbolize their support for the tormenting disease of cancer. With purple surrounding the pool, the swimmers were anxious to swim in honor of their loved ones. 
   "Purple Power is an event to raise money for cancer research at Van Andel Institute in Grand Rapids, Michigan. Where 100% of the money we donate goes directly to research and also allows the researchers to write grants for additional funds," Purple Power Coordinator Diane Colvin said.
   The event is only continuing to grow. "Purple Power started with the boys and girls basketball teams. It has grown to include art students, boys soccer, girls volleyball, boys swim and dive, wrestling, hockey, girls soccer, and boys and girls lacrosse," Colvin said. And now, the girls swim and dive are doing their share. 
    Cancer hits close to home for many swimmers. So the girls came together and decided they wanted to make a difference. "Any sport is able to have an event. The girls swim and dive team contacted me to host an event. I was contacted by Kalyna Pyk and her mom because they wanted to set this up. I am willing to help any sport or other group that wants to host a Purple Power event," Colvin said. 
   "I reached out to Diane Colvin to get me all of the resources and who to contact. Getting this set up meant a lot to me because we are doing something good and more than ourselves," Sr. Kalyna Pyk said.
   Without high expectations, the girls had set a high but reachable goal of $6,000. For reference, other sports' successes were used as a basis to create their goal. "The girls soccer team and the girls lacrosse team both raised over $5,000 in their first year. Other teams have raised around $2,000 to $3,000 their first year," Colvin said. "Swim and dive exceeded that goal by raising $6,301.26 for cancer research." Those are impeccable results, but the girls swim and dive team blew the other sports out of the water, especially for the first year.    
   The team raised money over the past month by collecting through online donation pages, dining at On the Border where 20% of proceeds went to Van Andel Institute, and purchasing items like jewelry or gift cards donated for the silent auction. At the meet, swimmers bought purple swim caps to honor people affected by cancer. The spectators participated in the miracle minute, chuck-a-duck, and the sale of purple t-shirts. 
   "My favorite part of setting the event up was going to the small businesses, getting their donations, and coming together as a community," Perez said. Swimmers asked local businesses to gain donations. All of these connections allowed the team to raise money and reach their goal. 
   "I definitely didn't think we would reach our goal," Perez said. Swimming is a sport that doesn't attract a lot of people unless it's a championship meet. Spectators are more willing to donate to sports that have more of a crowd like football, soccer, or basketball. 
   "It was a big turnout, way more than I expected it to be," Perez said. The stands were full of people wearing purple. Friends and family showed up to support WO and the fight to cure cancer. "Seeing all of the people in the stands and knowing they were supporting this great cause was so rewarding," parent of swimmer Melissa Baldwin said. The spectators can agree that this event could be a growing success.  
   The swim and dive team helped the development of the Purple Power events. They assisted organizers in hitting their goal for Van Andel. "We have the potential to reach our goal of raising half a million dollars over the past twelve years. West Ottawa is the only school district to be close to this goal. The swim and dive team had an amazing first year with raising over $6,000," Colvin said. 
   The immediate success could make the girls Purple Power swim and dive event a yearly tradition. "I think we should do this again next year because it went really well this year and as we keep continuing we will raise more and more money," Pyk said.