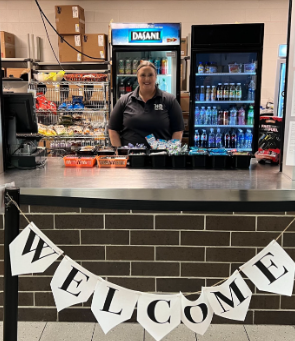 Jr. Dexter Ruhl walked up to the busy snack bar. He sanitized his hands and punched in his student number on the keypad. He looked up and was greeted with a familiar smile; he smiled back at Stephanie Kline. Kline is not only a lunch lady for West Ottawa High School, but an outgoing and compassionate individual who many know and love.  
   At the South building, Kline runs the snack bar during both lunch periods. She has countless responsibilities, making her job contain various tasks daily. "Every day looks a little different: stock the snack bar, stock the vending machines, clean and fill the froyo machine, prep breakfast for the next day. Some days I help with other prep such as cutting fruits and vegetables for the salad bars. I also fill other vending machines throughout the district. When I work in the concessions stand, I grill hot dogs and hamburgers and fry chicken wings and french fries," Kline said.
   Not only does Kline get through her busy schedule every day, but she brings so much to the job overall. "I work with Stephanie. She's fun, funny, outgoing, loud. The kids love her; she loves the kids. She's awesome at her job," said Melissa Maxey.   
   Kline takes pride in her work and genuinely cares about all the people she interacts with during school, making their days that much better. "She loves the kids and she loves getting to know them. She will learn the name of every kid that comes to her snack bar. That's why she loves her job," Rachel Aardappel said. 
   Kline's constant compassion and uplifting attitude truly affects so many people in the West Ottawa community. There tend to be three reasons why students and staff show so much love towards Kline.
   One: She is considerate and social with the kids. The students' positive opinions of her reflects the effort she puts into their bond. "Stephanie really cares about all the students and brightens my day," said Soph. Addison Birkholz. 
   Two: Her participation in school activities never goes unnoticed, creating a fun atmosphere for students and staff. "She always dresses up for spirit days; she has great school spirit," said fellow lunch lady, Susan Flynn.  
   Three: She has a humorous and genuine personality that is highly capable of changing one's day. "Stephanie is always the highlight of my Wednesday. She never fails to bring a smile to my face when I walk down to the cafeteria. Her smile is infectious, her stories are hilarious, she truly is my favorite part about my Wednesday lunch," Assistant Librarian, Christina Mooney said. 
   "I had never considered lunch lady as a job possibility for myself," Kline said. Kline has been working at West Ottawa for six years. Although her current career is not what she originally pictured, she has truly brought incredible experiences to our school community and absolutely loves what she does.