"I talked to this person all summer, and then it kind of just fell apart in October. We stopped talking for the most part, but we worked together and had a class together, so we still had to see each other on a daily basis, which felt strange," a West Ottawa senior said. This situationship ended by ghosting, just in time for Halloween.  
    A situationship is a romantic relationship that is not formal or established. Most high school students hear commitment and run in the opposite direction, but all humans desire affection in some way. Situationships are the perfect solution. All students interviewed chose to remain anonymous while sharing their personal experiences.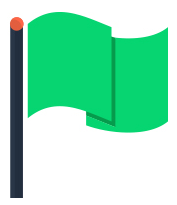 Green means go! If your situationship involves any of these green flags, you are surely on the path to success.
Do low-key fun activities with each other. 
   Activities like going to the beach, getting a sweet treat, and going sledding are all great activities that will help to create a connection, but it is not too serious to feel like a date. "It is important to do things like this because it gives you a look into how that person is, and it gives both of you something to do, which is really what situationships are all about," a senior said. 
Respect boundaries 
   "The person I was seeing was really respectful of my boundaries. I know it seems like it should be common sense but these days boundaries can get pushed a lot. I established my boundaries from the beginning and they never pushed." a senior said.  Boundaries are super important and healthy for every relationship whether big or small. Talk to your partner about what each of you can do to keep boundaries in all aspects of the relationship. Whether it's time obligation or physical boundaries, all are equally important to establish.
Go with the flow
   "You shouldn't force anything. If it doesn't work out, then it doesn't work out and that's ok. Go with it and see what happens. One time my situationship had started saying some big commitment things that I was not ready for. It was strange because we hadn't known each other very long, and we just weren't close like that yet," a senior said. Situationships are supposed to be chill. There is no need to rush, and if you do it might scare them off. Keep conversations lighthearted.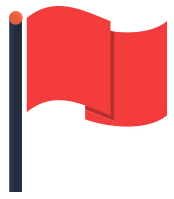 All situationships are bound to have quirks, but watch out for red flags! DO NOT make these mistakes in your next situationship.
One-sided coin
   "I had this situationship where they would make me drive to their house every time and they lived like 30 minutes away. If I asked them to come hang out at my house it was always, 'I don't want to drive that far.' In a situationship, yes it is more chill but if you're not going to make it equal work then there's no point in continuing. There needs to be effort but not too much effort," anonymous West Ottawa student said. The effort from both sides must be equal.
Wacky Words 
Multiple anonymous students mentioned that their situationships had said wacky statements to them. They all felt very passionate about how awkward it was. "During a situationship this past summer, the person I was talking to started quoting music lyrics to me to compliment me. I was so repulsed I told them to never say that again" a senior said. "During the first couple days of us talking, the person asked me to be their significant other officially and when I didn't answer they blocked me. It was so bizarre because we had established neither of us wanted anything serious." another senior said. 
Ghostbusters
   Ghosting is the biggest don't of them all. Ghosting can often lead to confusion and gossip. "I was talking to this person for a while, and I thought they felt the same way about me. Eventually they stopped talking to me, and I decided to move on. In a couple of weeks, I saw the person cuddled up close to another person. It led to a lot of gossip about cheating and name-calling, although none of it was true," The final West Ottawa student said. Talk about awkward. Let's keep the ghosting for casper!
  Navigating a situationship can feel overwhelming. Remember to look for the green flags, and always stop when a red flag appears.