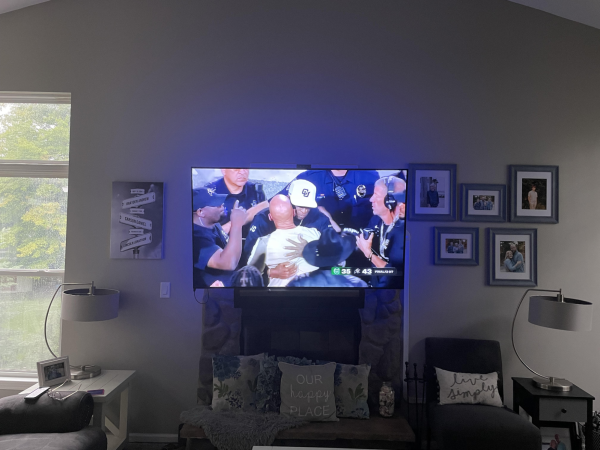 "I ain't going to lie, everybody that's sitting in those seats, ain't going to have a seat when we get back. But I'm coming. … I'm coming to work. Not to play. I'm coming to kill it. Not to kick it."
   When Deion Sanders first arrived at Colorado as the new head coach, he knew it was going to take a culture change to turn the Buffaloes program around. Colorado had only won five games over the past two seasons, and they most recently went 1-11 in 2022. Sanders, coming from Jackson State University, brought dual-threat star Travis Hunter, and two of his sons, Sheduer and Shilo Sanders. Including these three, Sanders also brought along an FBS-leading 46 players in the transfer portal, forcing many of the players from Colorado to transfer out, which is what Sanders was referencing with his arrival speech to the team. Many experts and college football fans dislike Sanders' non-traditional way of building and leading his football team, but Sanders has become a "prime" example of a great head coach in a new age of college football.
    Before running the show at Colorado, Sanders led the Jackson State Tigers in the Southwestern Athletic Conference. The Tigers had been a very average football program before Sanders arrived. 4-8, 5-5, and 3-8 had been pretty normal records for the Tigers before the arrival of Sanders. However, when Sanders arrived in Jackson, MS, the success of the program completely changed. Sanders was able to bring some great talent to the Jackson State football program, including the top recruit of the class of 2022, Travis Hunter. Hunter had been crystal balled to Florida State, but on his commitment day, he shocked the world by committing to Jackson State. With all of the talent Sanders was able to bring to Jackson State, the football program was able to turn it around, making consecutive bowl games in 2021 and 2022, for the first time in Jackson State history.
     Even though Sanders had all this success at Jackson State, many critics believed that he would struggle to transition from an HBCU to a Power 5 school. From receiving hate due to leaving an HBCU, to his poor coaching style, Sanders has heard it all over the past year. However, Sanders has used all this hatred to bring himself and his football program into the spotlight, and it has worked flawlessly. Nowadays, about every sports media program has Deion Sanders or Colorado as one of the headlines. In fact, it's about all Stephen A. Smith has been talking about!
   Colorado QB Gavin Kuld has been able to experience Sanders as a coach firsthand, and it has been something that has changed him as a person and as an athlete. Kuld is a junior at Colorado, and this past summer he walked on at Colorado after playing his previous two seasons at Monterey Peninsula College and Northeastern Oklahoma A&M. Kuld believes that Coach Prime has been so successful because "He stays true to himself and knows what it takes to be successful and he shows that when he is coaching us."
   So far this season, Sanders has proved all of the haters and doubters wrong. The Buffaloes have started 3-1, which is already two more wins than Colorado had all last year. From knocking off No. 17 TCU in Fort Worth, TX, to beating in-state rival Colorado State in 2OT, Sanders' squad has proved that they are no pushover. In week 4, Colorado had a tough matchup against  No. 10 Oregon in Eugene, OR, where they ended up losing 42-6. The Buffaloes look to bounce back this week, with another ranked opponent No. 8 USC, back at home. 
   With all of this success that Sanders has had this early in his coaching career, I believe that he could become one of the greatest coaches in college football, and could position himself within the ranks of Nick Saban, Urban Meyer, and the other great head coaches. His leadership and recruiting skills has helped bring back Colorado and help them compete in the tough Pac-12 conference. Sanders' passion for the game of football is undoubtedly one of the greatest, and his style of coaching will only attract more players and fans to his Colorado Buffaloes.