WO breakfast: Quality!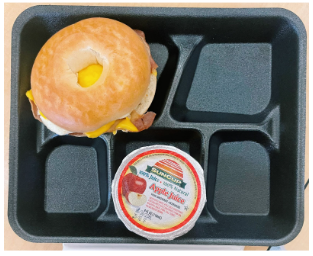 It's 7:20 am and we are tired. We could've slept in. There's no reason for us to be at school this early. No reason . . . but then, I smell it. A sweet vanilla aroma wafts from the left corner of the North cafeteria and ignites a hunger in us. It's heavenly. Our mouths water and our paces quicken as we head into the lunchroom.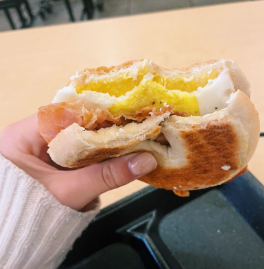 Reagan Valk and I are both seniors and it recently occurred to us that we have never eaten breakfast from the school cafeteria. We decided to change that.
Walking into the cafeteria we are met with a spectacle of abundance. On one side there are two waffle makers and cups of batter lined up beside them. The smell of incipient waffles sizzling on their iron is one of sweetness and warmth. On another side of the cafeteria there are rows of freshly made breakfast sandwiches on bagels, bread, and English muffins. It's hard to decide what to get, everything looks appetizing.
Reagan and I both decided on bacon, egg, and cheese breakfast sandwiches and apple juice. Our mouths water and we grow hungrier as we walk hastily to a lunch table with our trays. The first bite is glorious. All the right flavors and textures–a perfect blend of fluffy scrambled egg, crispy, buttery bacon, and perfectly melted cheddar cheese.
"Oh this hits," said Sr. Reagan Valk as she takes her first bites of a WO breakfast sandwich.
The moral of the story is, we should have gotten more school breakfast in our four years at West Ottawa, because it's actually really good.