More than coffee
The aroma of freshly roasted coffee beans greets you as you enter the door of Kin, as well as the smiling baristas behind the counter. Timeless black and white photographs overhang oak booths furnished with pillows, green plants hanging from shelves stacked with vintage books by Dickens and Brontë. Somewhere in the background "Here Comes the Sun" by the Beatles is almost being drowned out by collective chattering and hum of the bright red espresso machine.
"The atmosphere was what immediately drew me in. I love books, plants, anything vintage, and most of all; I love to be creative," said barista Renee Meyer. Kin is a safe space, a calming work environment, and a quaint coffeehouse that draws an array of audiences. From little kids coloring lunch bags for the local food pantry at the bar, to the older women sharing a cup of tea while talking about their latest book club read.
 "At Kin we encourage people to slow down and enjoy the simple things. We encourage creativity and finding beauty in ordinary things. We always try to give 110% to make sure our customers have a great experience," Renee Meyers said. Owners of Kin, Jamie Grisham and Lynn Kennedy, created the motto of "Our community is our family, our Kin," to embody the environment they had the goal to create. "We started Kin with a dream to create a space for the community to gather," Grisham said. 
There is so much to love about Kin. Barista Sam Dykstra said that his favorite components of Kin are the "coffee, family,  and connection." "My coworkers and the owners have become my family and they make the place run with love for the community. I love seeing the regulars come in every day and hearing about their days," Dykstra said.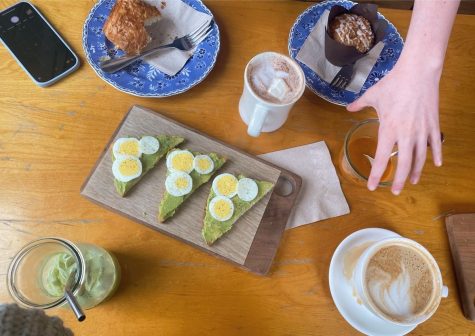 Kin offers a wide variety of drinks and food that are allergy-friendly. Kin also offers seasonal menus, they source many of their ingredients from local businesses. Their baked goods come every morning from Field & Fire, located in Grand Rapids, MI. "Not only is KIN's product outstanding but our service is top tier," Dykstra continues; "We strive to create an experience that goes along with an amazing product," Dykstra said. Along with offering local high quality products, Kin offers many events that are appealing to a plethora of customers. 
 Owners Grisham and Kennedy channel their passions into their workplace. "Lynn and I are also very creative people and we love to encourage others to do something creative daily and to learn new things. In the shop you'll find journaling/art supplies, an art board with a drawing prompt, postcards that you can color and we send them out. We also offer a variety of classes at night including watercolor, floral arranging, plant classes, and a monthly journaling night that allows people to come in on the first Tuesday of every month and work on whatever journaling means to them," Grisham said. 
These events have attracted customers to come together and build community. "Our classes and successful journaling nights are some of our proudest goals and we can't wait to expand the selection and variety of classes. We also love watching the space being used how we intended it to be used–to gather with friends and family over a good cup of coffee." Owner, Grisham said. 
Kin is a little hidden gem with a warm, welcoming atmosphere. Whether you are on your way to the beach, stopping by before work for a quick cup of coffee, or need a peaceful environment to do homework, Kin is the perfect place to go! You will be welcomed with a smiling face and calming presence. Owner Jamie summed Kin up perfectly, "Our favorite part about KIN is getting to know the community and our regulars. We feel like our KIN family just keeps getting bigger and bigger everyday!"