Whats Up With The '80's?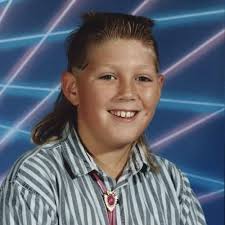 The '80s was a simpler time, when big hair, neon colors, and mullets graced the world. The musical genius of Micheal Jackson, Billy Joel, Madonna, and countless more created new, upbeat, happy, and totally rad music. Robert De Niro took the silver screen by storm and Tom Cruise made all of the ladies swoon. Still 40 years later we are still seeing how big of an impact the pop culture and fads of this epic decade have had on the tastes of teens.
   Where did this love and admiration of a time long passed come from, why are we so obsessed with the 80s? Jr. Kara Davis is a fellow lover of the '80s. "Growing up, my mom would always play XM channel 8, which is the top hits from the 80s. That I guess introduced me to the nostalgic vibe of 80s music. After Robin Williams died in 2014, my mom made me watch a ton of Mork and Mindy (Robin Williams was Mork), and that introduced me to the sweet simplicity of an 80s sitcom." 
   Our parents and grandparents have a huge influence on the music, movies, and TV we get to watch when we grow up, and when they show us what they grew up with we begin to relate closely with the pop culture of that time.
   Not only was the 80s a time of pop-culture renaissance and fashion recreation, it was also a time that reshaped America as a whole: the Berlin Wall fell, Chernobyl exploded, and the cold war changed the way that national conflicts play out. Many of these events still intrigue people, which keeps us connected to this decade. Sr. Caden Mika loves the 80s and the events that made it such an amazing time. "With the event of LiveAid, not only did the music bring so many people together, but also it was for humanitarian relief." 
   Music was bringing us together on a scale that nobody had ever seen before. Sr. Owen Foster said, "I think that the 80s is as influential as it is because the decade was when a lot of music and culture was coming together around the country. The influence from music in that era is still heard today with a lot of artists."
   But what were the 80s really like? How do the people who lived through the 80s see us interpreting their generation? From our generation wearing scrunchies, mom jeans, and windbreakers just like they did, and listening to the music they grew up with. Does it help us relate to them? Or does it feel like we are making their history our own?
   Well, wonder no longer because Mrs. Bentley was in high school in the '80s. "My memories of the 80s involved big hair (lots of hair spray), bright colors, big jewelry, and fantastic music," says Bentley. Although we don't see a lot of the style reemerging, the music still pulls its weight in today's pop culture. Bentley says, "I'm hoping that parents are sharing their favorite movies and music with their kids – that's probably why your gen enjoys 80s stuff.  When I ask students if they've seen movies like Ferris Bueller's Day Off, Back to the Future, or Return of the Jedi, not many have seen them. When we engage in similar pop culture, we have more to talk about." 
   Sharing our pop culture, music, and movies brings us closer together as a community. Letting us relate and connect through a languageless medium that we can all appreciate. I believe that we love the 80's pop culture in particular because as we get older we grow closer to the adults in our lives and the music of their generations helps us connect.