Sunday Reset with Grace Hale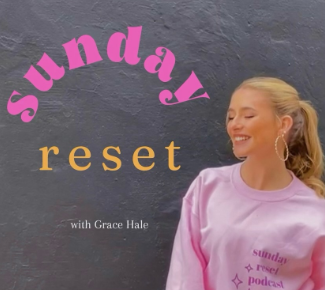 Jr. Grace Cronkright positions herself in front of the microphone on her bedroom desk. She's comfortable and confident, wearing headphones and a smile. "Hey everyone! Welcome back to Sunday Reset podcast." 
   Cronkright's podcast journey began last year. She avidly listened to podcasts, but especially loved On My Mind by Ava Jules, which inspired Cronkright to start a podcast of her own. "I really liked zoning out and listening in on advice she gave. It really helped me to learn more about myself and have a journey of my own self discovery," Cronkright said. 
   Later on, she began her first podcast called Let's Get Matcha. Cronkright used this experience to get down the basics of making a podcast. "I was definitely not a pro, and a lot of the episodes were scattered and didn't have a direct theme or approach. However, it was a good learning process," Cronkright said. 
   From there, she went on to pursue her current podcast, Sunday Reset. 
   Sunday Reset podcast content is a mixture of Cronkright's inspirational anecdotes of personal growth and tips for self love and weekly recharge. 
   Cronkright continually uses her podcast as an outlet to help others. "I have always had a longing to help people through conversation. However, I am an introvert most of the time. It is hard for me to open up when in big social situations," Cronkright said. With Sunday Reset, she can encourage and inspire people in the comfort of her own room. 
   A new episode comes out every Sunday. Cronkright cultivates ideas for her podcast by writing her thoughts. "Each morning, I take five minutes of gratitude and breath-work. I try to center in on what my brain has been most affected within that moment of my life. From there, I try to think of ways I can express what I am going through in a form where others can apply it to their lives." Although Cronkright maps out key points she'd like to make in each episode, she speaks from the heart in the moment. She works to create a genuine and authentic space for her listeners. 
   Along with the podcast, Cronkright has an Instagram account to help promote her work. The account enables her to communicate with her supporters effectively and even build a community. She uses many features like reels, Q&As, and polls to engage with her audience. She easily notifies her viewers by dropping a link on her story to reach many people at once. "I have connected with a lot of other podcasts that are starting out as well through Instagram. We are able to bounce ideas off of one another, and that really opens a whole other realm of creative mind-flow," Cronkright said. 
   Cronkright uses the Sunday Reset Instagram as a form of self expression and self discovery. Often, she replicates her thoughts and feelings through posts consisting of pictures, quotes, videos, writing, and even graphic design created by close friends. Instagram further helps to build the welcoming Sunday Reset community: "My goal for my Instagram is that it can be a space where anyone can find something they can relate on, or something that captures them; and from there they can feel a part of the community." Cronkright admits that most of her feed is random, but she appreciates the way the podcast and Instagram content come together to create her theme of self discovery. Although social media has many negative connotations, Cronkright works to make her Instagram the positive community possible. 
Sunday Reset episodes recently focused on a series called "C.H.A.N.G.E." Cronkright created the acronym as she was reflecting on healthy ways to cope with change. 
   "I am coming close to the end of my high school experience, and I think a lot about what will happen afterward. It makes me anxious sometimes. I was trying to brainstorm ways that I can use this time of my life of change to grow," Cronkright said. 
   The C.H.A.N.G.E. acronym stands for Character, Healthy Relationships, Authenticity, Neglect, Go, and Enlightenment. Each aspect represented in the series promotes how to guide healthy change. Cronkright said, "Character, being that you learn more about who you are and how aspects can affect your well being. Through that self discovery you can then move your focus to Healthy Relationships. It's so important to surround yourself with good humans, whether that be romantic relationships, friendships or anything in between. When you have that community that uplifts you, good change can come. Authenticity means always being real with yourself and those around you. Neglect means willing to face being neglected and growing from that. Go means go out and achieve that change you are faced with. Enlightenment means use that change to help those around you and benefit society as a whole." 
   She goes more in depth in each episode, and shares her personal experiences relating to her journey with each segment of the acronym. 
   Although her podcast serves as a positive outlet right now, Cronkright hopes to turn her podcast into a full time career someday. She wants to continue using her passion of helping others through communication and personal experience. She also thinks her podcast could turn into forms of help through public speaking or writing. "Society can benefit tremendously from one using their voice to speak in what they believe in. I hope to achieve this goal in the long run," Cronkright said. 
   Along with the joy she gains from helping others, Cronkright has seen a lot of growth within herself throughout the process. Specifically, she's become more confident. "I would have been so self conscious to put a video of myself after I just woke up on a public platform, but now I could care less if people don't like it. I don't care anymore, because as long as I know I am helping people through my voice, that is what matters," Cronkright said. 
   "I am so grateful for the love and support through this, I want to show that same love and support back in return and I hope to help people feel more valued, seen, and heard," Cronkright said. 
Tune into Sunday Reset on Spotify, Apple Podcasts, or Anchor Podcasts today.