Keeping Up With Kinsler
   On the night of November 5, opening night for Elf the Musical, the audience filled the house. The lights came up on the stage and music fills the room; the audience is captivated by the sounds and lights as performers move all across the stage. Little do they know all the hard work and dedication one man has put in to make it all possible. A new face has joined the staff at West Ottawa Public Schools. Although he has been a contributor to the community and WO for years, he is just now becoming a bigger part of our school lives. Andrew Kinsler is the new PAC Supervisor at WO. This means he does sound, lighting, projection, and event hosting for musicals, plays, concerts, assemblies, and graduation, for both middle school and high school.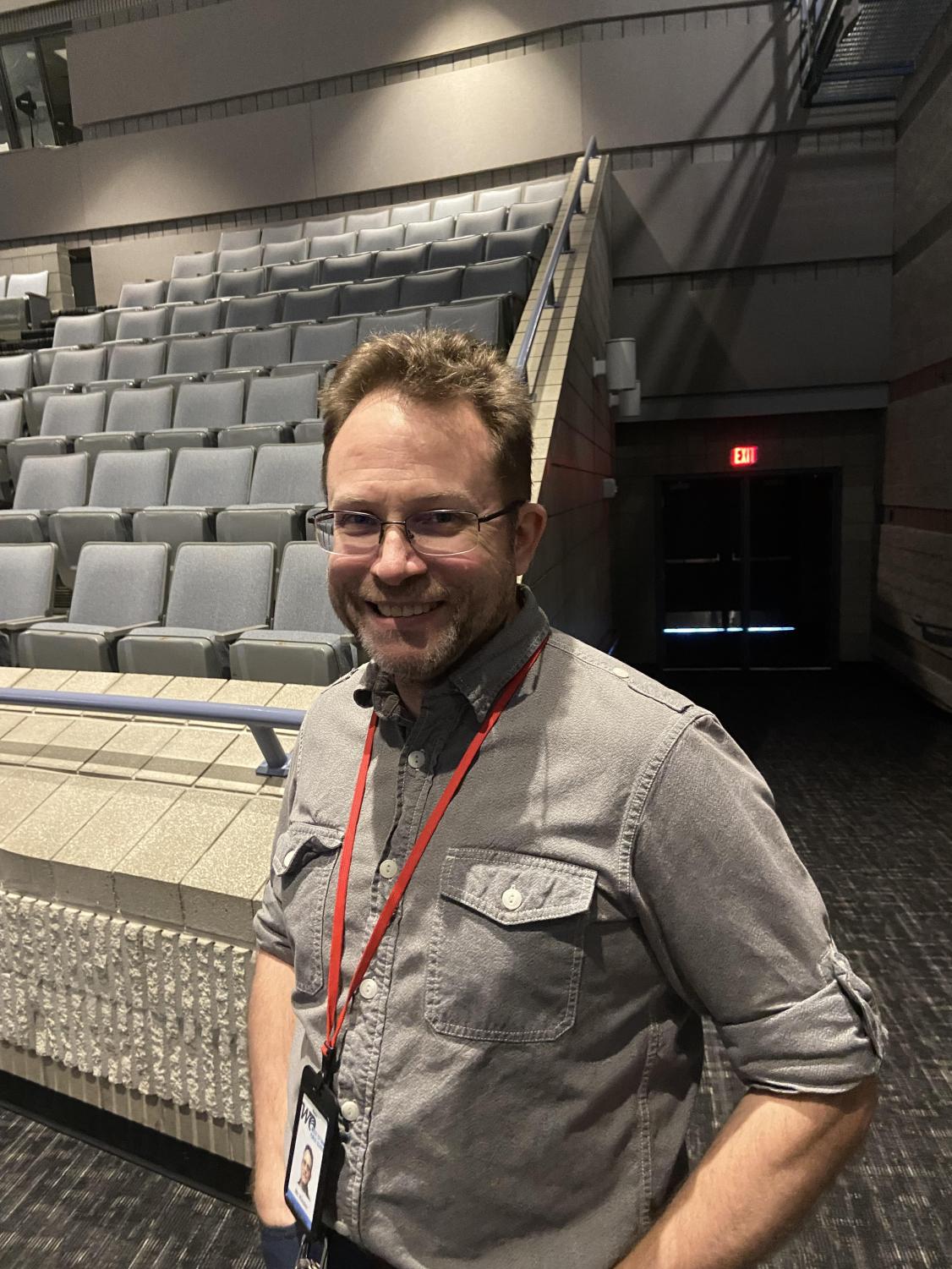 Kinsler is no stranger to the West Ottawa Community, "I started as a math teacher at Mac Bay in 2001, back when it was an 8th & 9th Grade building. At the time, I was teaching algebra and geometry, but soon added classes in Digital Video Projects when another teacher retired. I taught until 2015, when I left to pursue live event production. Since then, I've had a daughter graduate from WO, and currently have a son at the high school. We've always lived in the district, and our family has gotten to experience our awesome teachers at every grade level." It is no secret that Kinsler loves this place with a passion and he continues to support as many programs at WO as he can.
   Kinsler is extremely excited to take on this massive responsibility, "We have such excellent programs in music, art, and theater already, and my role is to support student success in these areas and more. The development of the new PAC confirms the district's commitment to our visual and performing arts, and I'm excited to help provide additional student opportunities both onstage and behind the scenes," Kinsler said. The amount of dedication that he is planning on giving to the success of the students he impacts is a true testament to how amazing he is.
   The changes that Kinsler has made to the sound department are astronomical, he has truly brought West Ottawa to the next level. Sr. Caden Mika runs sound for the musicals. He said, "I've definitely seen Mr. Kinsler change the way things run by updating our software. Rather than using CDs as our primary source of sound effects or backing tracks, we ended up using an iPad and MacBook. For Elf, we added a 'radio static' effect to two of the microphones, which was a new experience for all of us". Mika will graduate this year and he is looking forward to seeing what Kinsler continues to do with the technology at WO. "I hope that he can teach the people that will "take up the mantle" of the soundboard in the same way he taught me." Said Mika.
   Soph. Caedmon Kephart has been of West Ottawa Theater ever since he played Lord Farquaad in Shrek The Musical as a sixth grader. As Kephart has been around a while, he knows what it was like before they hired Kinsler. "I think everything runs a lot smoother with sound, and mics and sound checks. I also feel that he helps keep some of the nerves and tension down, especially during things like tech week." This is extremely helpful to both the actors and directors alike because it decreases the stress and strain on them when it gets down to the wire. 
   Not only does Kinsler play a huge role in the theater and music departments of West Ottawa, but he also plays a huge part in all the assemblies and dances, and most recently he put a lot of hard work and dedication into the lights and sound for WOStock. A new commitment Kinsler has embraced is the middle school musical. West Ottawa Broadcast News students have also been helping and have worked closely with Kinsler. Jr. Lyndsay Neitzel is one of these students, "My job was to control the cameras, including zooming in on the performers on stage, panning across the stage so that the next camera angle faded into the pan. And my partner's job was to control when to switch and fade between the camera angles. Basically, we had to make sure we kept switching between different angles of the stage and performance because it was live so that people could watch from home." The students who had time to work with Kinsler said that he was extremely helpful and a really nice guy. 
  With all of this improvement in only one year, there is so much room to grow and take the tech side of West Ottawa's arts to crazy new heights. Kephart said, "I want to see Mr. Kinsler continue to work on West Ottawa Shows!" While this is inevitable it is just simply so exciting to get the opportunity to work closely with him, learn from him, and watch as he changes the way the department runs right in front of our eyes.