Noblett knows hard work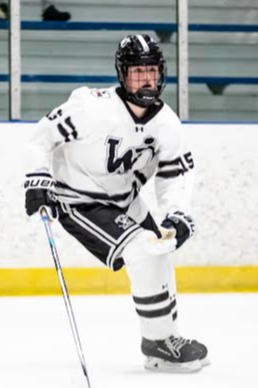 Earlier in the year, Soph. Tyler Noblett was in the weight room preparing to break his personal record for squats.  A bunch of his buddies gathered around, shouting words of encouragement.  Right before attempting to break his previous record, past memories of breaking his old squat record flooded his mind; however, it was time to zone in and focus on the task in hand.
Holding the bar down was four plates, two 25 pound weights, two five pound weights, as well as two two and a half pound weights.  Including the bar, the grand total was 290 pounds.
Noblett bent, placed the bar full of weight just below his shoulders, and then began to squat.  In the end, Noblett finished with four reps, breaking his previous squat record.
Noblett describes this achievement as a "true moment of improvement and capability that I got to prove to myself."
Everyday, West Ottawa Hockey standout Noblett gives it his all; whether it be on or off the ice.  From lifting weights, shooting pucks, and eating healthy, Noblett trains nearly every day in hopes of becoming the next hockey great.
Noblett's passion for lifting weights is one reason why he is successful on the ice.  Both in and outside of school, Noblett trains hard in the weight room.  In school, he is currently enrolled in Peak Performance; while outside of school, he lifts weights in his basement.  Over the summer, Noblett repped 115 for bench, 145 for squat, and 175 for deadlift; currently, Noblett reps 145 for bench, 225 for squat, and 315 for deadlift.  From the start to end of summer, Noblett added on a whopping 15 pounds of muscle.  Peak Performance instructor, Matt Naber, described Noblett as a hard working student with a great approach.  "Tyler comes to class each day with a strong and hard working mindset where he's going to push himself in every workout…"  Not only does Noblett work hard in the weight room, but he also works hard to improve his shot by shooting pucks.
Noblett's desire to shoot pucks is another reason why he thrives on the ice.  Each day, Noblett heads down to his basement and shoots.  In his basement, there is a synthetic ice sheet, lots of pucks, and a net covered in puck marks.  Every week, Noblett shoots at least 600 pucks.  Noblett's parents certainly recognize how hard he works, "whenever he hits the crossbar, we hear a ringing noise upstairs."  By constantly shooting, Noblett's shot velocity over one season has increased by nearly 15 mph.  Not only does Noblett shoot pucks and hit the weights, but he also follows a healthy diet.
His diet consists of four meals a day as well as two 30 oz bottles of water.  Occasionally, Noblett will eat a whole box of Eggo Waffles for breakfast.  Noblett's meals include eggs, meats, fruits, vegetables, and more.  After each workout, Noblett also ingests a protein shake, allowing him to build and repair muscle quicker.  Noblett's good discipline to eat healthy is an additional reason why he blossoms on the ice.
In Noblett's first season with the Panthers, he scored 16 goals along with three assists: 19 points.  His 16 goals were good enough for second on the team, trailing only Sr. Cooper Nienhuis by ten goals.  Without any doubt, the extraordinary work ethic Noblett exhibits both on and off the ice has played a big part in his success this season.