Bowyer guides the swim team to annual success
The West Ottawa Boys Swim and Dive team raced to a second-place finish in the state meet. Second in the state!
Prior to that accomplishment, the team won their tenth consecutive OK Red Conference title. Those ten championships have featured many swimmers, but only one head coach: Steve Bowyer. Those close to Bowyer see many strengths that contribute to his outstanding success.
Drew Johnson- West Ottawa Varsity Swimming Assistant Coach
"I think Steve is a great coach for many reasons. He has gained a ton of knowledge and experience over his 20+ years of coaching. Every practice, every lift, and every set he has created or designed benefits his swimmers and teams to improve each day, but also prepares them for huge swims at conference and state at the end of the season. Steve's coaching style is based on knowledge and experience, but also on his relationships with his swimmers."
Doug Thorne- Grand Haven Varsity Swimming Head Coach
"I think first and foremost Steve is an educator. He is extremely articulate and well-spoken, which makes it easy for kids to buy into what he's selling. Swimming is not easy, and it takes a lot of dedication and hard work. As a fellow coach that has to compete every year with West Ottawa, I know that we need to be at our very best! It is a meet that I go into every year as the benchmark of our success."
Bill Kennedy- West Ottawa Athletic Director
"Coach Bowyer is one of the very best coaches in all of West Michigan regardless of sport. In order to sustain the level of success in the program, the work simply has to get done. In addition to his encouraging demeanor, he is a true student of the sport who is always looking for what is best for athletes in regards to training and preparation."
Jonathan Bloemers- Sr. Diver
"My experience on the team was great; I had encouraging teammates and great coaches. It felt good to be a part of such a successful team but it got stressful at times but we all worked hard to stay successful. Steve works hard and puts in so much effort for his swimmers and it definitely pays off. He has a clear passion for the sport."
Bowyer himself is able to identify some key components to building a winning program.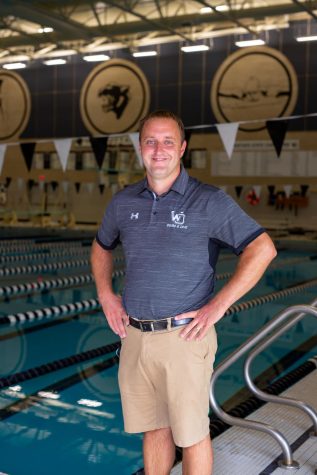 Steve Bowyer- West Ottawa Varsity Swimming Head Coach
"We have won ten conference titles in a row, 2014-2023. My best coaching strategy is to get the kids to commit to hard work. Each season brings on a different set of challenges. I think our boys will continue to have great success because they have established a culture of hard work, dedication, and accountability. They also understand that you have to have a little fun and are very accepting of new team members that are willing to embrace the commitment to what we do."
Steve Bowyer has proven time and time again to be a hard working and dedicated coach. Each season brings on a series of challenges, yet each season seems to end in success. The boys swim and dive team will continue a winning tradition as long as they're in the hands of Bowyer.